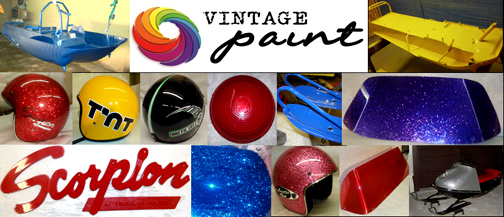 Vintage Paint is a provider of the following:
Original paint colors matched to quality color samples.
The paint is available in 2K Urethane, Basecoat,
Enamel and Aerosol including a 2k Aerosol!
Metalflake in proper size and color for Scorpion, Speedway and
Viking along with custom colors for those with a wild side.
Quality manufactured windshields.
Original Color Tinted and special metalflake or pearl tinted windshields.
Plastic, Aluminum and Stainless Polishing Products.
Retro Style NEW helmets including new padding. DOT approved.
Reproduction Taillight lenses and emblems.
Reproduction Ski-Doo Rear Skid Suspension Axles.
Our website is www.vintagesledpaint.com and we also offer pages
with technical "how to" pages along with our quality products.