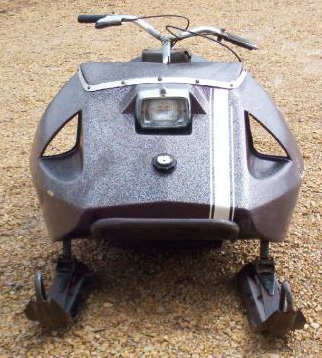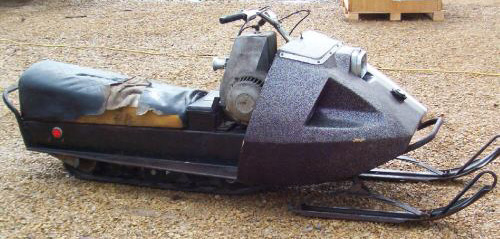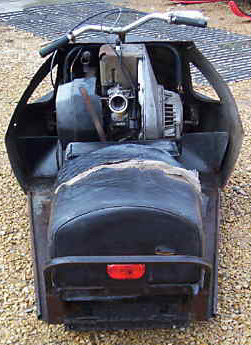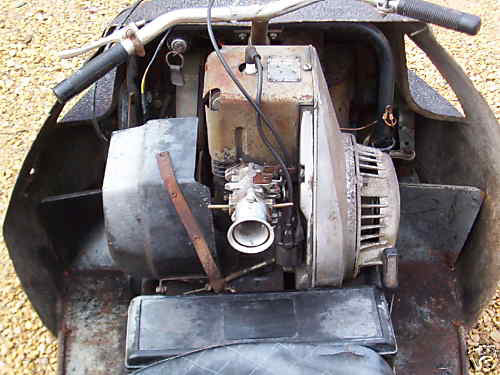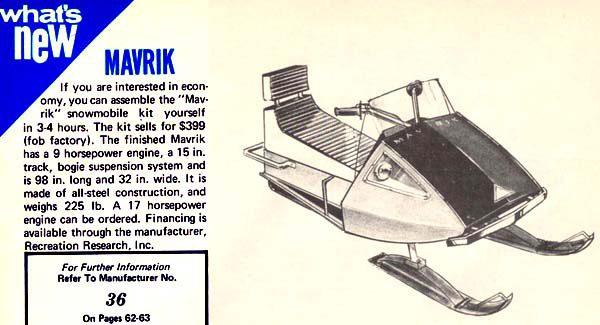 MAVRIK
THE PICTURES POSTED ABOVE ARE FROM AN EBAY AD THAT IS CURRENTLY
RUNNING AS OF MARCH 20 - 2008. THIS IS A VERY RARE SLED.
( SEE Vehicle Description BELOW )
THE MAVRIK AD POSTED ABOVE IS FOR A 1971 MAVRIK WHICH WAS
GOING TO BE SOLD AS A KIT THROUGH RECREATION RESEARCH.
IT APPEARS THAT FARMINGTON ENGINEERING, INC SOLD THEM FOR 1972.
THEY MAY HAVE BEEN SOLD UNDER THE SNO PAC LABEL OR MAVRIK.
THE DECALS HAVE BEEN REMOVED FROM THE MAVRIK FOR SALE ON EBAY.
THE AD WAS BROUGHT TO MY ATTENTION BY:
Jared Glentz / Holmen Wisconsin
THANKS JARED FOR SENDING ME THE LINK!
---
HERE IS HOW THE AD READS ON EBAY. THE SALE ENDS MARCH 24 - 08 15:46:54 PDT
Vehicle Description
Here you go vintage sled collectors a rare find. I purchased this sled from the original owner who bought it from the factory in Farmington Minnesota. He told me they made six of them and this is the sixth one before the company closed. I have not ever seen one of these before so, it must be true. It was built by Farmington Engineering INC. The brand would be a Sno-Pac and the model is a Mavrik. It has a Kohler 295 single cylinder in it. Overall it is in fair-to-good condition for its age. The hood is in good shape but, has one break on the lower left side and some small cracks. The hood color looks like a dark blue metallic. The side decals that said Sno-Pac are missing. The windshield is missing and so, is the sno-flap. The seat is all there but, would need to be recovered. The tool box is broken and so, is the clutch cover. The handle bars have been welded. The tunnel is in good shape with some surface rust. Both bumpers are in good shape. The bellypan is in good as well. The track is original fast track and is in nice shape. The suspension is good but, needs 6 boggey wheels replaced as they dry rotted. Looks like any regular boggey wheels will fit. The motor turns over with 200PSI and good spark. I squirted fuel into the cylinder and it fired up. The clutches work and the track spun freely. The skies are very nice. This is a very rare and unusuall sled. Should be a pretty easy restore as it looks very complete. Looks like it was made from parts from other brands.