DAVID'S VINTAGE SNOWMOBILE PAGE.
RESTORING THE SPORT ONE PIECE AT A TIME.
---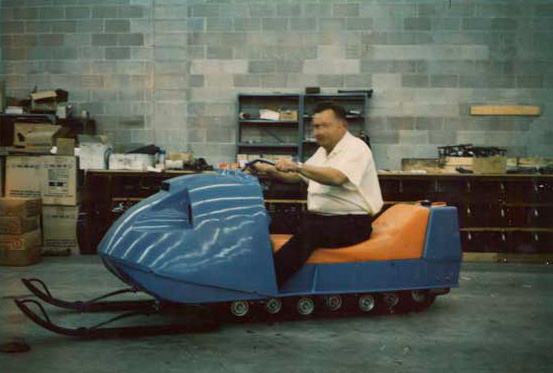 JANUARY 19 - 2007
David - Attached is a rare bit of history. The Alaskan snowmobile, is a rare duck.
I have done plenty of searching on the internet and have not been able to
find much on it. Your site has one of the only pictures I have seen until now.
A friend that works with me is related by marriage to the owner and creator
of the Alaskan Snowmobile. The Alaskan creator is Norton Erickson and he
manufactured the Alaskan out of a part of his foundry business in western
Minneapolis Minnesota. From what I gather he produced the sleds in the mid 1960's.
They were bogie wheeled machines with a steel tunnel and fiberglass hood.
The Alaskan Snowmobile part of Norton Erickson's company didn't go bankrupt
but rather faded away due to the demand of the sled.
Norton Erickson has since died but the legacy of the Alaskan continues to
live on in the attached picture of a proud "Norty" on one of his first sleds.
(See attached file: Alaskan Snowmobile.jpg)
Have a good weekend. Regards
Eric S. Wymer - MN
THANKS ERIC FOR THE GREAT PICTURE & HISTORY ON THIS RARE SLED.