DAVID'S VINTAGE SNOWMOBILE PAGE.
RESTORING THE SPORT ONE PIECE AT A TIME.
THIS SITE NEEDS DONATIONS
TO SURVIVE AND GROW.
PLEASE MAKE A DONATION
TO SUPPORT THIS SITE.
CLICK ON THE PAYPAL BUTTON TO DONATE.



YOU FIND GREAT HISTORICAL INFO ON THIS
SITE THAT YOU WON'T FIND ELSEWHERE.
PLEASE DONATE.
---
FEBRUARY / MARCH 2023
DONATION DRIVE PAGE 170
---
THIS PAGE IS COVERING DAUPHIN SNOWMOBILES.
---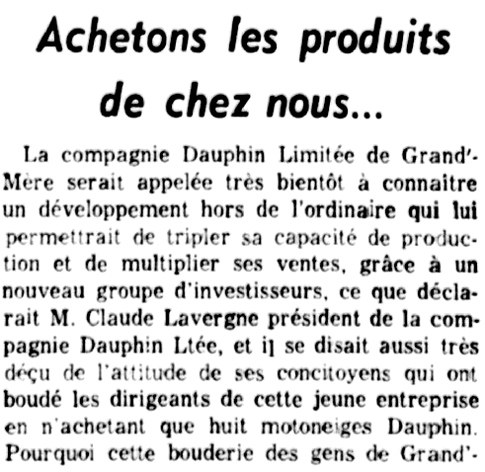 DAUPHIN SNOWMOBILES
THE TEXT SAYS SOME OF THE FOLLOWING.....
BUY THE PRODUCTS THAT ARE MADE IN QUEBEC.
THE DAUPHIN SNOWMOBILE COMPANY WILL SOON BE CALLED ON TO TRIPLE THEIR PRODUCTION AND MULTIPLY THEIR
SALES THANKS TO NEW INVESTORS SAID MR CLAUDE LAVERGNE PRESIDENT OF DAUPHIN SNOWMOBILE COMPANY.
NOTE:
HE ALSO SAID THAT HE WAS DISAPPOINTED WITH HIS FELLOW CITIZENS WHO SHUNNED THE
YOUNG LEADERSHIP OF THIS YOUNG COMPANY BY BUYING ONLY 8 DAUPHIN SNOWMOBILES IN GRAND MERE.
WHY ARE PEOPLE ACTING LIKE THIS ?
1. IS IT BECAUSE OF A HIGHER COST ? I DON'T THINK SO.
2. IS IT BECAUSE PEOPLE ARE SPREADING RUMORS ?
3. IF IS BECAUSE OF INDIFFERENCE WHEN BUYING A SNOWMOBILE ?
4. IT IS BECAUSE THE LEADERS OF THIS COMPANY ARE FRENCH CANADIANS ?
I AM SURE THAT 300 OR 400 SNOWMOBILES WERE SOLD IN GRAND MERE IN 1970.
IF ONLY 200 DAUPHIN SNOWMOBILES WERE SOLD IN GRAND MERE THAT WOULD HAVE CREATED EMPLOYMENT TO
THE CITIZENS WHO WORK HERE AND HELP WITH THE UNEMPLOYMENT THAT WE HAVE IN OUR CITY.
THE FEW THOUSANDS DOLLARS PAID IN SALARY WOULD HAVE BEEN SPENT IN OUR TOWN.
YOU CAN TELL ME THAT A PERSON HAS THE RIGHT TO BUY WHATEVER SNOWMOBILE THEY WANT BUT WE HAVE A PROVEN
BRAND OF SNOWMOBILE AND THAT PERSON SHOULD HELP THEIR COMMUNITY THAT BUILDS SNOWMOBILES LOCALLY.
SO IN 1971 LETS HAVE THE SAYING THAT WE WILL BUY SNOWMOBILES FROM QUEBEC AND HELP YOUNG FRENCH CANADIANS LEADERS.
---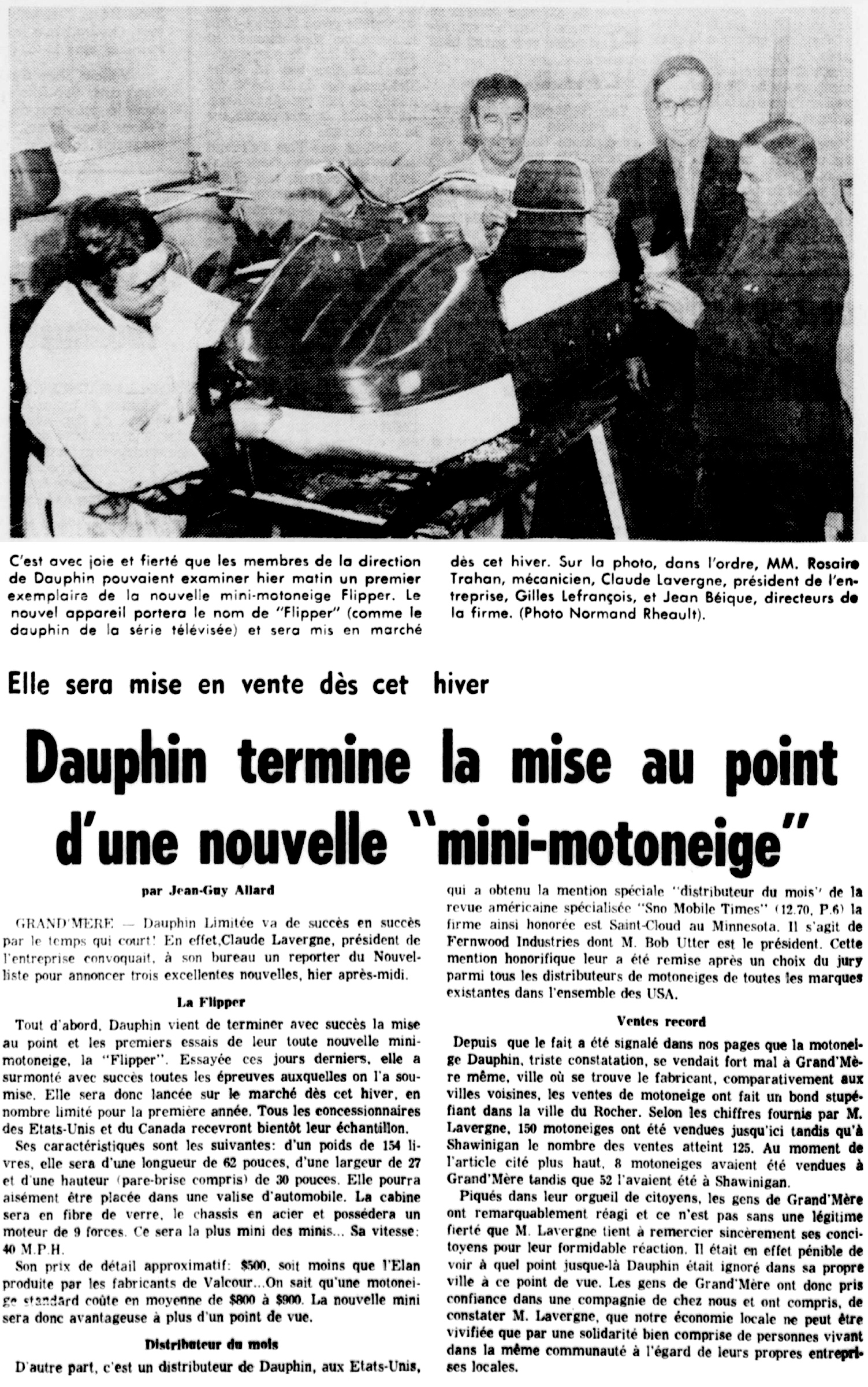 THE TEXT SAYS SOME OF THE FOLLOWING.....
IT WAS WITH JOY THAT THE MANAGEMENT OF DAUPHIN YESTERDAY COULD EXAMINE FOR THE FIRST TIME THEIR NEW
MINI SNOWMOBILE FLIPPER. THE NAME SNOWMOBILE WILL THE SAME NAME OF THE DOLPHIN FLIPPER WHICH IS A TV SERIES.
THIS DAUPHIN FLIPPER MINI WILL BE AVAILABLE THIS WINTER ( MAKING IT A 1971 MODEL ).
---
NOTE: MY 2 CENTS.
SINCE THIS WAS IN THE NEWSPAPER ON JANUARY 9, 1971......
IT SAYS THAT THE PICTURES WAS TAKEN YESTERDAY. JANUARY 8, 1971
IT IS UNCERTAIN HOW MANY OF THESE FLIPPER WERE MADE.
IT IS A PROTOTYPE OR A SMALL NUMBER OF PRODUCTION DAUPHIN FLIPPERS SNOWMOBILES THAT WERE PRODUCED.
THESE WERE ACTUALLY CHIMO SNOWMOBILES WITH SMALL MODIFICATIONS AND PAINTED THE DAUPHIN COLOR.
IT WAS COMMON TO HAVE LIMITED BUILD SNOWMOBILES PRODUCED BY MANY SNOWMOBILE COMPANIES IN LATE FALL OR
EARLY WINTER TO TEST PUBLIC REACTION TO A CERTAIN MODEL. A SMALL NUMBER OF SLEDS WERE OFTEN BUILT AND GIVEN TO
DEALERS TO GAUGE PUBLIC REACTION. I WOULD HAVE TO CONSIDER THIS A 1971 MODEL. DAVID S.
---
NOW LET'S GET TO THE REST OF THE ARTICLE.
IT WILL GO ON SALE THIS WINTER.
DAUPHIN COMPLETES THE DEVELOPMENT OF THEIR NEW MINI SNOWMOBILE.
DAUPHIN LIMITED GOES FROM SUCCESS TO SUCCESS.
MR CLAUDE LAVERGNE PRESIDENT OF DAUPHIN SNOWMOBILE COMPANY SUMMONS A
REPORTER FROM THIS NEWSPAPER TO SHARE 3 EXCELLENT PIECES OF NEW INFORMATION WITH HIM.
THE FLIPPER SNOWMOBILE
FIRST OF ALL, DAUPHIN HAS COMPLETED THE DEVELOPMENTS AND FIRST TEST OF THEIR ALL NEW MINI SNOWMOBILE THE FLIPPER.
TESTING THE SLEDS OVER THE LAST FEW DAYS, IT PASS ALL THE TESTS THAT THE SLED WAS GIVEN TO IT.
IT WILL BE THEREFORE LAUNCHED ON THE MARKET THIS WINTER IN LIMITED NUMBERS THIS FIRST YEAR.
ALL DEALERS IN CANADA AND THE USA WILL SOON RECEIVE THEIR SAMPLE SLED.
IT IS 154 LBS, 62 INCHES LONG, 27 INCHES WIDE AND 30 INCHES HIGH.
YOU CAN PUT IT IN A TRUNK OF A CAR.
THE HOOD IF FIBERGLASS AND THE FRAME IS STEEL. IT WILL HAVE A 9 HP MOTOR WITH A SPEED OF 40 MPH.
THE PRICE WILL BE AROUND $ 500.00 MAKING IT LESS THAT THE SKI DOO ELAN.
A REGULAR SNOWMOBILE COST ABOUT $ 800.00 TO $ 900.00 GIVING IT AN ADVANTAGE POINT.
NOW TO ANOTHER POINT OF INTEREST. A DAUPHIN DISTRIBUTOR IN THE USA HAS A SPECIAL MENTION OF
DISTRIBUTOR OF THE MONTH AS FERNWOOD INDUSTRIES HAS BEEN MENTIONED IN SNO MOBILE TIMES MAGAZINE.
LASTLY, SINCE IT WAS REPORTED A WHILE BACK THAT DAUPHIN SNOWMOBILES SALE WERE SLOW IN
GRAND MERE WHERE THE DAUPHIN COMPANY IS LOCATED. IT IS REPORTED THAT SALES OF DAUPHIN SLEDS IN CERTAIN
LOCAL CITIES HAVE PICKED UP. MR CLAUDE LAVERGNE WOULD LIKE TO THANK EVERYONE FOR THEIR SUPPORT.
---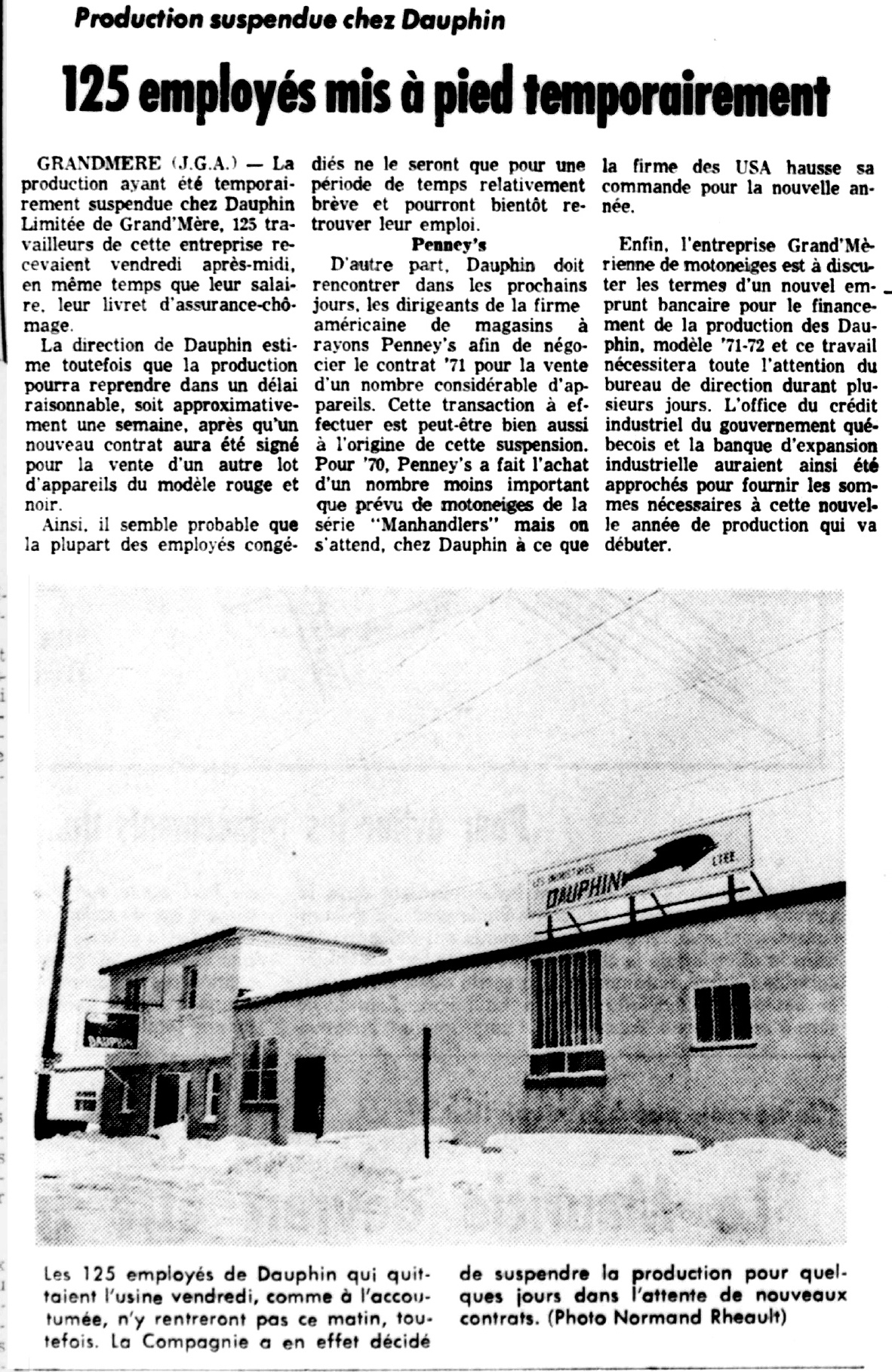 THE TEXT SAYS SOME OF THE FOLLOWING.....
PRODUCTION SUSPENDED AT DAUPHIN.
125 EMPLOYEES LAID OFF.
THE PRODUCTION HAS BEEN TEMPORARY SUSPENDED AT DAUPHIN HOWEVER MANAGEMENT THINKS THAT PRODUCTION CAN
START AGAIN PERHAPS WITHIN A WEEK AFTER A NEW CONTRACT IS SIGNED TO BUILD RED AND BLACK SNOWMOBILES MODELS.
ON THE OTHER HAND DAUPHIN WILL BE MEETING WITH J C PENNEY TO SIGN A NEW 71 CONTRACT FOR THE SALE OF SIMILAR PRODUCTS.
THIS CONTACT MAY BE NEEDED TO REPLACE A 70 CONTRACT THAT THEY HAD WITH J C PENNEY TO BUILD MANHANDLER SNOWMOBILES.
FINALLY THE FIRM IS RENEGOTIATING A NEW BANK LOAN TO PRODUCE THE 1972 MODELS.
THE 125 EMPLOYEES OF DAUPHIN WHO LEFT WORK ON FRIDAY WILL NOT BE RETURNING TO WORK THIS MORNING.
THE COMPANY DECIDED TO SUSPEND WORK FOR A FEW DAYS UNTIL THEY SIGN A NEW CONTRACT.
---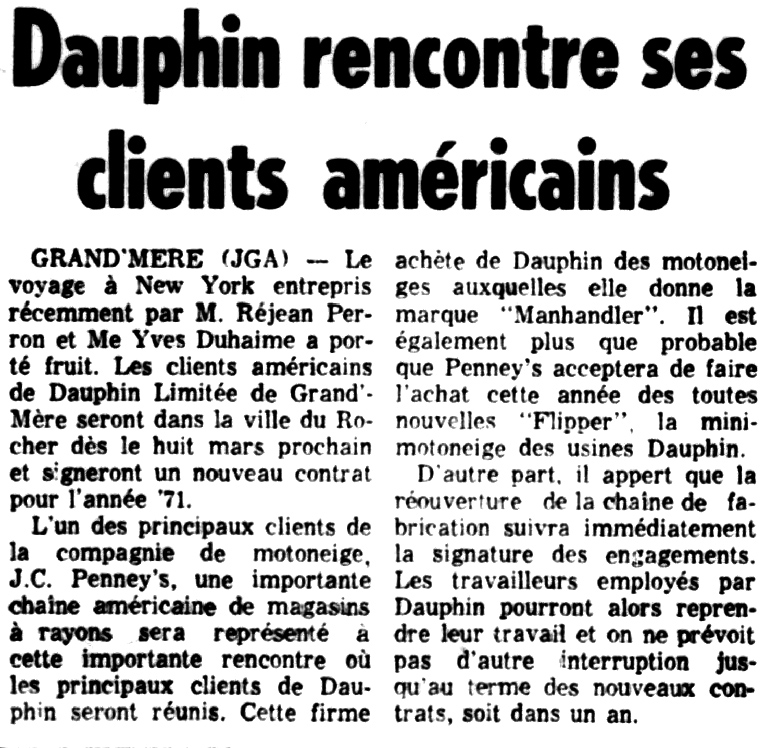 THE TEXT SAYS SOME OF THE FOLLOWING.....
A TRIP TO NEW YORK BY REJEAN PERRON AND YVES DUHAIME WAS VERY PRODUCTIVE.
THE AMERICAN CLIENTS OF DAUPHIN INDUSTRIES - J C PENNEY - WILL BE IN TOWN ON MARCH 8 TO SIGN A
NEW CONTRACT OF THE 1971 MANHANDLER SNOWMOBILES DAUPHIN INDUSTRIES WILL BE FOR THEM.
ON REPRESENTATIVE OF J C PENNEY WILL BE ON HAND TO SING THE NEW CONTRACT.
IT IS LIKELY THAT J C PENNEY WILL AGREED TO BUY THE NEW MINI SNOWMOBILE CALLED THE FLIPPER.
ON THE OTHER HAND THE EMPLOYEES OF DAUPHIN WILL BE ABLE TO RETURN TO WORK AS SOON AS THE NEW CONTRACT IS SIGNED.
---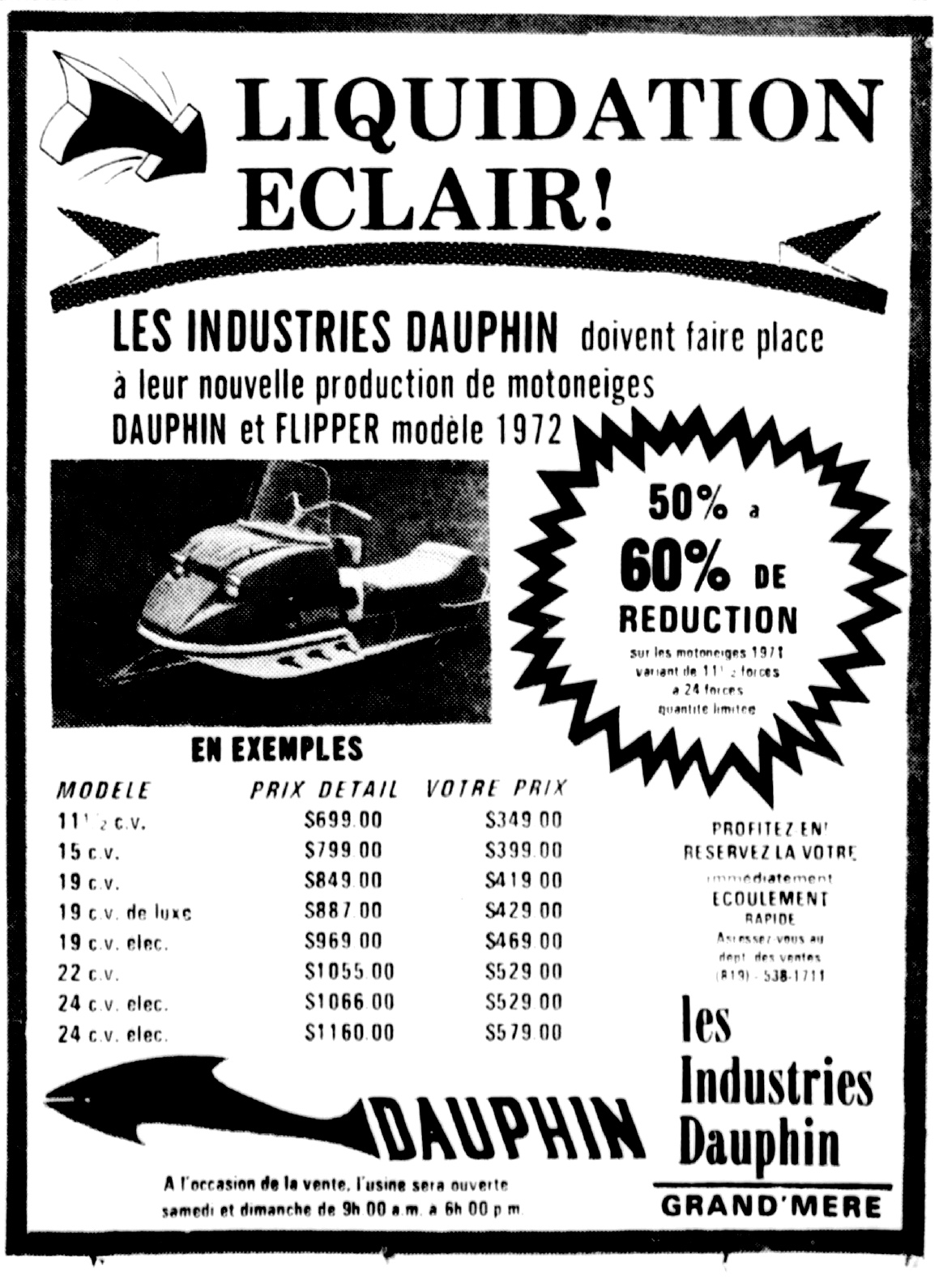 THE TEXT SAYS SOME OF THE FOLLOWING.....
FLASH CLEARANCE
DAUPHIN INDUSTRIES HAS TO MAKE ROOM FOR THE 1972 DAUPHIN SNOWMOBILE INCLUDING THE FLIPPER MODEL.
---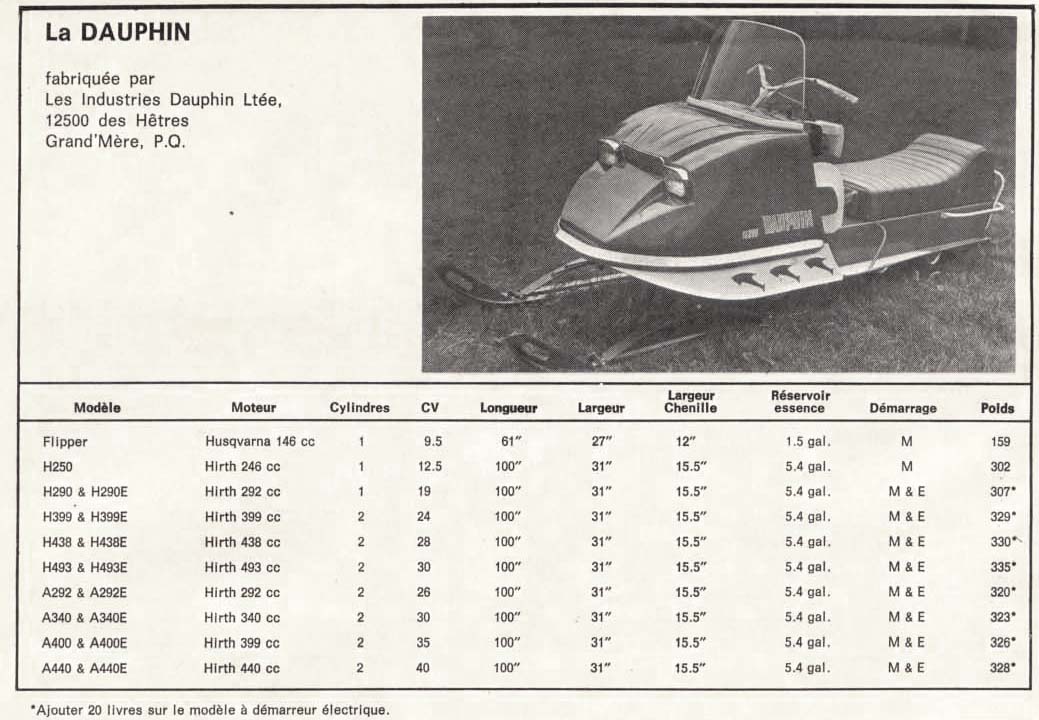 1972 DAUPHIN SNOWMOBILES THAT WOULD NEVER BE PRODUCED.
IT LISTS THE FLIPPER MODEL.
IF YOU BOUGHT A 1972 DAUPHIN, IT WAS A 1971 MODEL THAT WAS UNSOLD.
---


THE TEXT SAYS SOME OF THE FOLLOWING.....
DAUPHIN IS IN A BAD FINANCIAL SITUATION.
A WIND OF PANIC IS SWEEPING THE BOARD OF DIRECTORS OF DAUPHIN AND MOST OF THE SHAREHOLDERS OF THE COMPANY WHO
PRODUCES DAUPHIN SNOWMOBILES. THE FIRM IS ON THE SLIDE AND THE SHAREHOLDERS MAY LOSE THEIR INVESTMENTS.
THE DAYS THAT WILL FOLLOW MAY CONFIRM IF THE RUMMERS ARE TRUE.
---
DAUPHIN WOULD BE BOUGHT OUT BY GEORGE DUFRANE WHO WAS A
MOTO SKI DISTRIBUTOR AND SOLD SNOWMOBILES UNDER THE NAME OF SNO CHIEF.