DAVID'S VINTAGE SNOWMOBILE PAGE.
RESTORING THE SPORT ONE PIECE AT A TIME.
PHOTO PAGE 15,567
---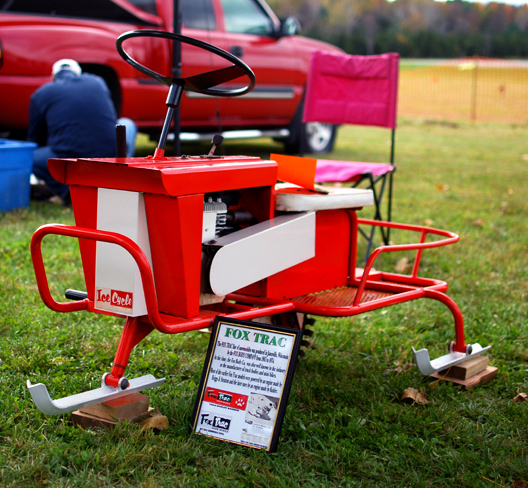 NOVEMBER 15, 2011
Hello David, Here is a picture of my 1964 Fox Trac Ice Cycle model 130.
SCROLL DOWN TO SEE MORE PICTURES.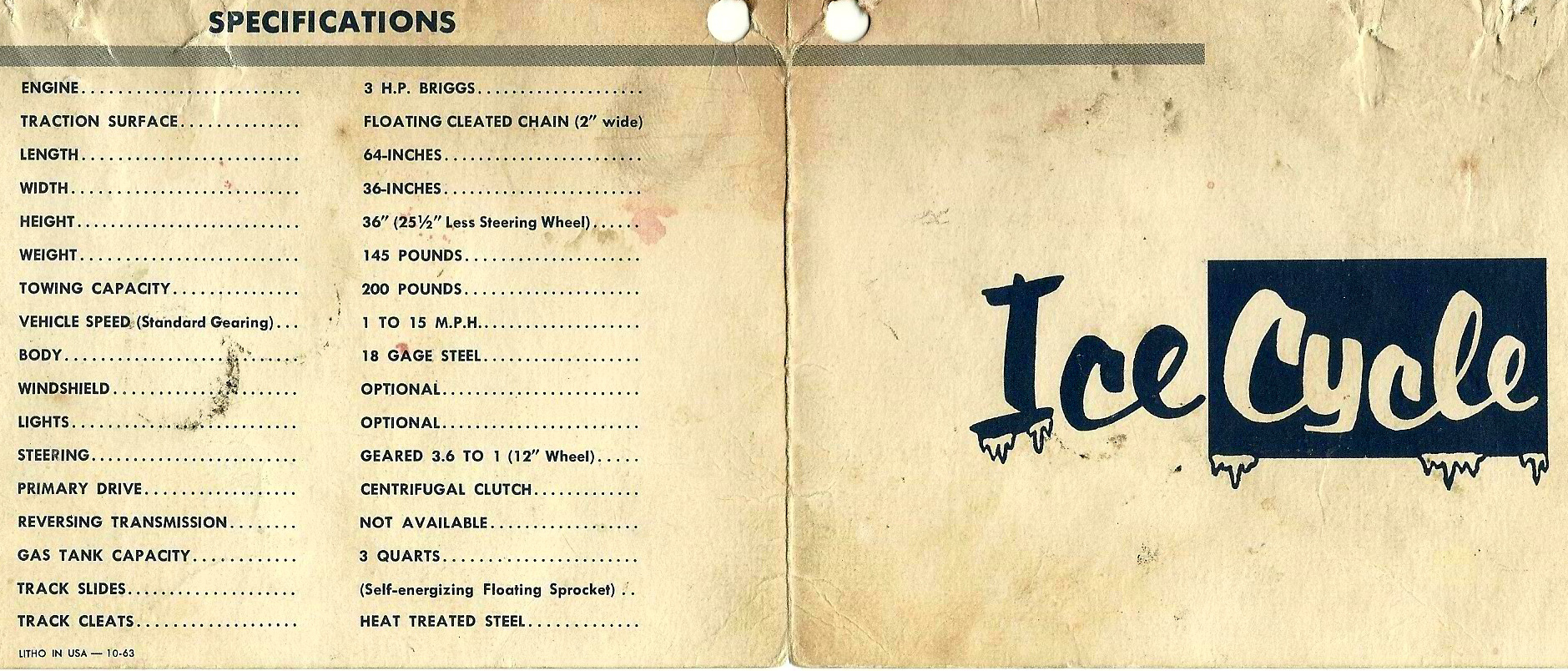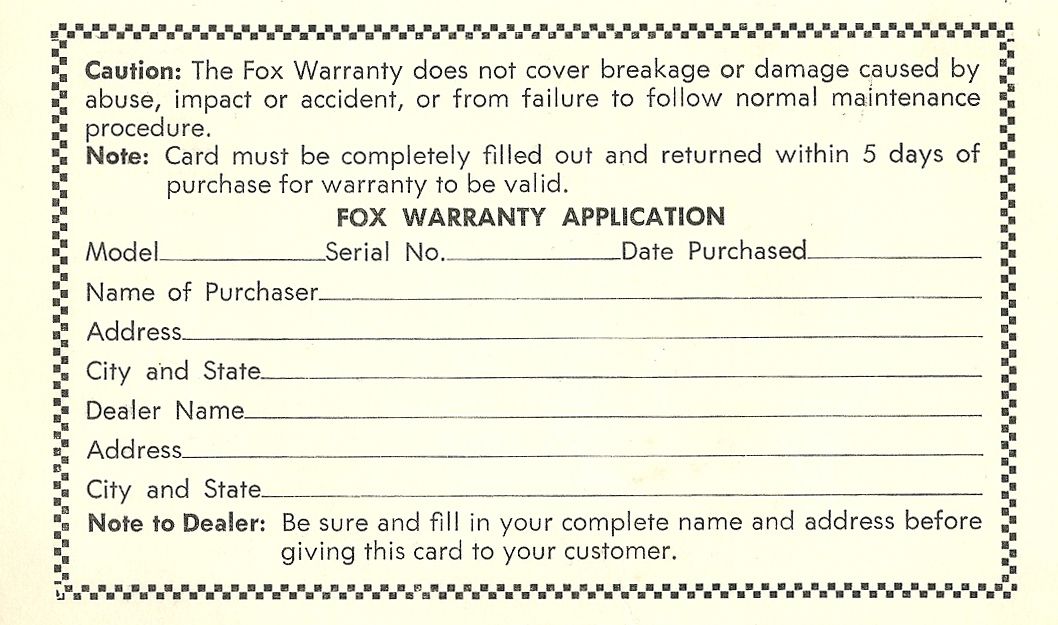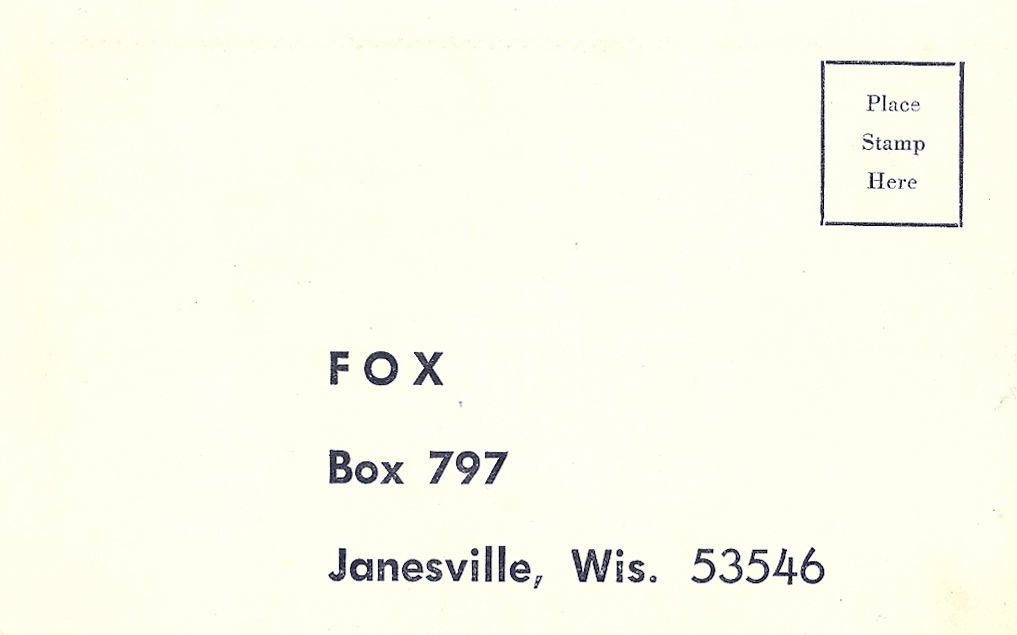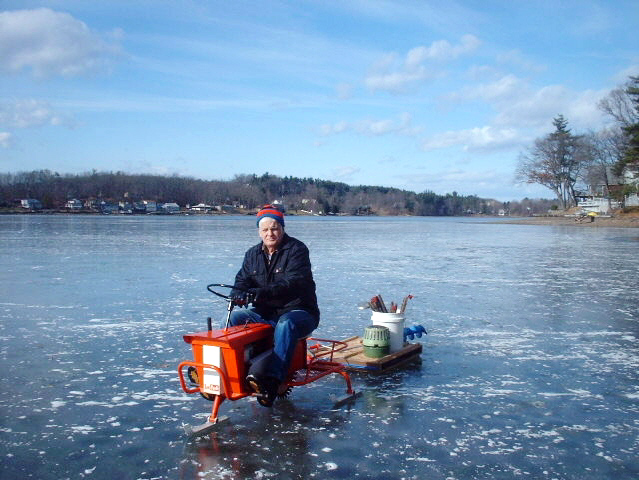 Here I am on my 1964 Fox Trac Ice Cycle - Model 130
on Kinderhook Lake, in upstate NY.
You will see from these photos, the kind of thing that the Ice Cycle was intended to do.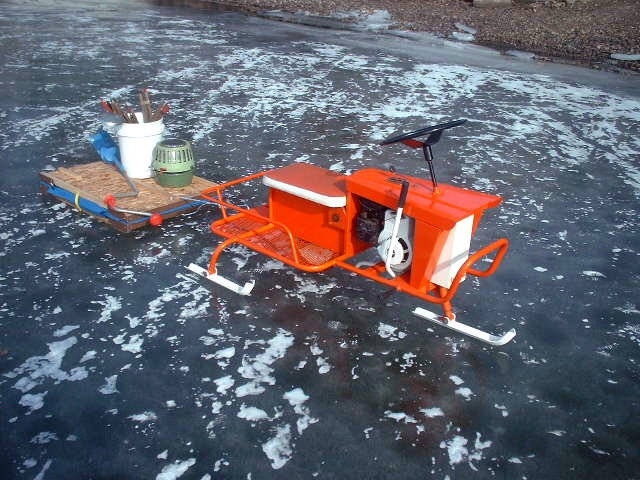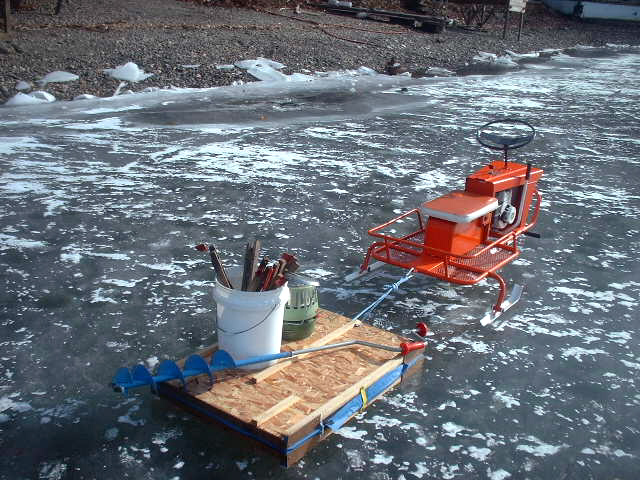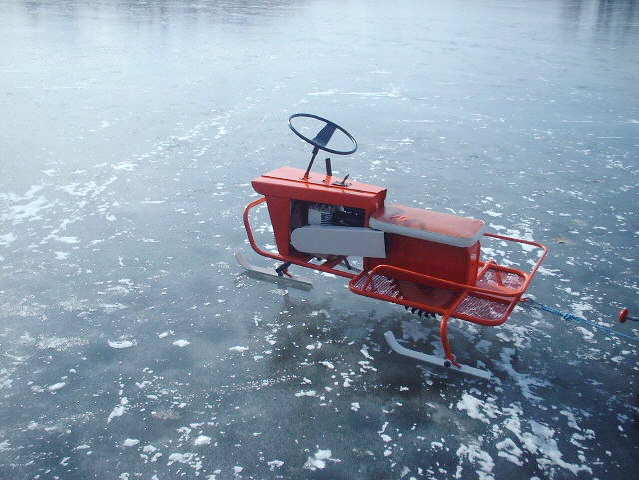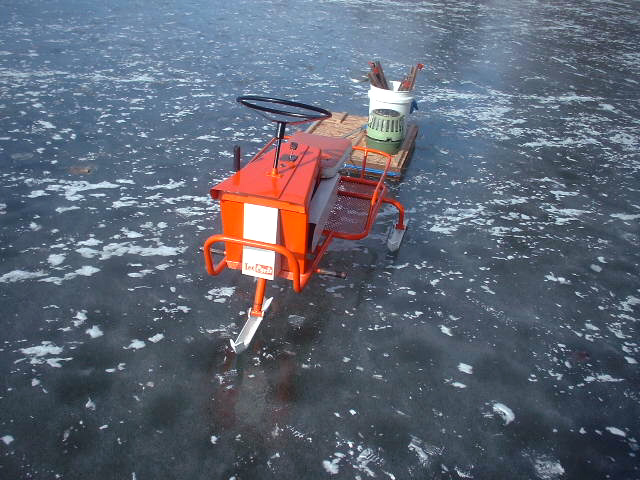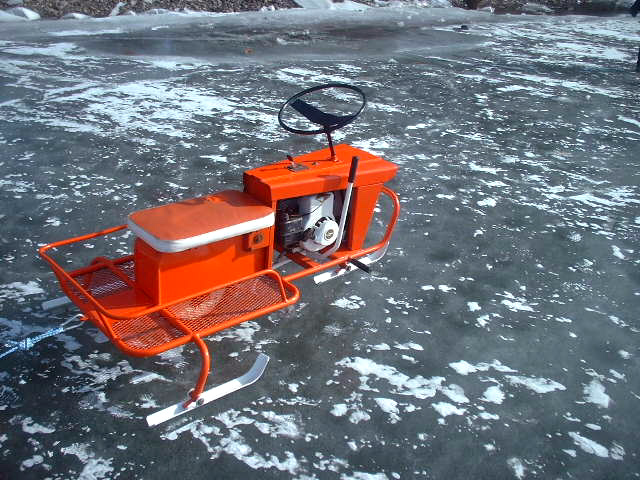 NOVEMBER 15, 2011
1964 Fox Trac Ice Cycle model 130 - made by the Fox Body Company of Janesville, Wisconsin.
Hello David, Enclosed are pictures of my 1964 Fox Trac Ice Cycle model 130.
I purchased this rather unusual little machine at public auction several years ago,
with the intention of getting it running to use when I went ice fishing.
A task for which it seemed very well suited.
However as things often go, other projects soon took up most of my time, and the
little Ice Cycle sat neglected, covered up with a blue tarp under the side porch for as many years.
Quite recently, I was approached by a gentleman who saw the nose of the machine peeking out from under the
tarp to ask me why I was not displaying it at any of the vintage snowmobile events.
(Quite frankly David, while we do shows and exhibits with our antique outboards, I never
knew that such vintage events for snowmobiles even existed before this! )
Well, as luck would have it, there was a vintage show coming up locally in about a month.
It was this club's first time for putting on this type of event, and I felt it was a fitting place for me to
"test the waters", and also a chance for me to help them to get off to a good start as well.
So off came the tarp, and out came the tools.
To make a long story short, the show, although quite small for their first time around, (and done in
conjunction with a "Fall Festival"), proved to be quite popular with the local community.
The now restored and running Ice Cycle also received it's own share of attention as well.
Especially among some of the younger children there, who apparently viewed it as a neat little "toy",
(much to my own amusement).
While I was there, I was handed a show flier by the president of another local club, who invited me to display there as well.
Thus began my initiation into the world of vintage snowmobiles.
I am continuing to attend other such events in the area with the Ice Cycle, and with each
passing show my interest in vintage snowmobiles continues to grow.
I don't know if I would consider myself to be "hooked" yet or not, but there is a good sized lake right outside my door that
could really benefit from some nice track lines come about February. We will have to see how it goes.
I would like to personally thank you and Mr. Pierre Pellerin, for all the help that you have given me in regards to identifying the correct
year of my Ice Cycle, as well as for helping me to fill in some of the blanks in the history of the Fox Trac company.
It was also a pleasure for me to send you copies of the original hang tag and warranty card that came with the Ice Cycle.
And I hope that this information, once posted on your site, will be able to help others in much the same way as you have helped me.
All too often we tend to forget that once this information is gone, it is gone forever.
But thanks to all your hard work, along with the help and support of the vintage snowmobile community, all of us have a
valuable resource at our fingertips for many of these rare items that would have otherwise been lost to the sands of time.
Thank you again for everything.
All my best to you, Jeff Kowalski, Valatie, NY
THANKS JEFF FOR THE GREAT PICTURES !