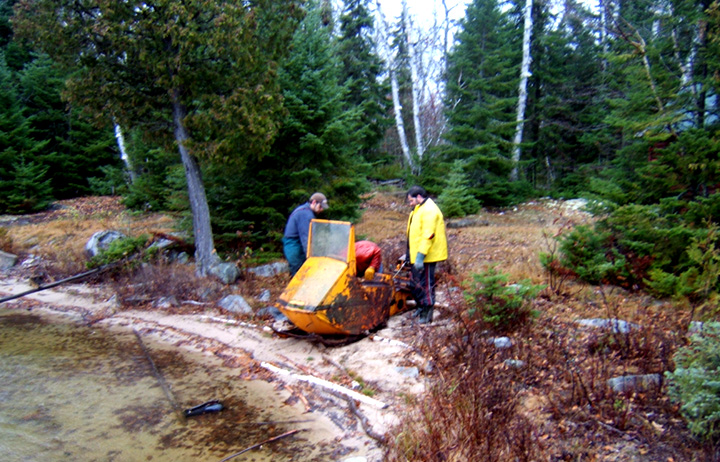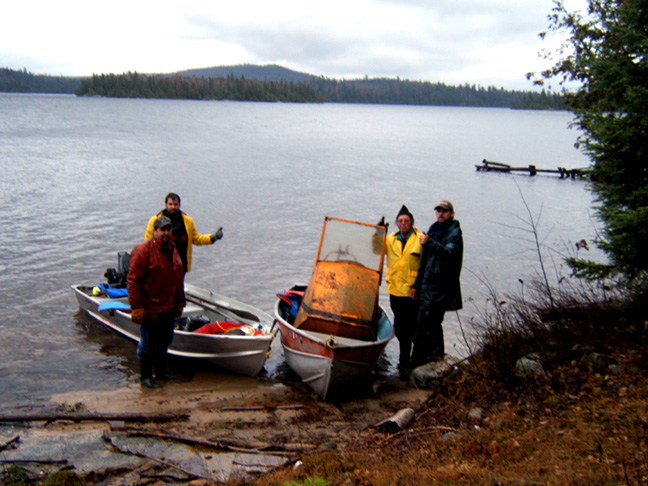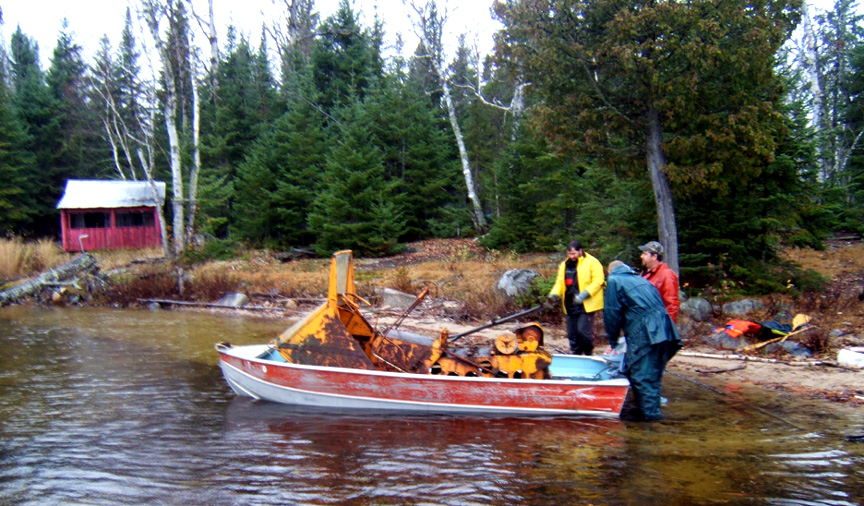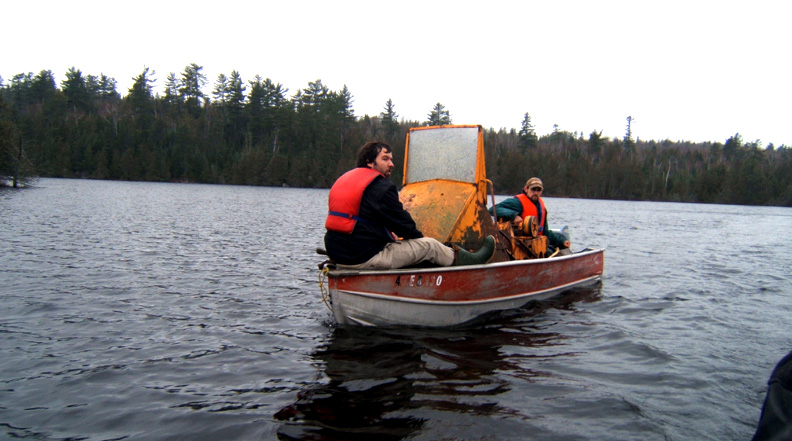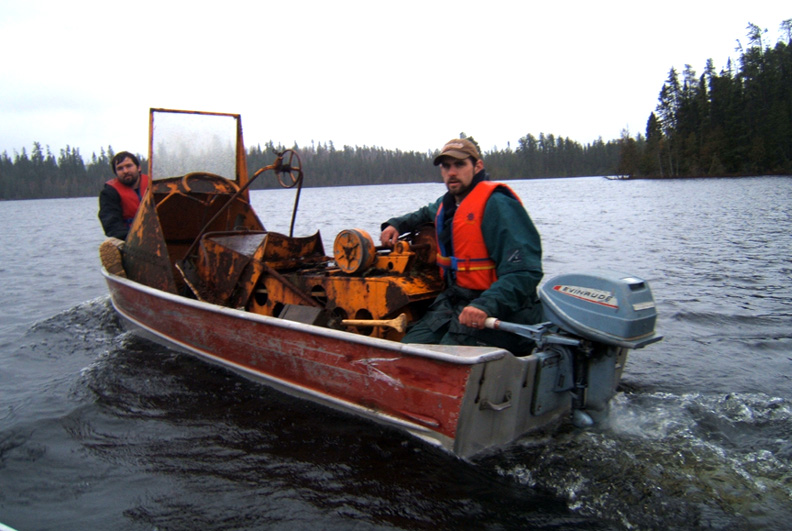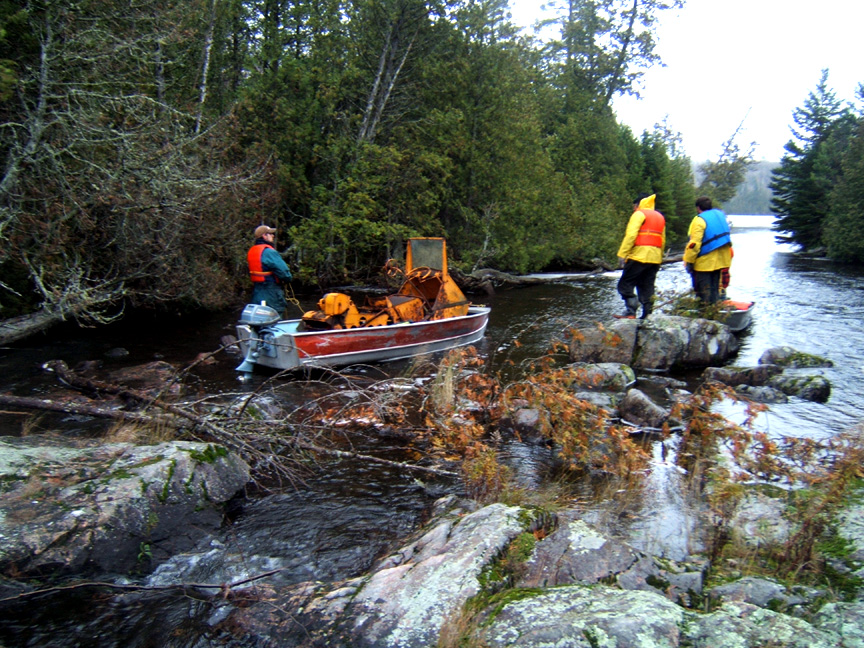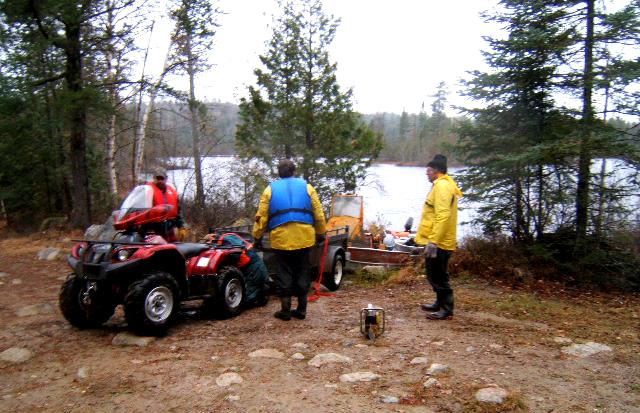 OCTOBER 30 - 2007
Hey Dave, Brian Orchard here from Echo Bay, Ont.
I've e-mailed you before with some of our sleds that we have fixed. I thought I would send you some
pics of our latest find, and what we went throught to get it. I seen this sled a few months ago and we
finally decided this weekend to take the trip to get it. It is a Autoboggan, not sure of the year 59-60.
Doesn't have head lights and the gas tank is not in the seat, but it has a Wisconsin engine.
Anyways to the trip part. We had to drive 3 1/2 hours on logging roads one way, and another 1/2 hour
by atv pulling a boat. Our first leg with the boat was 3 kms, then we had to portage through rapids onto
another lake where we had to go another 1 1/2 kms onto an island where the machine was.
We then had to cut a tree out of it and drag it 500 feet to the shore where we loaded it onto a boat.
On the way back the wind got up and we had to manoever through 2 foot waves not to mention hitting
a rock crib with the boat 200 feet off the island. The machine had been flown onto the island in the early
60's. They had cut the cab in half so it would fit into the plane. Anyways we finally got it back
and loaded up for our 3 1/2 hour drive back. The things guys will do for old sleds!!
Here are a few photos of our journey.
Thanks Brian Orchard / my cousin Ryan Mills, and brother Dave Orchard.
P.S. Keep up the great work on the website, excellent information, and pictures.

---
THANKS BRIAN FOR THE GREAT PICTURES!
ANYONE WHO GOES THROUGH THIS AMOUNT OF EFFORT TO GET A SLED IS WORTHY OF THE
SLED OF THE YEAR AWARD.
THANKS FOR SHARING THIS WONDERFUL STORY !