DAVID'S VINTAGE SNOWMOBILE PAGE.
RESTORING THE SPORT ONE PIECE AT A TIME.
MAPLE SYRUP AND SLEDS 1
---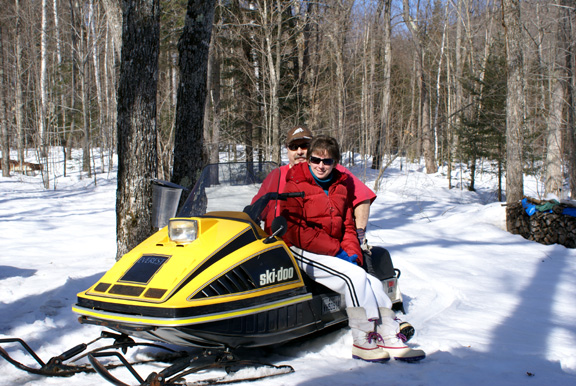 MAPLE SYRUP TIME - MARCH 2010.
MY WIFE AND I - 1977 SKI DOO EVEREST 340E.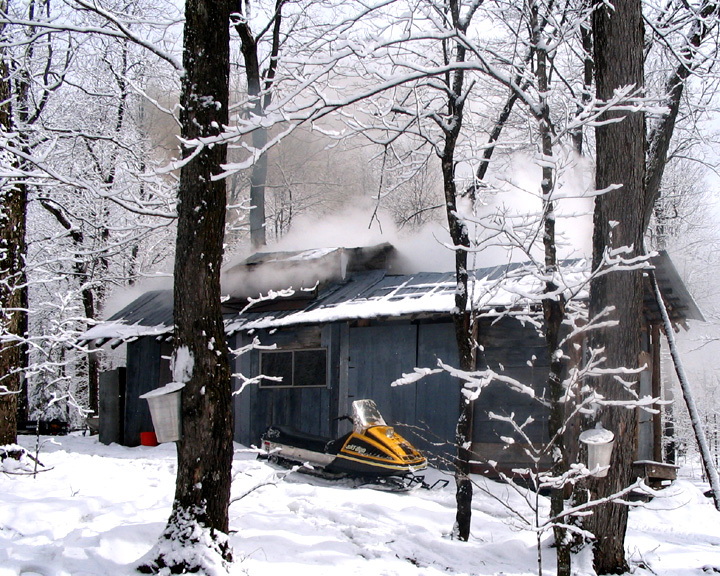 MAPLE SYRUP TIME IN QUÉBEC
YOU CAN SEE THIS SCENE ALL OVER QUÉBEC AT THIS TIME OF THE YEAR.
A HOLE IS DRILLED INTO A MAPLE TREE AND A SPOUT IS INSERTED INTO THE HOLE.
A PAIL HANGS FROM THE SPOUT AND THE SAP RUNS INTO THE PAIL.
SAP IS A CLEAR WATER SUBSTANCE FROM THE TREE THAT HAS A SUGARY TASTE TO IT.
EVERYDAY THE SAP IS COLLECTED AND BOILED DOWN TO MAKE MAPLE SYRUP.
SAP BOILS AT THE SAME TEMP AS WATER. 212 DEGREES FAHRENHEIT.
WHEN IT GO TO 218 DEGREES FAHRENHEIT, IT IS MAPLE SYRUP.
IT IS THEN TAKEN OFF OF THE STOVE, STRAINED AND CANNED.
IT TAKES ALMOST 45 GALLONS OF SAP TO MAKE JUST 1 GALLON OF MAPLE SYRUP.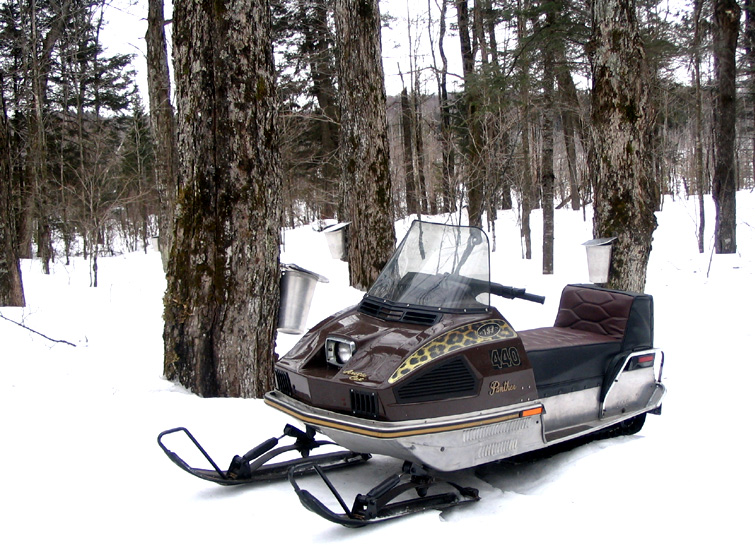 MY 1974 ARCTIC CAT VIP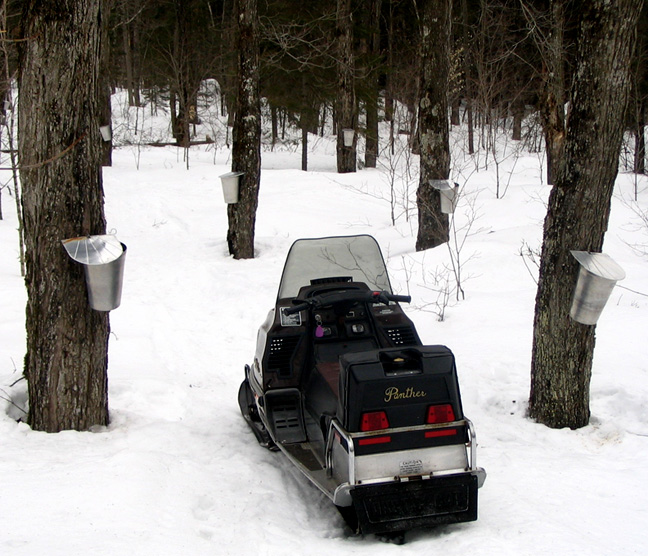 1974 ARCTIC CAT PANTHER VIP
WE PREFER TO MAKE SYRUP THE OLD FASHION WAY.
WE USE PAILS AND A WOOD BURNING STOVE.
IT'S MAPLE SYRUP TIME. YOU CAN SEE THE PAILS HANGING FROM THE TREES.
MY BROTHERS AND I STARTED TO MAKE MAPLE SYRUP IN THE EARLY 70'S.
MAPLE SYRUP AND SNOWMOBILES GO TOGETHER IN QUÉBEC.
THIS TIME OF THE YEAR WAS GREAT FOR ME BUT MADE ME SAD THAT
THE TRAILS WOULD SOON BE CLOSING FOR ANOTHER SEASON.
HERE ARE SOME PICTURES OF MY SLEDS IN MARCH AND APRIL FROM
DIFFERENT YEARS ON OUR LAND IN THE LAURENTIANS OF QUÉBEC.
1972 SKI DOO VALMONT & 1976 SKI DOO OLYMPIQUE PLUS 440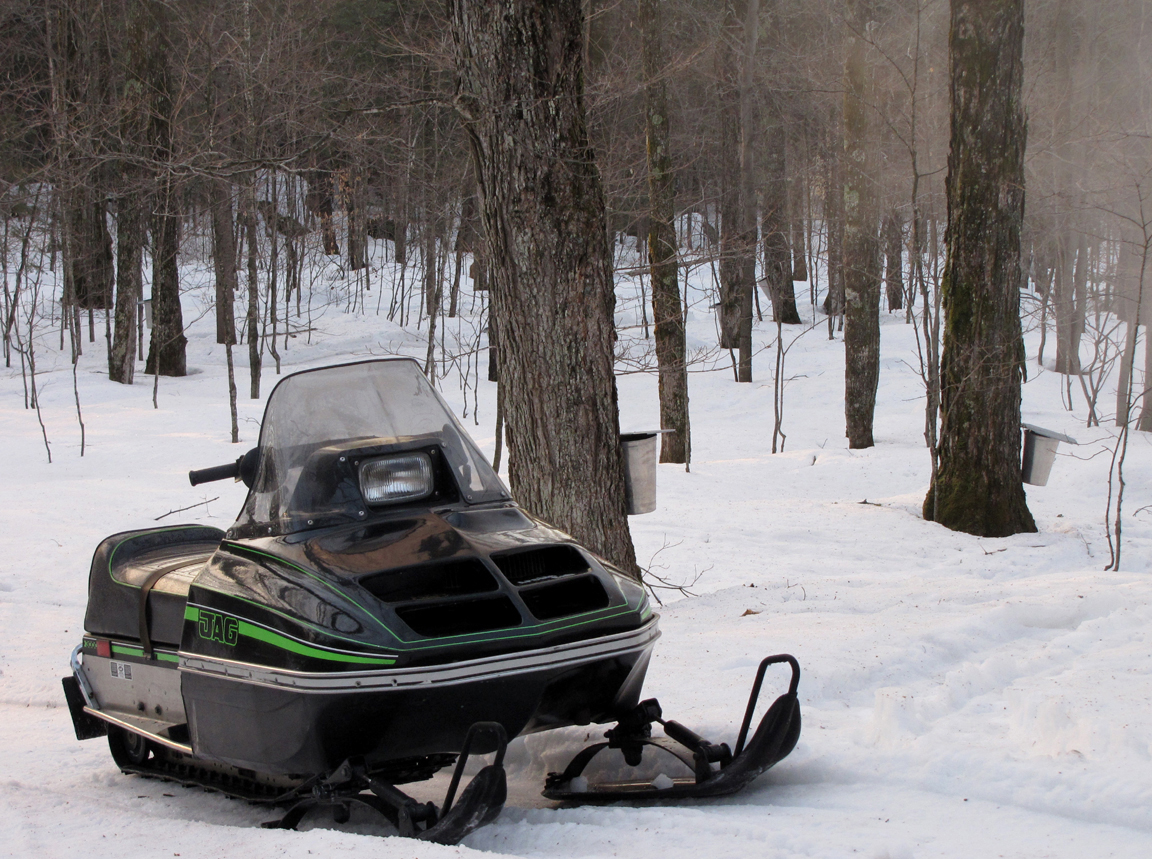 MY WIFE'S 1979 ARCTIC CAT JAG FREE AIR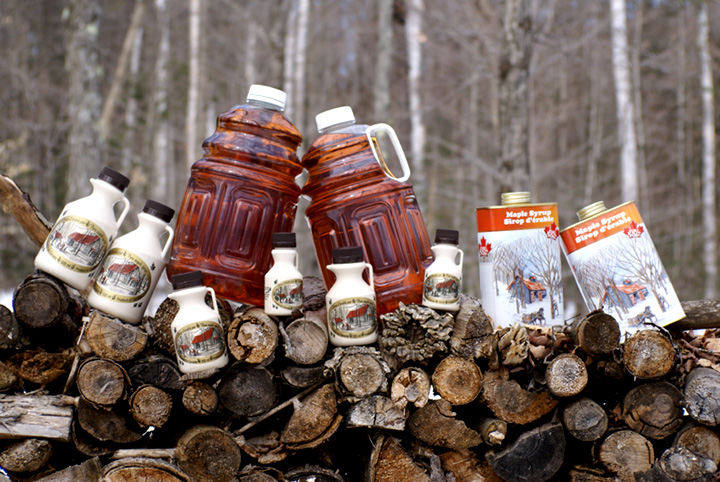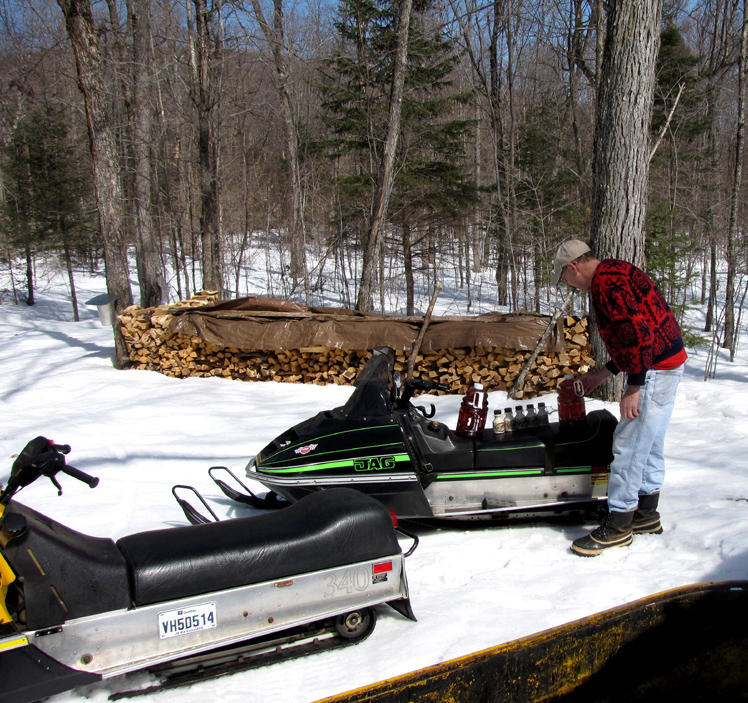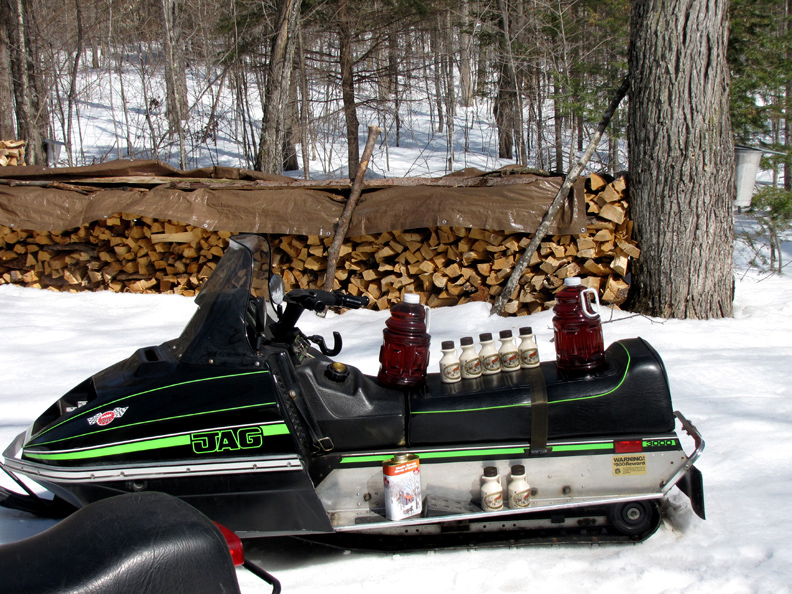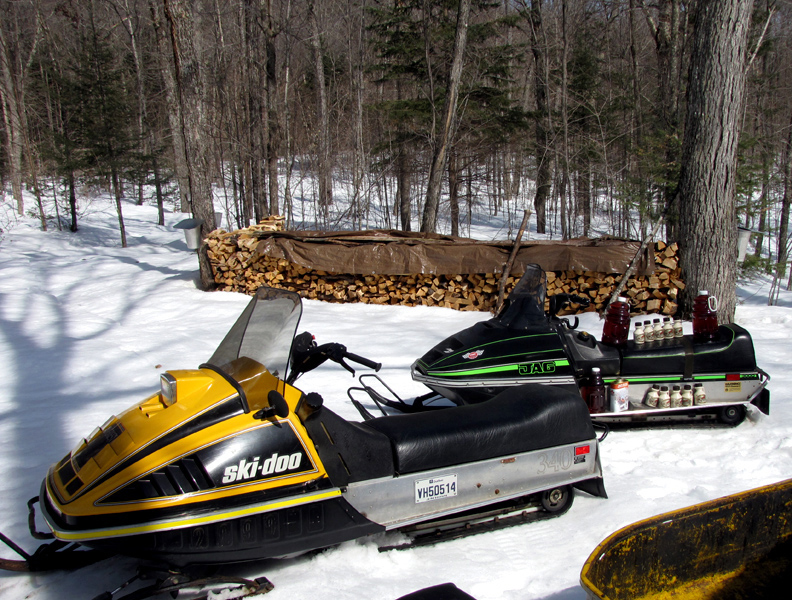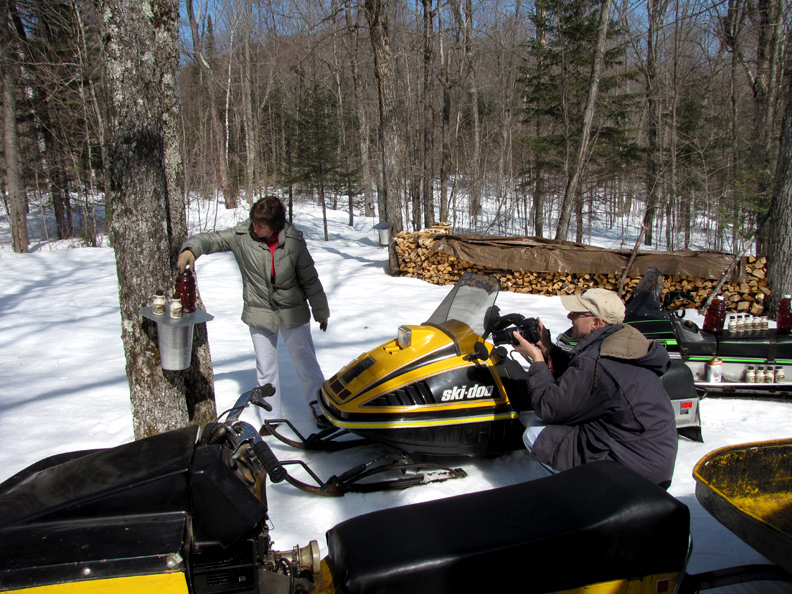 1979 ARCTIC CAT JAG 3000 F/A - SNOWMOBILE.
1977 SKI DOO EVEREST 340E & SKI DOO VALMONT.
OUR SKI DOO VALMONT AT THE SUGAR BUSH MAKING MAPLE SYRUP.
MY BROTHER IS TAKING PICTURES FOR THE FAMILY ALBUM. DAVID S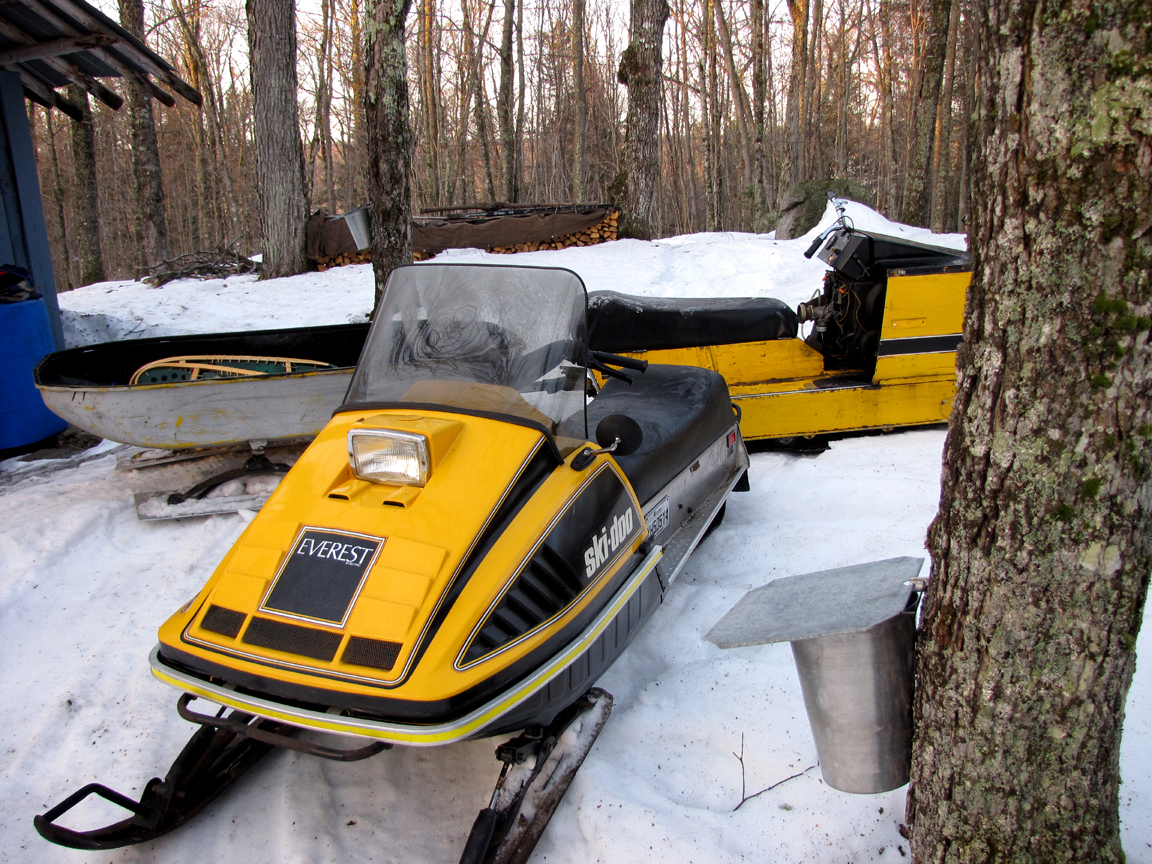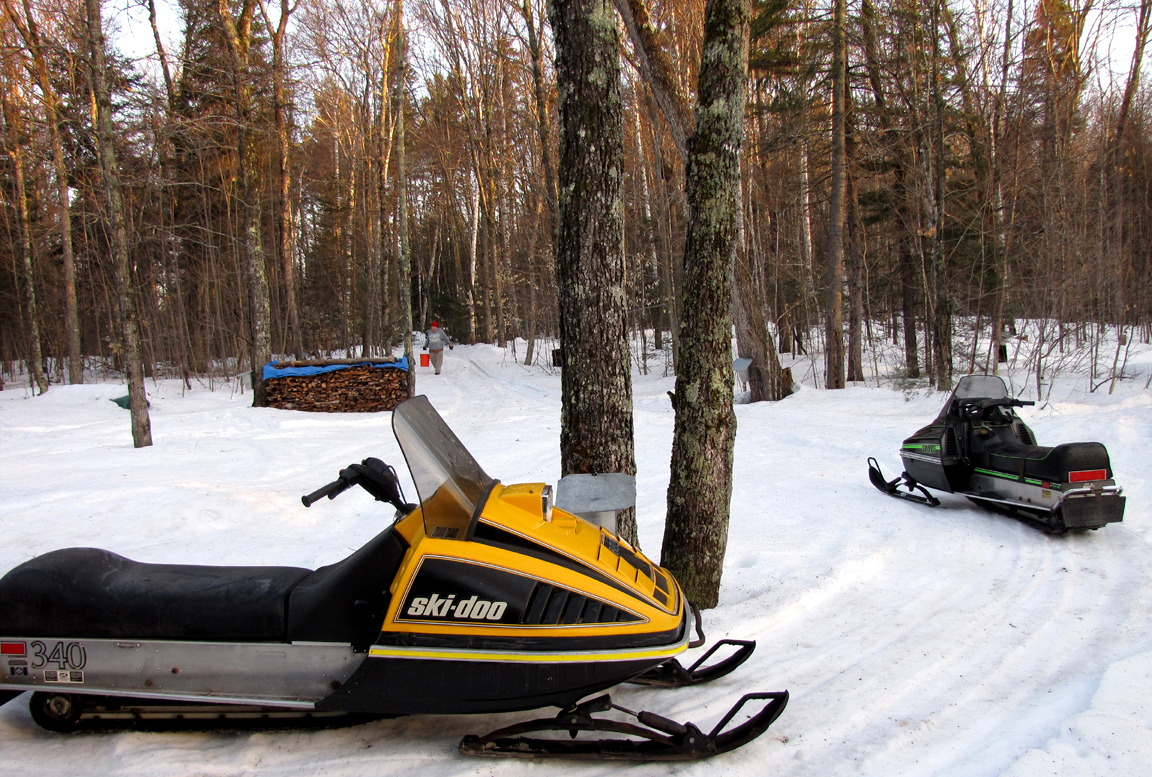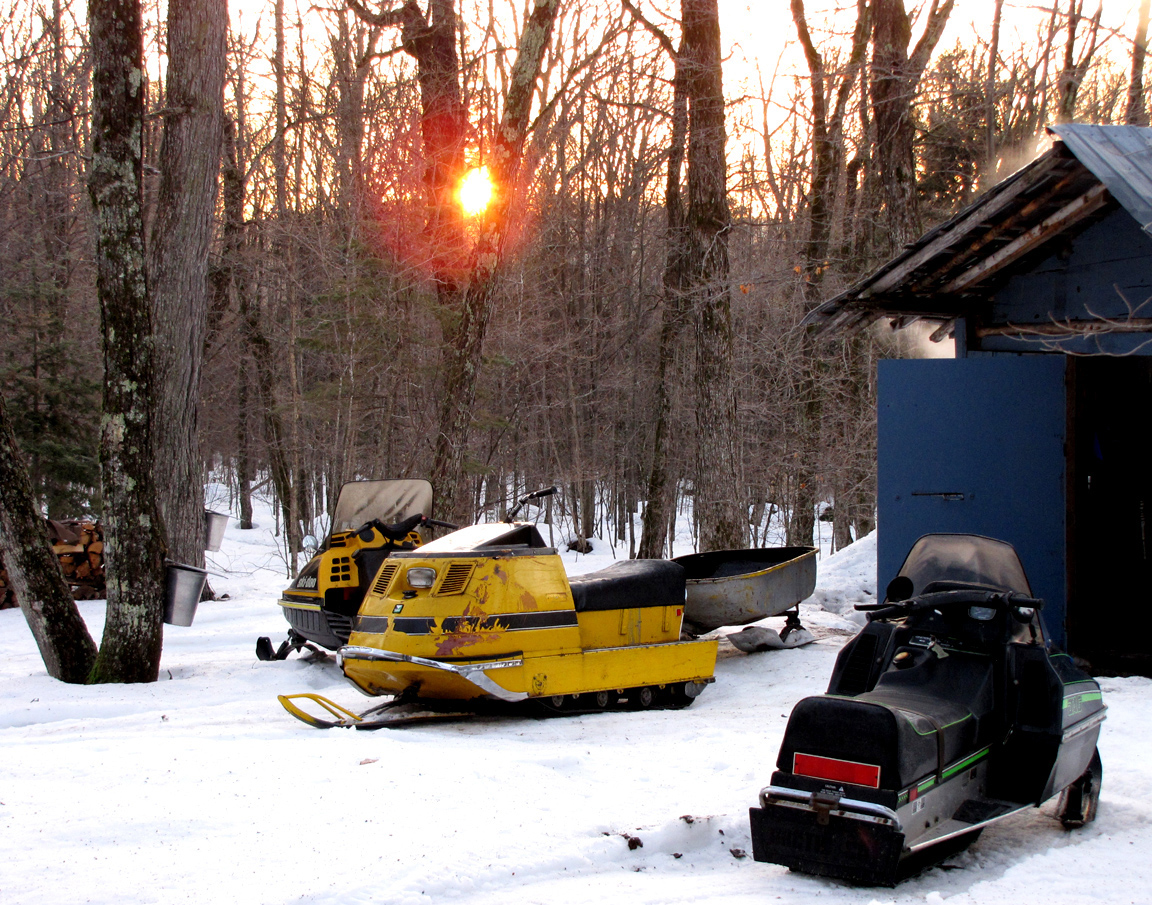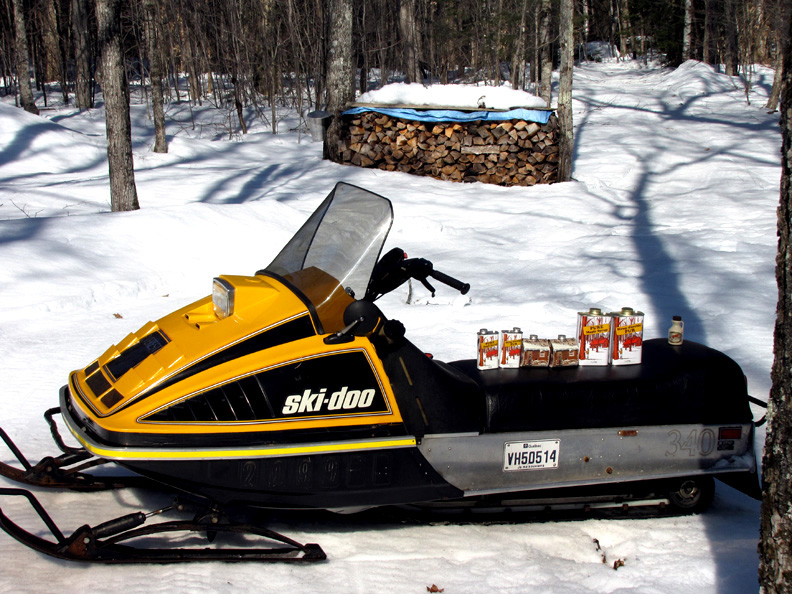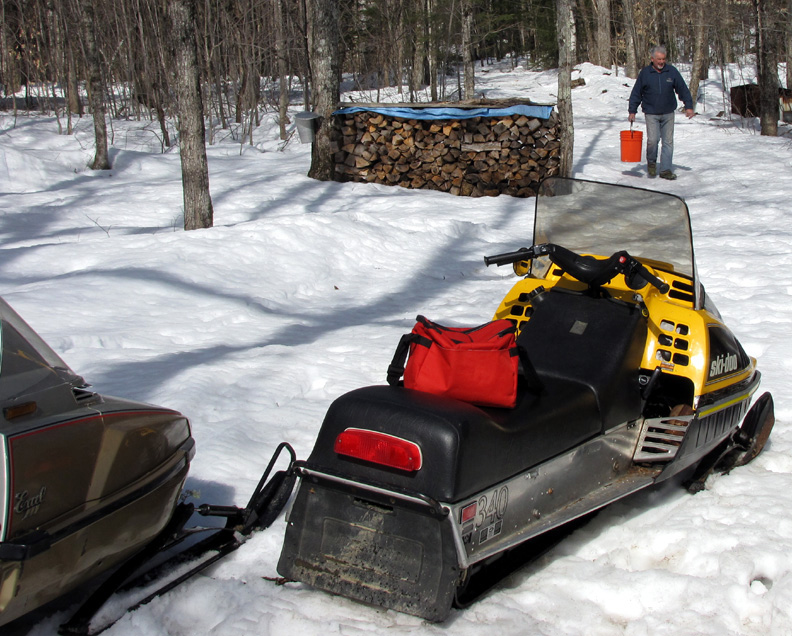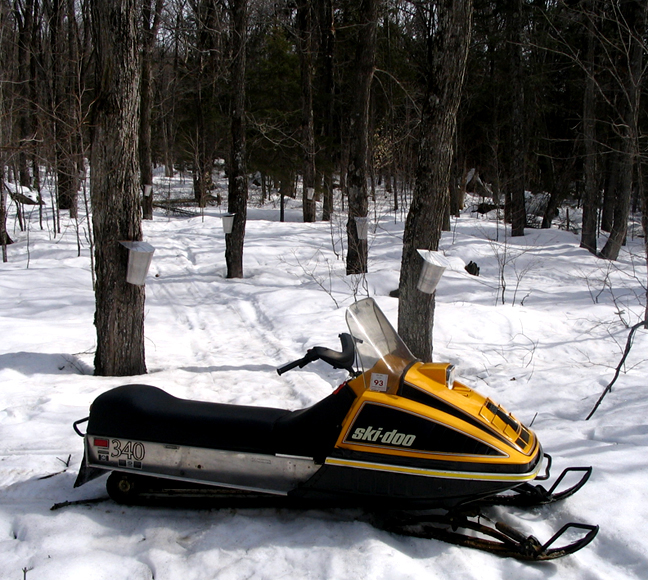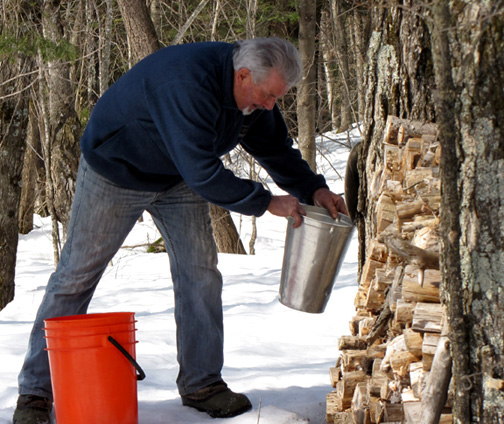 GERMAIN BEAUSÉJOUR COLLECTING SAP TO MAKE MAPLE SYRUP.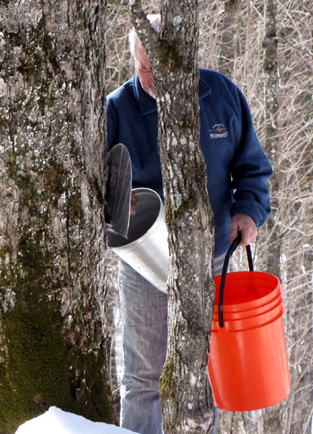 GERMAIN WORKED SO HARD THAT WE WERE ABLE TO MAKE SOME GREAT MAPLE SYRUP.
THANKS GERMAIN FOR HELPING OUT.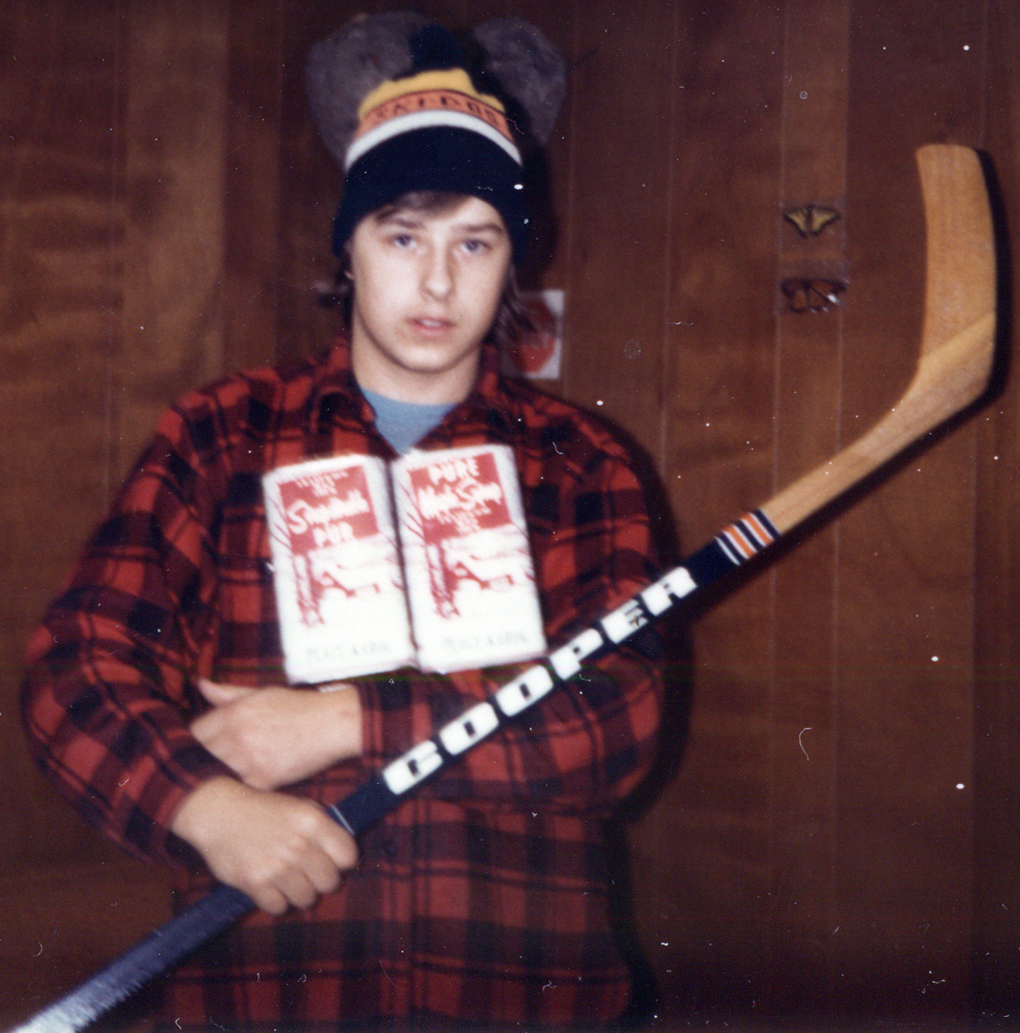 HERE I AM WHEN I WAS IN MY TEENS. DAVID S.