1971 Models.
Finally here was the innovative sled we had been promised the year before.
A Two up seat, completely enclosed engine, slide rails as optional equipment
and a hood that opened from the front like a car.
The production plant was also moved from Dorval to another
suburb of Montreal by the name of Pointe Claire.
2000 of these new models now being offered in yellow, lime Green and Red
were built and a distributor in the United states was established.
New names were also in order the first being MK-1 built with 15 inch tracks
and offering CCW and Sachs power from 250cc to 440 cc.
Then the MK-2 with an 18 inch track offering engine from 340cc to 640cc.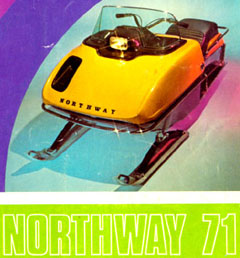 1971 NORTHWAY
CLICK HERE TO SEE A LARGE PICTURE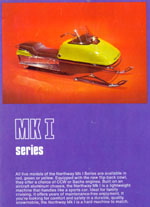 1971 NORTHWAY
CLICK HERE TO SEE A LARGE PICTURE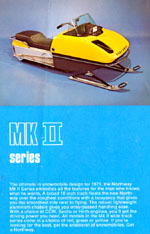 1971 NORTHWAY
CLICK HERE TO SEE A LARGE PICTURE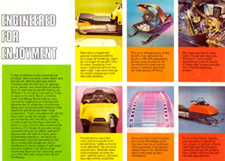 1971 NORTHWAY
CLICK HERE TO SEE A LARGE PICTURE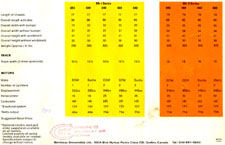 1971 NORTHWAY
CLICK HERE TO SEE A LARGE PICTURE