PHOTO PAGE 2276
CLAUDE GENDRON'S
SMALL AND MINI SNOWMOBILE LIST
LAST UPDATED - OCT 2005
CLAUDE GENDRON - QUEBEC - HAS PREPARED A LIST OF SMALL AND MINI SNOWMOBILES THAT WERE PRODUCED BY VARIOUS COMPANIES.
THANKS CLAUDE FOR YOUR HARD WORK PUTTING THIS ALL TOGETHER FOR EVERYONE TO ENJOY.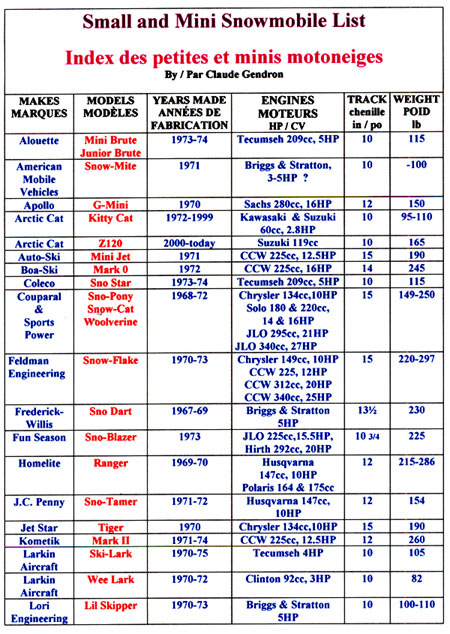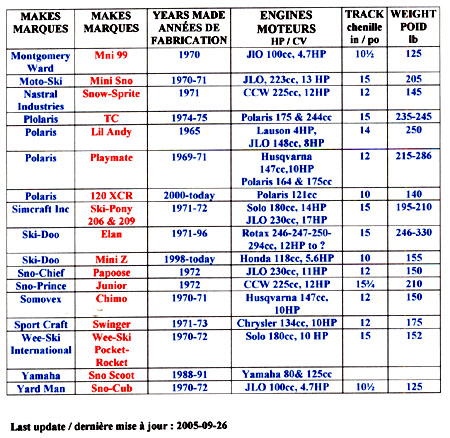 PLEASE SUPPORT THIS SITE.
A DONATION OF $ 5 OR $ 10 GOES A LONG WAY.
ANY CONTRIBUTION IS GREATLY APPRECIATED.
THANKS - DAVID
VINTAGE SNOWMOBILE - VINTAGE SNOWMOBILES
ANTIQUE SNOWMOBILE - OLD SNOWMOBILE
MOTONEIGE ANTIQUES