PLEASE TAKE NOTE:
JULY 4 - 2021
SINCE THIS LIST WAS COMPLIED BY CLAUDE GENDRON IN 2005,
A LOT OF NEW INFORMATION HAS BEEN FOUND.
PLEASE USE THIS LIST AS
A GUIDE BUT SOME OF THE DATES AS TO WHEN THE BRAND
STARTED ARE NOT CORRECT. THIS IS DUE TO FINDING NEW
BROCHURES / INFO FROM COMPANY OWNERS OR EMPLOYEES.
PLEASE USE THIS GUIDE TO SEE SOME OF THE HISTORY
ON MANY BRANDS BUT THEN GO TO THE BROCHURE PAGES
FOR MORE INFORMATION.
DAVID S
CLAUDE GENDRON'S
WORLD SNOWMOBILE LISTS
INDEX MONDIAL DES MOTONEIGES
LAST UPDATED JUNE 10 - 2010
CLAUDE GENDRON - QUEBEC - HAS PREPARED A HISTORICAL LOOK INTO THE SNOWMOBILE
INDUSTRY. BELOW ARE LISTS HE CREATED WITH AN IN-DEPTH VIEW OF SNOWMOBILE
MANUFACTURES WITH THE BRANDS THEY PRODUCED, THE YEARS THEY WERE MADE + MUCH
MORE. THESE ARE GREAT LIST THAT WILL GIVE YOU TONS OF INFO ON ALL OF YOUR OLD
FAVORITE SLEDS. THIS IS A MUST SEE! BE SURE TO GO THROUGH IT.
THIS IS A GREAT LOOK INTO SNOWMOBILE HISTORY!
THANKS CLAUDE FOR YOUR HARD WORK PUTTING THIS ALL
TOGETHER FOR EVERYONE TO ENJOY.
WARNING - I dont have the pretention that all my documents below are 100% correct, but certainly
they are to the best of my knowledge. There might be errors or incorrect info however I will believe
they are near to 90% correct. If you find errors and you have the correct info you are welcome to
send them to me ( Claude Gendron ) at : jdc.gendron@videotron.ca
---
CLAUDE GENDRON - GATINEAU - QUÉBEC - PAR SES TRAVAUX IL A PRÉPARÉ UN REGARD
HISTORIQUE SUR L'INDUSTRIE DE LA MOTONEIGE. CI-BAS VOUS TROUVEREZ LES DIFFÉRENTS
INDEX ET CHRONOLOGIES QU'IL A CRÉÉ ET QUI SONT LES RÉSULTATS D'UNE RECHERCHE
APPROFONDIE SUR LES DIFFÉRENTS MANUFACTURIERS DE MOTONEIGES DU PASSÉ. CES
DOCUMENTS CI-BAS CONTIENNENT LES DIIFFÉRENTES MARQUES QU'ILS ONT CONSTRUIT,
LEURS ANNÉES DE PRODUCTION AINSI QU'UNE MULTITUDE D'INFORMATIONS SUR VOS
MARQUES PRÉFÉRÉES. CETTE PAGE D'INFORMATIONS EST INCONTOURNABLE POUR
L'AMATEUR ET LE COLLECTIONNEUR DE MOTONEIGES ANCIENNES. NE MANQUEZ PAS
DE PASSER TOUS CES DOCUMENTS EN REVUE C'EST UN TRÈS BEAU COUP D'OEIL SUR
L'HISTOIRE DE LA MOTONEIGE ! MERCI CLAUDE POUR CETTE TÂCHE ARDUE QU'A ÉTÉ DE
RASSEMBLER TOUTES CES INFORMATIONS ENSEMBLES POUR LE PLAISIR DE TOUS ET
CHACUN. Avertissement - Je n'ai pas la prétention que tous mes travaux ci-bas soient sans erreur,
mais certainement qu'il sont au meilleur de mes connaissances. Ils peuvent contenir des erreurs et
des informations inexactes, mais je croirais bien qu'ils sont exactes à près de 90%. Si vous relevez
des erreurs ou des informations inexactes et que vous connaissez les corrections à apporter,
vous êtes bienvenus de me les faire parvenir à moi, Claude Gendron : jdc.gendron@videotron.ca
INDEX MONDIAL DES MOTONEIGES -
Par Claude Gendron, dernière mise à jour : 10 - NOV - 2005

CANADA + USA + JAPON - CONVENTIONNELLES: 1 CHENILLE, 2 SKIS & MOTEUR AVANT

CANADA + USA + JAPON - NON-CONVENTIONNELLES: MOTEUR ARRIÈRE + AUTRES CONFIGURATIONS

EUROPÉENNES - CONVENTIONNELLES + NON-CONVENTIONNELLES

CHRONOLOGIE DE L'HISTOIRE DE LA MOTONEIGE À UNE CHENILLE

" QUE SONT-ELLES DEVENUES''

HISTOIRE DE LA MOTONEIGE >>> NOUVEAU MAY 05

CHRONOLOGIE DES PRINCIPALES INNOVATIONS TECHNIQUES DE LA MOTONEIGE D'AUJOURD'HUI > NOUVEAU

INDEX DES PETITES ET MINIS MOTONEIGES >>> Nouveau

TEMPLE DE LA RENOMMÉE DE LA MOTONEIGE >>> Nouveau
WORLD SNOWMOBILE LIST - BY Claude Gendron

CANADA + USA + JAPAN CONVENTIONAL 1 TRACK, 2 SKIS & FRONT ENGINE

CANADA - USA - NON CONVENTIONAL REAR ENGINE + OTHER CONFIGURATION

EUROPEAN SNOWMOBILE LIST

CHRONOLOGY OF THE ONE TRACK SNOWMOBILE

CHRONOLOGY OF THE MODERN SNOWMOBILE - MAJOR INNOVATIONS >> NEW

WHERE DID THEY GO?

HISTORY OF THE SNOWMOBILE >>> UPDATED MAY 05

SMALL AND MINI SNOWMOBILE LIST >>> New

SNOWMOBILE HALL OF FAME >>> New


TO SEE A BROCHURE OF THIS BRAND OF VINTAGE SNOWMOBILE
ON MY SITE, GO TO THE BROCHURE PAGE.
PLEASE DONATE TO SUPPORT THIS SITE.
CLICK ON THE PAYPAL BUTTON.

THE COST OF RUNNING THIS SITE GOES UP EACH YEAR.
A DONATION OF $ 5, $ 10, OR $ 20.00 GOES A LONG WAY.
ANY CONTRIBUTION IS GREATLY APPRECIATED.
THANKS - DAVID

EXPO-SNO
EXPOSITION DE MOTONEIGES ANTIQUES ET CLASSIQUES
ET MÉGA MARCHÉ AUX PUCES
DE PIECES ET MOTONEIGES.
PRES DE MONTREAL, QUÉBEC, CHAQUE AUTOMNE.
---
NOUS ESPÉRONS AVOIR PLUS DE 150 MOTONEIGES
ET AUSSI UN AUTRE GRAND SUCCÈS AVEC NOTRE
MÉGA MARCHÉ AUX PUCES DE PIECES ET MOTONEIGES.
---
APPUYEZ ICI
POUR LA DATE & INFO.

VINTAGE SNOWMOBILE, VINTAGE SNOWMOBILES
ANTIQUE SNOWMOBILE - OLD SNOWMOBILE
MOTONEIGE ANTIQUES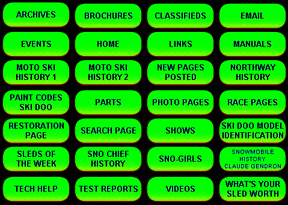 DAVID'S VINTAGE SNOWMOBILE PAGE