NOTE :
JULY 5 - 2021
---
I AM WORKING ON FIXING THE BROKEN LINKS BELOW
THAT PERTAIN TO BOB EASTMAN.
---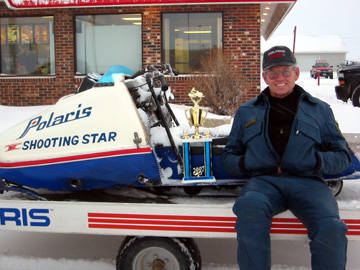 BOB EASTMAN - ROSEAU, MINNESOTA
POSTED APRIL 20 - 2008
Below is an e-mail that I received from Bob Eastman who all vintage snowmobile buffs will
remember as one of the premiere racers in the history of the sport. Bob raced for Polaris.
To say that I was honored and thrilled to receive this e-mail would be an understatement of huge proportions! It means the world to me to receive acknowledgement such as this from someone who
is an icon in the sport and whom I personally revere as one of the world's greatest snowmobile racers.
My sincere thanks to Bob for his kind words and Karolyn Eastman who
kindly forwarded me the following pictures of Bob for all of us to enjoy!
DAVID S.
---
Hi David,
Bob Eastman here from Polaris-Roseau, Minnesota.
I want to thank you for the finest website of the "vintage" snowmobile archives you have
built for all of us to enjoy! This has to be the world's finest and extensive website for all
snowmobile enthusiasts as well as historical and product information! My sincere thank
you is sent to you for preserving the snowmobile sport and days that have gone by.
Thanks again for the passion of your collection of snowmobiles, and the history that has
made it this far! This is a must-see website for all men and women and children that enjoy
the sport of snowmobiles! Sincerely, Bob Eastman