The Sno Chief snowmobile was manufactured / distributed by Dufrane Motor Distributors 417 E. Main St., Malone, New York.
Dufrane Distributors were in the snowmobile business starting in 1963 as the original Moto-Ski distributor.
( see Moto Ski history page & Moto Ski race page )
In 1970 (mid-year) Dauphin Industries told Al Dufrane that they would build a sled with his name on it.
This became "Sno-Chief" as the Hogansburg Indians were good Moto-Ski parts customers and the thought was to
sell these to them as well. The 1971 Sno Chiefs models were Dauphins painted maroon and white with black bodies.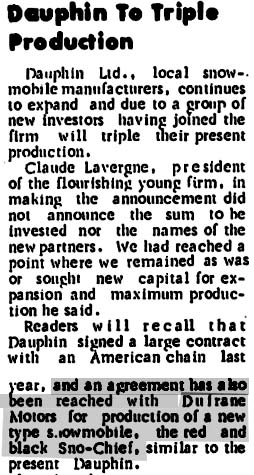 They were not hi-tech but they were tough and handled very well. They came in 246cc, 292cc Hirth singles and
340 and 399cc CCW twins. They were not fast but they were very dependable. (Although a little on the ugly side.)
In mid 1971 Dauphin fell on hard times and the body dies and fixtures, the ski press and belly pan press was bought by DMD at Dauphin's bankruptcy auction. They also bought Ski-Pony as they used many Dauphin parts.
---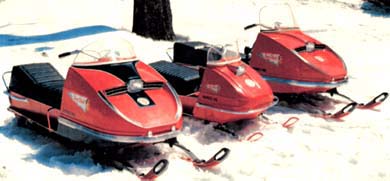 The 1972 models (manufactured by Dauphin) ( SEE THE BROCHURE PAGES ) had a new rubber track and JLO engines -
230 Apache, 292 Mohawk singles and 340 Iroquois, 400 Cherokee and 440 Comanche JLO twins.
They also had a few 440 Hirth twins.
Speedometer and tachometer were standard on the twins with choice of high back or sports seat. The sled was orange and
the hoods were redesigned by DMD and were actually pretty good looking. The twins also had engine covers.
They were dependable but still not awfully fast and the traction from the new track was less than spectacular.
---
For the 1973 model year, ( SEE THE BROCHURE PAGES ) they were made in Malone, NY (417 E. Main St.). These machines were
designed by George Dufrane (my father) and Francis "Red" Bonner. My father designed a new hood, sleeker than the 72's.
They had 'trailing bogie' suspension mounted on rails as a removable assembly. They also had a new
Goodyear "Pathfinder" internal lug drive track.
They were powered by all new high performance Hirth engines.
The '73 models were Mohawk 290 twin, Iroquois 340 twin and Comanche 440 twin.
They were called "SSHP: for Super-stock high performance.
The high performance Hirth engines had everything right and the 340 was rated at 35 HP at 7750 RPM.
The 440 was 46HP at 7250 RPM. Some 340's had WD Walbro Carbs (mine was the first) and they would truck.
Mine would top out at 70 anytime and 75 on a good cold day.
I SPOKE TO GEORGE DUFRANE JR AND HE TOLD ME THAT SOME
1973 SNO CHIEF MODELS LOOKED ALMOST EXACTLY LIKE THE 1972 MODELS
WITH MINOR DIFFERENCES. DAVID S
---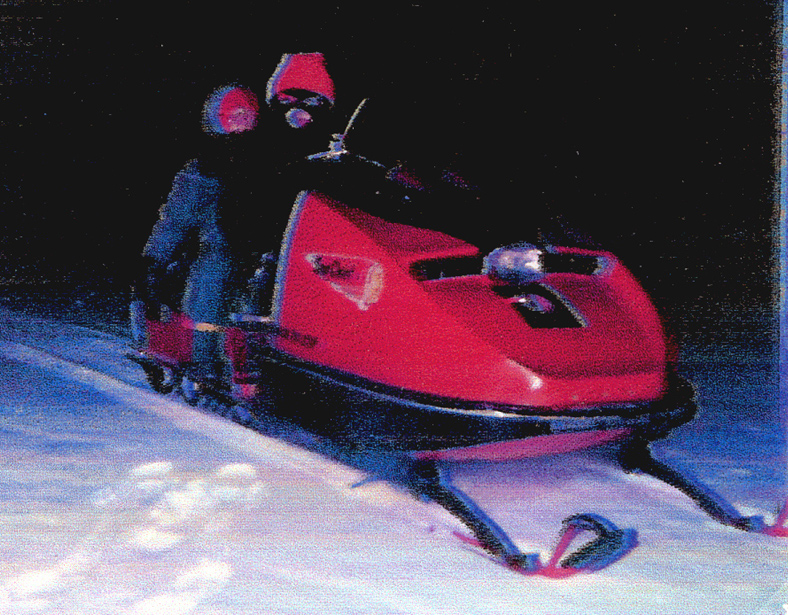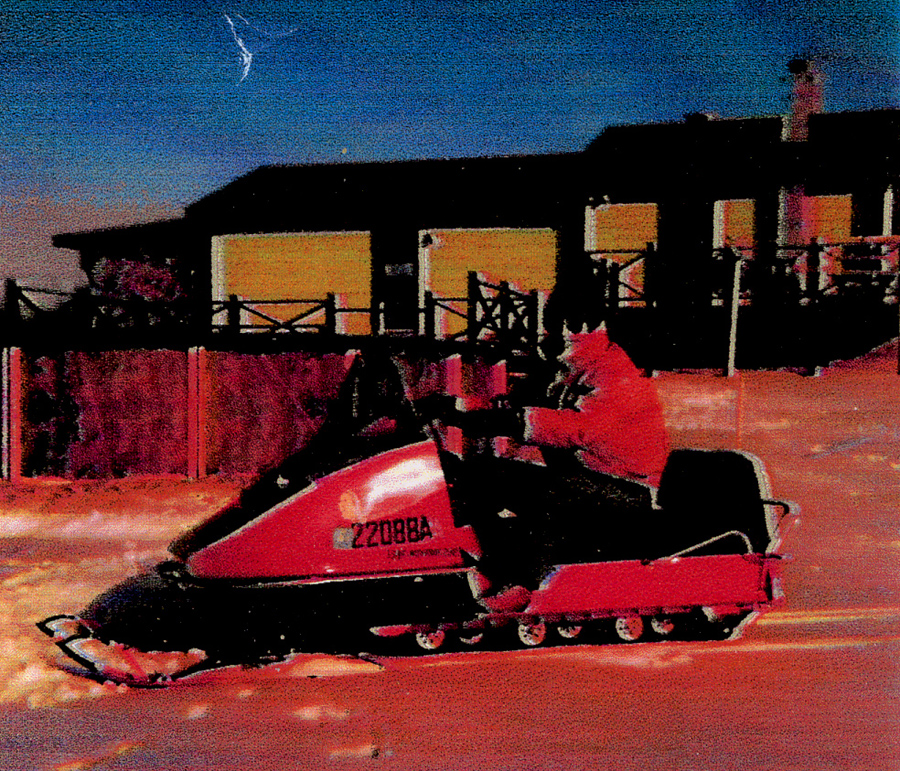 Photos courtesy of Mrs. Lynn Rockhill
Constable, NY, USA
The 440's had dual carbs (Walbro WD's) and it woke them up too. (My dad's sled would run
90 mph.) My 340 was never beaten. My dad's 440 was not beaten by any non racing 440 either.
One sled was built with a 650 Hirth engine and it would FLY. Way too much engine for the chassis.
Sno-Jet had a 650 Hirth and my dad beat it with his 440 on hard going and deep snow too but he or no one else
beat the Sno Chief Sioux 650.
The sleds had St. Laurence hi-rev clutches with 5000 rpm engagement and
would still handle excellent and would break trail in snow.
PS The "1973 Sno Chief 650 is up over at the machine shop at Malone Auto Parts.
The Ski Press is at the shop also.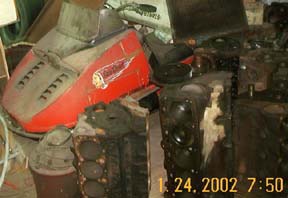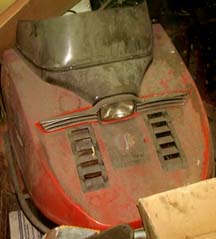 This is the 1973 SNO CHIEF 650 CC.
It doesn't look like much now but it would run.
CLICK HERE FOR LARGE PICTURES.
Photo courtesy of Mrs. Harriet Dufrane.
---
The 74-76 sleds were much the same with cosmetic changes and Salisbury clutches. Experimentation was conducted with
Kioritz engines that had 8 ports and I believe reed-valves and liquid cooled Xenoah-Fugi engines.
Production was discontinued in 1976 as the sled business was rapidly fading.
There was one 1977 prototype with new hood and engine cover and liquid cooled engine.
My dad said if they would have had the '73 - up sleds 3 years earlier they could have sold in impressive numbers.
Dufrane Distributors is now and has been in the NAPA AutoParts Business since 1970.
My dad and I started George's Body Shop and used cars in 1977 after the snowmobiles ended as
that was his line of work before the snowmobile business.
---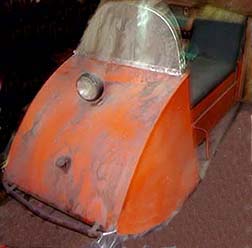 Here is a picture of one of the tincab Moto-Skis we had.
This all started it all for DMD. One of our first 13
or so 1964 Moto Ski's - Serial number # 39464
(storeroom at NAPA Malone Auto Parts, Malone, NY 12953).
Photo courtesy of Mrs. Harriet Dufrane.
---
I'd like to thanks my dad, George Dufrane Sr. for his invaluable help and hard work for working with the Moto Ski people to make it what is was. At the time, he enjoyed it very much. As you can see by the business card, we are now...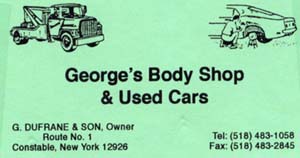 He is now 73 years old and still kicking but not as high or as often.
Georger Dufrane JR.