DAVID'S VINTAGE SNOWMOBILE PAGE.
RESTORING THE SPORT ONE PIECE AT A TIME.
PLEASE READ.
CLAUDE GENDRON CREATED THIS LIST IN 2005.
I HAVE FOUND A LOT OF NEW INFORMATION SINCE THAT TIME.
THIS NEW INFO CHANGES THE STARTING DATE
OF THE FIRST MODEL YEAR FOR SOME BRANDS.
AFTER LOOKING AT THIS LIST, PLEASE GO TO THE BROCHURE PAGE
TO GET THE LATEST UP TO DATE INFORMATION.
JUNE 15 - 2010
DAVID S.
CONVENTIONAL: 1 TRACK, 2 SKIS & FRONT ENGINE
UPDATED JUNE 15 - 2010
CLAUDE GENDRON - QUEBEC - PREPARED A HISTORICAL LOOK INTO THE SNOWMOBILE INDUSTRY. BE SURE TO READ HIS LISTS POSTED BELOW. THEY PROVIDE AN IN-DEPTH LOOK AT THE SNOWMOBILE MANUFACTURES WITH THE BRANDS THEY PRODUCED, THE YEARS THEY WERE MADE AND MORE. THIS IS A GREAT INSIDE LOOK INTO SNOWMOBILE HISTORY!
THANKS CLAUDE FOR A GREAT JOB! - SEE BELOW
TO SEE A BROCHURE OF THIS BRAND OF VINTAGE SNOWMOBILE
ON MY SITE, GO TO THE BROCHURE PAGE.
PLEASE DONATE TO SUPPORT THIS SITE.
CLICK ON THE PAYPAL BUTTON.

THE COST OF RUNNING THIS SITE GOES UP EACH YEAR.
A DONATION OF $ 5, $ 10, OR $ 20.00 GOES A LONG WAY.
ANY CONTRIBUTION IS GREATLY APPRECIATED.
THANKS - DAVID

EXPO-SNO
EXPOSITION DE MOTONEIGES ANTIQUES ET CLASSIQUES
ET MÉGA MARCHÉ AUX PUCES
DE PIECES ET MOTONEIGES.
PRES DE MONTREAL, QUÉBEC, CHAQUE AUTOMNE.
---
NOUS ESPÉRONS AVOIR PLUS DE 150 MOTONEIGES
ET AUSSI UN AUTRE GRAND SUCCÈS AVEC NOTRE
MÉGA MARCHÉ AUX PUCES DE PIECES ET MOTONEIGES.
---
APPUYEZ ICI
POUR LA DATE & INFO.

VINTAGE SNOWMOBILE, VINTAGE SNOWMOBILES
ANTIQUE SNOWMOBILE - OLD SNOWMOBILE
MOTONEIGE ANTIQUES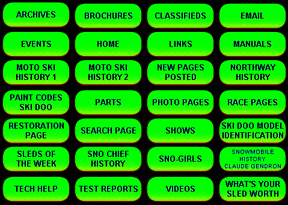 DAVID'S VINTAGE SNOWMOBILE PAGE