DAVID'S VINTAGE SNOWMOBILE PAGE.
RESTORING THE SPORT ONE PIECE AT A TIME.
---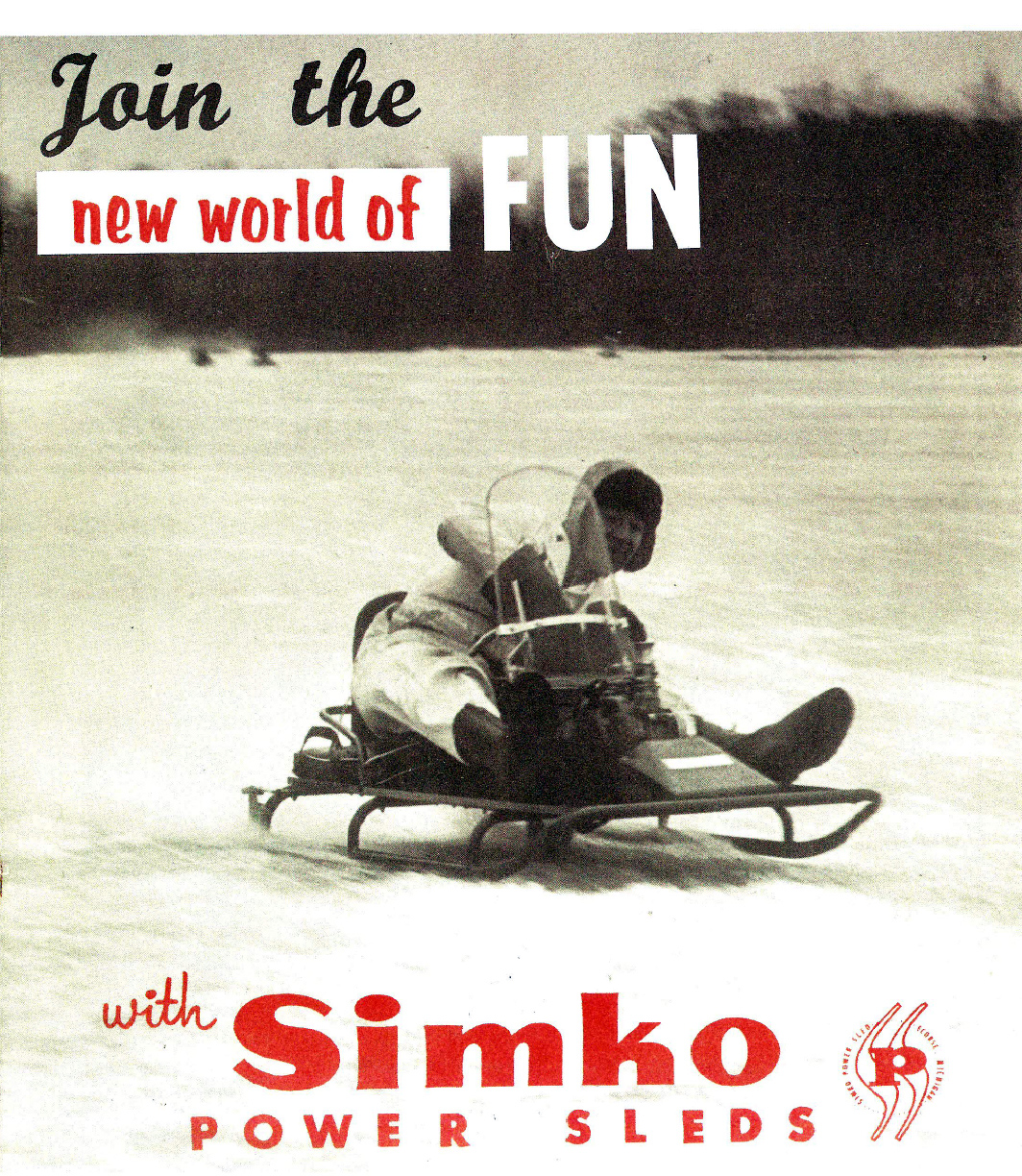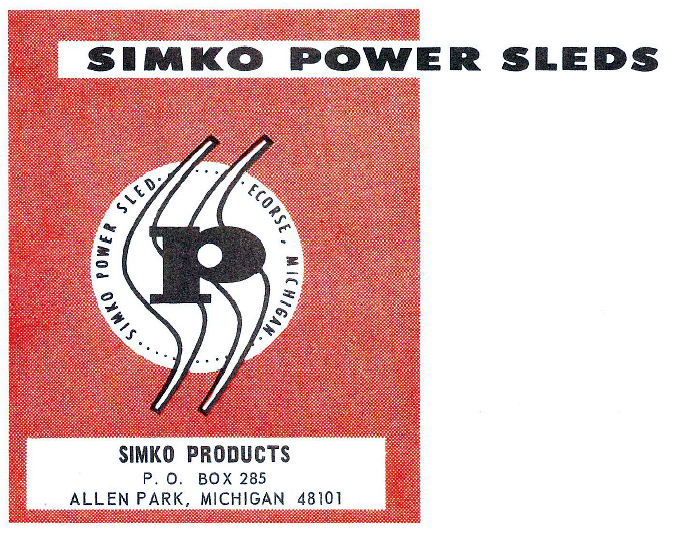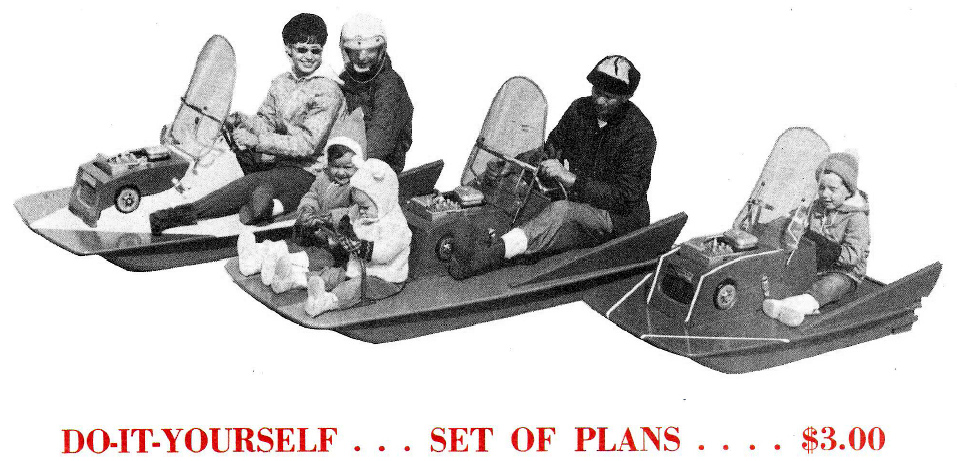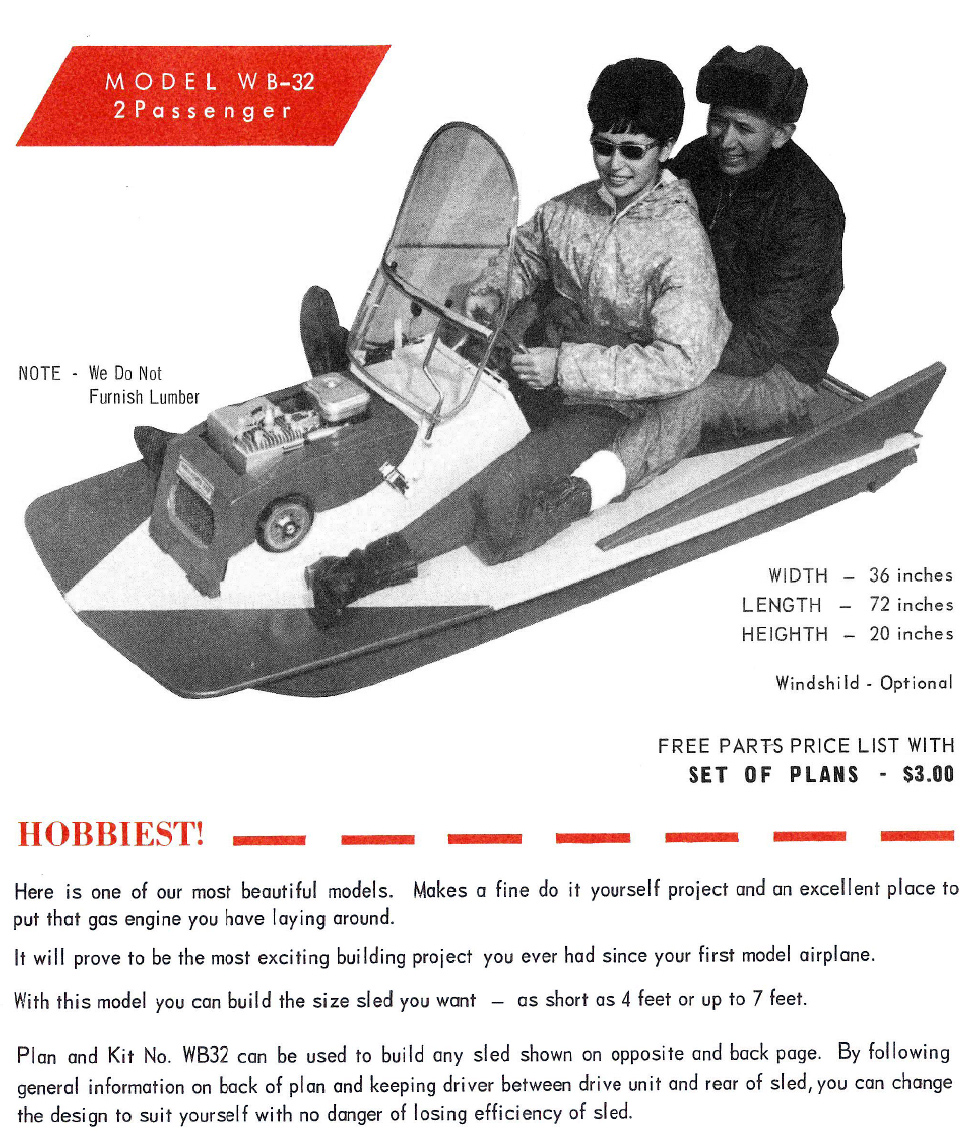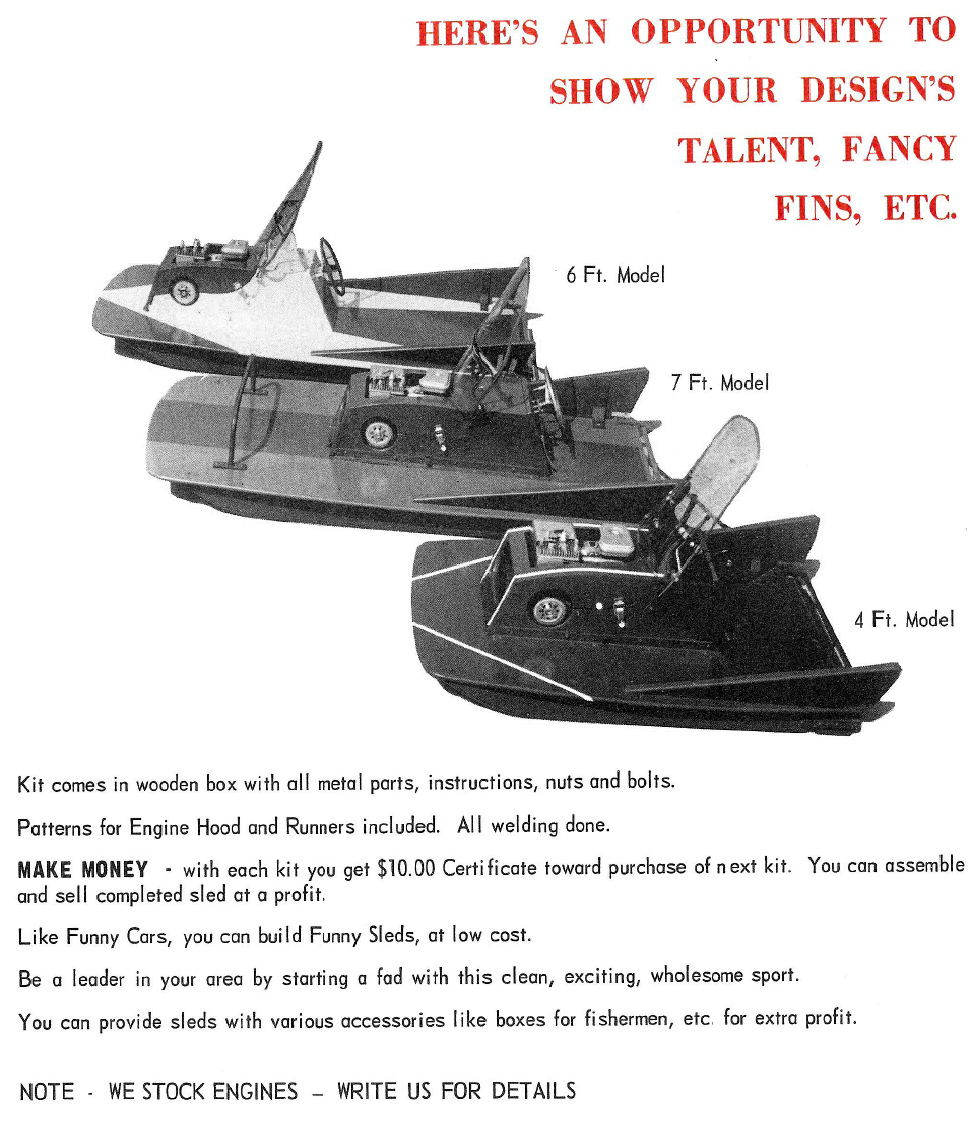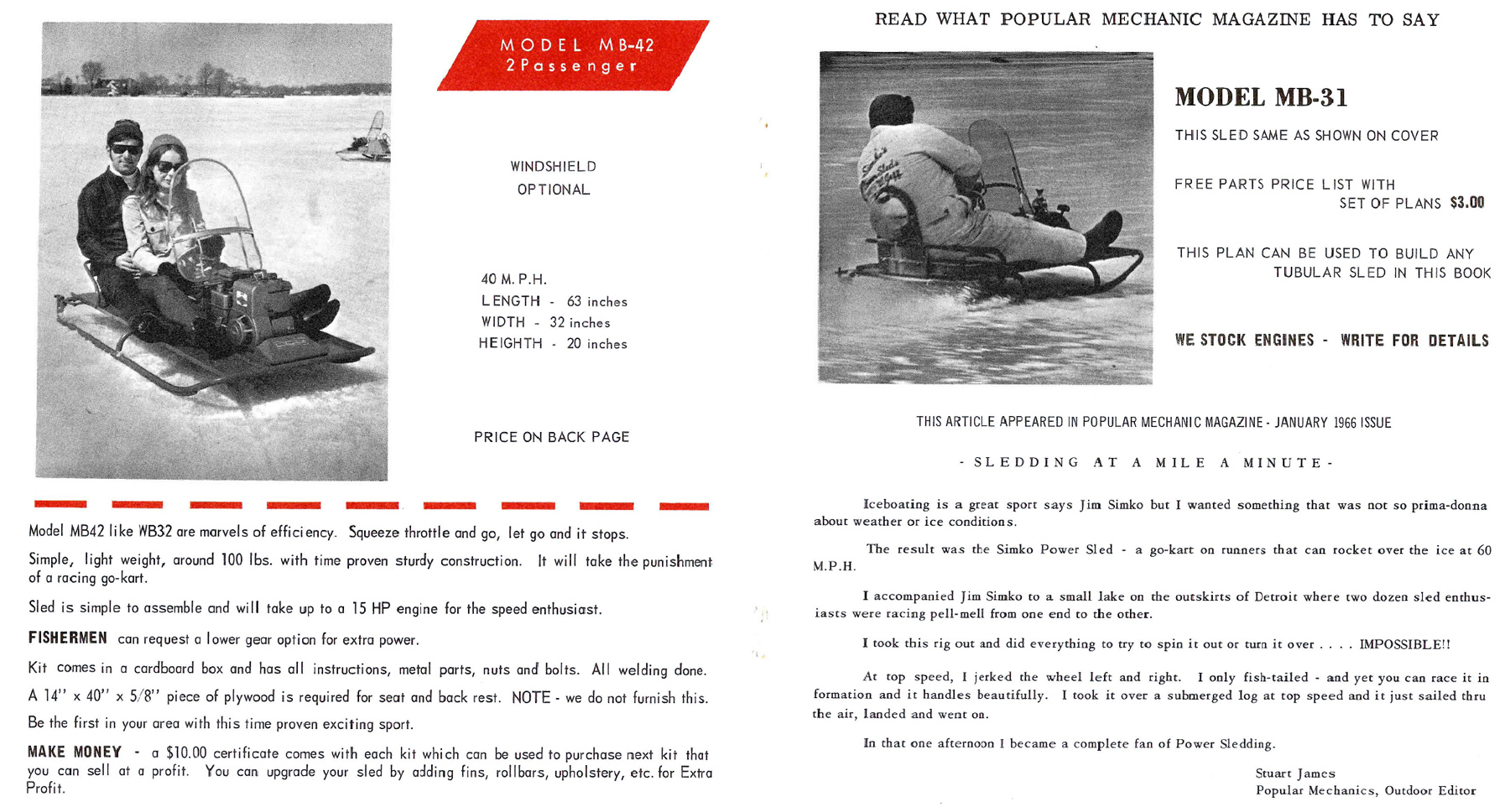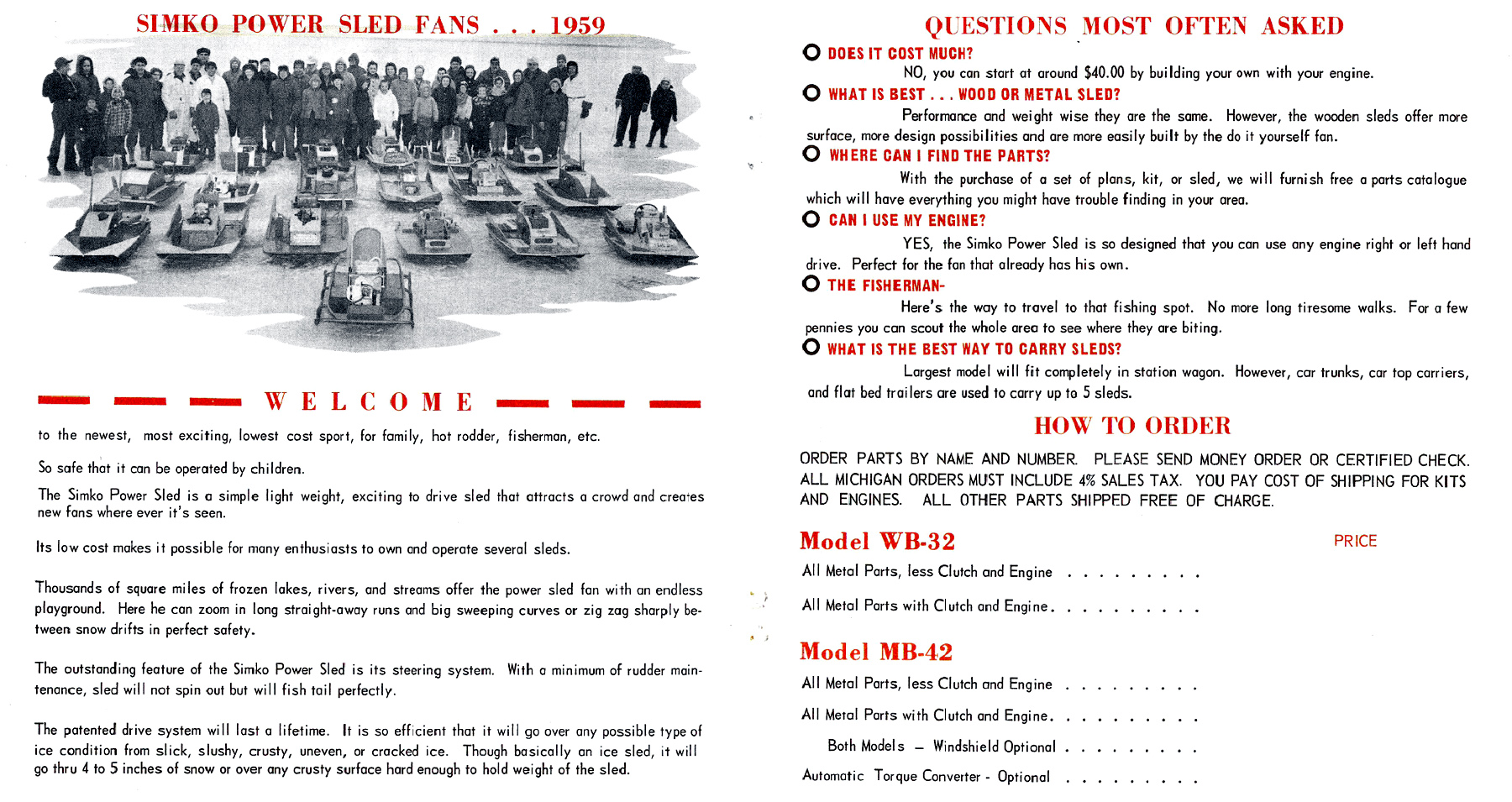 SIMKO POWER ICE SLED / SNOWMOBILE BROCHURE.
Hello Dave: The inventor Jim Simko was my father, he was way ahead of his time in many areas.
His normal business was running our family owned meat & grocery store, a full service meat counter
employing 6 full time meat cutters. In the basement he had almost a full manufacturing operation for the sleds.
All of our family worked at the store at one time or another and in the late fifties early sixties I can remember him saying one day all you'll have to do is run a grocery item over a glass in the counter and it will automatically record the price, and adjust the inventory. He would work at his "hobby" every night at the store or his basement shop in our house till 1-2:00am than do another 12 hr day at the store. He designed an automatic system for his electric metal cutting saw that would shut off automatically after it cut through 2 hours of metal. He also designed one of the first ever metal thread taping systems for drill presses, allowing full control of speed, fwd & reverse via a foot pedal & hydrostatic transmission. Originally the sled was offered only in a wood kit form, but he started offering in metal also somewhere in the mid-sixties. In 1962 I had learned to weld at night school and after an hour or two he picked it up immediately and did a good bit of this himself. We used to run on Lake Erie Breast Bay area but also all the lakes and rivers an hours drive from Allen Park, Mi. My favorite sled had an option that would actually drill a hole for ice fishing, but unfortunately it did not make it into production.
Please see attached scans of the Simko Power Ice Sled.
This brochure was circulated from when it was photographed in 1967 to the early 70's when my father passed away.
My dad had a good time filling orders both for kits and completed sleds. His door was always open and he would help any and all that called or stopped by for help. His picture is on the cover as page 3. On pg 5 is yours truly just back from Vietnam in 1967. If I didn't mention he owned his own super market called Simko's Thrifty Market for 35 years, and as a meat cutter since his early days at Kroger's his specialty was the full service meat counter. The best of any meat was available there with 6 full service meat cutters. We also carried produce and groceries. He was a great store operator but his heart was in innovation of any kind, and he would spend any extra time in the basement of the store or in his workshop in our house basement. As you would think my dad was an independent thinker and was always coming up with ideas. The idea I remember most was in the early sixties when he took a grocery item and scanned it across the top of our check out counter and said in the future a light in the checkout counter will pick up all the details and automatically ring up the amount on the register, deduct from the inventory and note for reorder. We now call this the scanner.
This was way before even hand held calculators never the less computers.
Years earlier when I was about 5-6 years old he had designed and manufactured a small lawn tractor for us kids to run while pulling a lawn mower. Of course we also used it to pull a wagon full of newspapers for local delivery. This was way before lawn tractors as we know today.
Enjoy, Jim Simko
THANKS JIM FOR THE GREAT PICTURES !