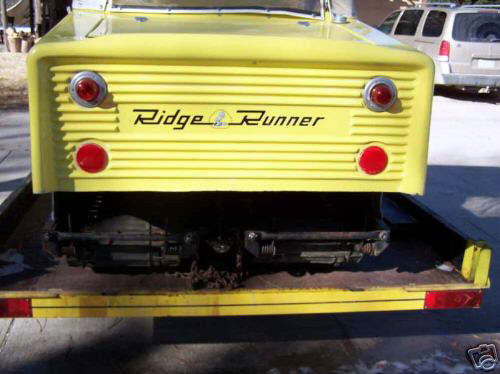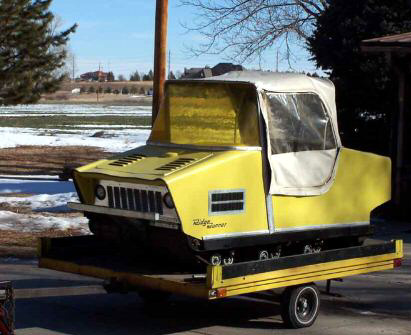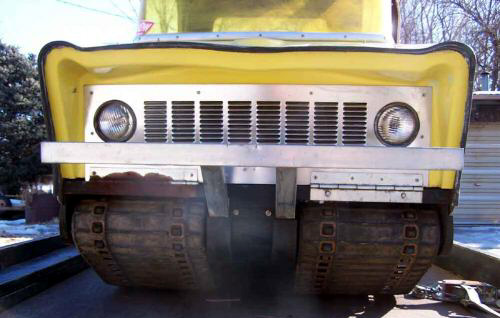 RIDGE RUNNER
SOMEONE SAW THIS SLED ON EBAY AND THOUGHT IT WOULD MAKE A
GREAT ADDITION TO THE PICTURES ON MY SITE.
THANK YOU TO THE PERSON WHO SENT IT IN WHO
DOES NOT WANT TO PUBLISH THEIR NAME.
---
HERE IS HOW THE AD WAS ON EBAY.
Vehicle Description
Up for auction is a 1971 Ridge Runner.
This is a Rare two track second generation snow vehicle, called
the Ridge Runner, made in Minneapolis, Minnesota.
This vehicle was stored for 37 years in a airplane hanger on original factory trailer.
This vehicle is in near mint condition. No body repairs and near new appearance.
Only problem known of is a small crack in windshield in upper corner as shown in
pictures, and convertible top is usable, but fragile with age around zippered parts.
Some repair to zipper pieces has been repaired and few areas could be resewen.
Recently sold by private sell, Vehicle was professional tuned and needed parts installed
within the last year. Engine ran great but has never been road tested by new owner,
( who is 80 yrs old) since left the shop.
It has the original Kohler 33 hp. 618 cube, 2 stroke Engine.
Within the last year a John dear mechanic tuned the engine up and a new coil,
spark plugs and carburetor kit was installed. The transmission is a variable speed drive,
Quad/Drive transmission that is hydraulically actuated steering provides
forward, reverse, stop, left or right turn is easy and effortless. One hydraulic steering
barrel has recently been rebuilt with new hose. Estimated speed is 50 mph.
The tractor has a 12 gal. Gas tank and 10 cu.ft compartment.
It is side by side seating with with lots of leg room with large trunk.
The floatation on this 2 passenger vehicle is 32psi. w/2520 sq. in of track.
It is excellent for deep snow . Tractor has the capacity to pull big loads up
to 2,000 lbs. Custom built sled is also include that matches tractor and was
pulled behind. It has wheels and runners for snow. Live power to both tracks in
forward or reverse and weighs in at about 800lbs. New battery was installed, headlights
and signal lights work. The bogie wheels are lifetime sealed. Rare factory pull behind
ridge Runner custom trailer included with original finish (D 71W Trailer).
Original owners manual, parts book, sales slip from original owner and
1970 product brochures are included.
Do not miss the rare collecting opportunity to own a mint Ridge Runner or use for
recreational activities. Matching trailer and original paper work make this a complete
package. I'm selling tractor for a client who is 80 years old and must sell extra vehicles.
Tractor location is in Hays, ks ( pickup only).
Vehicle engine is guaranteed to run at time of pickup, once again has not been driven in
snow for a test. I'll leave that to the new owner.
Serial # ..... TRANSMISSION # ..... ENGINE #..... Engine hp 33 Engine cc 618 Width 45"
Length 112" Height 57" Cab heater and all hydraulic hoses are new Yellow body Flip top
hood Hydraulic fluid temperature gauge is standard Headlights and tail lights are
standard. Turn signal options for greater safety. New battery Extra Features Electric
starting with ammeter gauge Cross Country Cruise Control Deluxe cushioned
Bench Seat / mint Electric key start option makes life easy New Polar carburetor kit and
coil replaced Convertible top "ragtop" with quick-zip side curtains, provide easily
removed for summer sporting, (complete w/ side and rear curtains). New zipper was
replaced on the drivers side door and repair to back snaps. Corners of zippered areas
need resewn Original Documentation: Vehicle commercial pamphlet- excellent shape
Original owner's manual – good shape Kohler Engine Owner's Manual- models k340-2,
k399-2, k440-2 for two cycle engines How to care for your two cycle engine handbook
Ridge runner Business card and Koehler two cycle directory Original warranty from
Ridge Runner Original Price sheet dated oct. 15 1970 Original parts list for D 71W Trailer
1971 PARTS BOOK – GOOD SHAPE 1st Owner – Gilbert a Legleiter, La Crosse , ks 67548
10-07 Documentation of repair parts on steering cylinder replaced: $784.77
(Worked good in 07)
Sold for: US $4,000.00
Auction ended early with Buy It Now.
Ended: Jan-29-08 19:54:56 PST
History: 5 bids