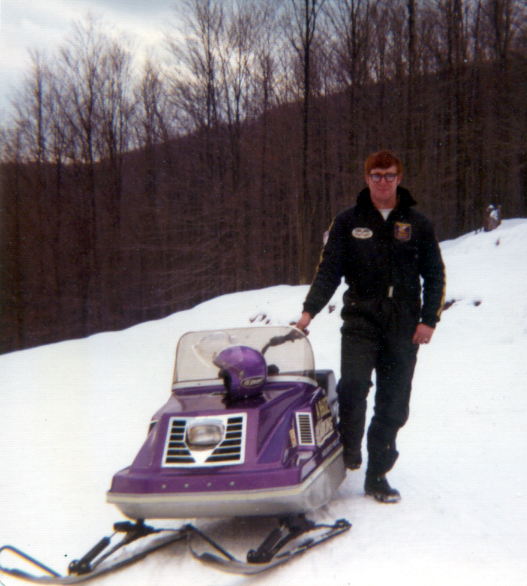 FEBRUARY 13 / 2008
Hi David - I worked at a dealership 69-85 where we sold the
Viking snowmobiles and started selling Ski Doo in 75-85.
There were good years with snow that we probably sold 75 vikings.
There are still a lot of sleds in the area still used or in barns garages etc.
They were a great sled other than the Fastrac tracks that they used.
This sled pictured above is a 1974 Vigilante 440ss 440 axial fan cooled Kohler.
PICTURE WAS TAKEN IN 1974.
It was equipped with 15" internal drive, studded Fastrac,
with the wider chassis off the 18" models like the Vanguard models.
(the 72 Vigilante"s were a narrow body 15" track machine.
This model was introduced in 73??? but we did not get any until 74.
(there was alot of 72 left overs in 73. )
It also had a posi grip suspension and was a great riding and handling sled.
Traction was not the best because the plastic Fastrac was
so light it tended to spin easily.
All SS models of Vikings had chrome grills.
Jerre Bassler / Hollidaysburg, PA
THANKS JERRE FOR THE GREAT PICTURE!