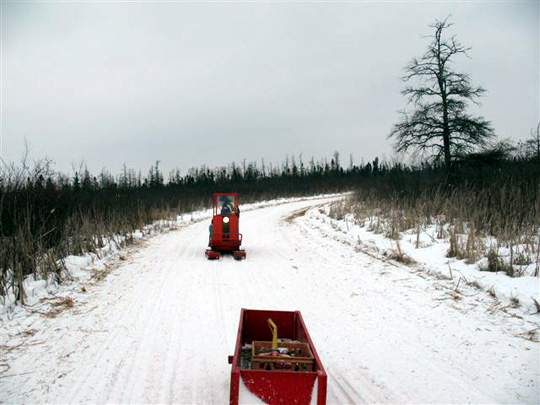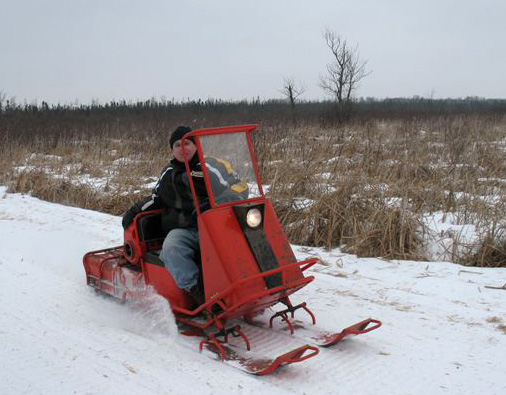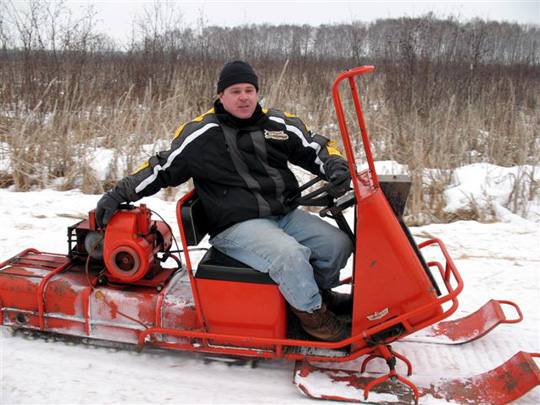 Hi David
Here are some pics that the President of the ASCOA Dave Guenther took
of me on my 1964 Fox Trac model K181 snowmobile from
Tamarack, MN to Lawler, MN.
Rick Lough / Wright, MN

---
Hi David - Well I'm finally back from the vintage ride from Tamarack, MN to
Lawler, MN which consisted of a 14 mile one way ride. Wow, what a trip with
my 1964 Fox Trac indeed! Needless to say I broke down like 9 times
with multiple troubles. lol. OH the throttle cable broke, the spark plug cap was
not getting connection at times, and last but surely not least the hand wind
recoil rope to start it each time was much, much fun. lol. But Hey, get this!
I made it! HA!
Anyhow, I met Dave Guenther the President of
the Antique Snowmobile Club of America.
On my last troubles about a quarter of a mile to the destination, he stopped with
his rear engine Polaris and helped me out when I was having multiple troubles.
You needed 4 hands to get it running.
I was bound and determined to make it to the final instead of being pulled in.
Anyhow all and all it was a really good day. A friend of mine drove my AKTIV,
my wife drove the 66 Evinrude with the matching sleigh, my son drove his
John Deere, and I the Fox Trac. Another friend of mine drove his 65 Ski doo.
Later Rick Lough / Wright Mn
THANKS RICK FOR THE GREAT PICTURES.