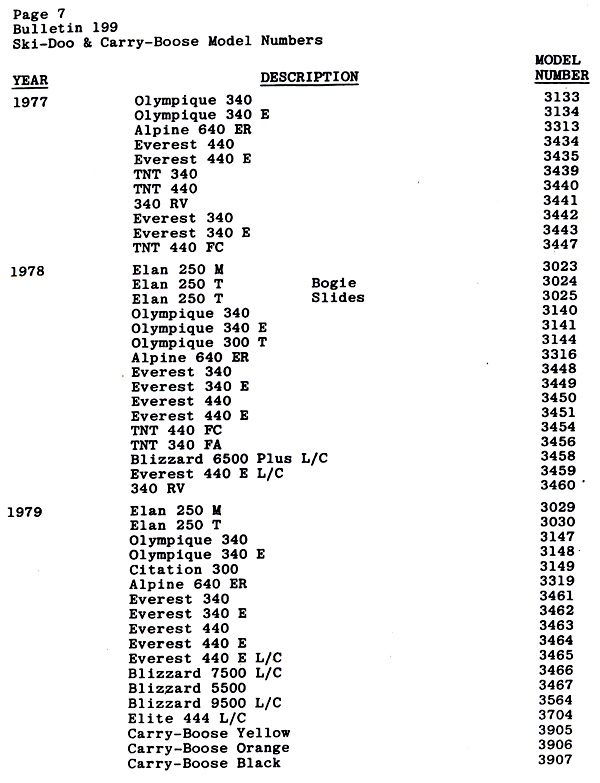 HERE IS A GREAT GUIDE TO HELP YOU IDENTIFY YOUR SKI DOO MODEL.
THIS BULLETIN WAS SENT TO SKI DOO DEALERS FROM BOMBARDIER TO HELP THE DEALERS IDENTIFY OLDER SKI DOOS THAT WERE COMING IN FOR SERVICE.
IN SOME CASES ON THIS INFO SHEET, LIKE 1971, THEY HAVE THE
OLYMPIQUE MODEL LISTED AS A 337 MODEL.
THAT IS NOT TO BE CONFUSED WITH THE ENGINE SIZE OF 335 CC.
MODEL VS ENGINE SIZE.
IN ALL OF THE SKI DOO BROCHURES IT IS LISTED AS A 335, BOTH MODEL AND ENGINE.
I AM NOT SURE IF IT IS A TYPO OR IF THEY LISTED IT THAT WAY TO HELP THE DEALER IDENTIFY THE SLED FROM ( EXAMPLE ) A 1970 SKI DOO 335.
IN SOME OF THE OTHER SERVICE MANULS THAT I HAVE, IT ALSO SHOWS THE
1971 SKI DOO OLYMPIQUE AS A 337 MODEL AND NOT A 335 MODEL
BUT IT HAS IT WITH A 335 CC MOTOR.
YOU CAN GO TO THE BROCHURE PAGES ON MY SITE TO ASSIT YOU WITH
THE MOTOR SIZE FOR PROPER IDENTIFICATION OF YOUR SKI DOO.
USING THIS CHART ...........................
I DID A QUICK CHECK ON MY 1970 SKI DOO OLYMPIQUE 335 AND IT LISTED IT CORRECTLY.
I ALSO CHECKED MY 1977 EVEREST 340 E AND IT LISTED IT CORRECTLY AS WELL.
THIS SHOULD BE A GREAT PIECE OF INFORMATION
FOR YOU TO USE TO IDENTIFY YOUR 1960 - 1979 SKI DOO.