DAVID'S VINTAGE SNOWMOBILE PAGE.
RESTORING THE SPORT ONE PIECE AT A TIME.
PHOTO PAGE 14,446
---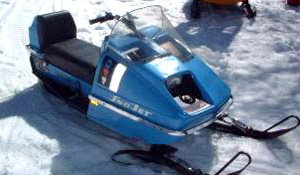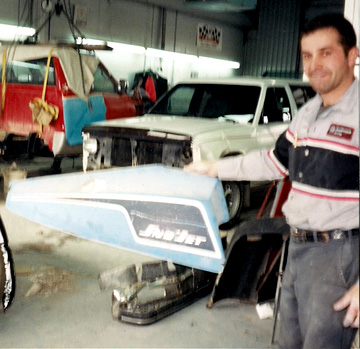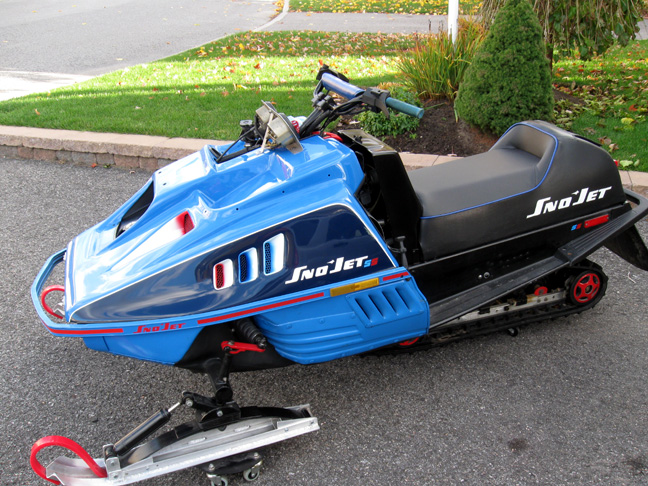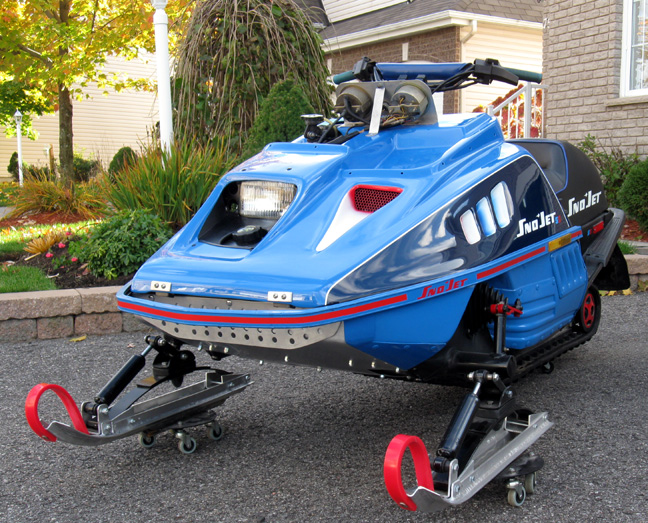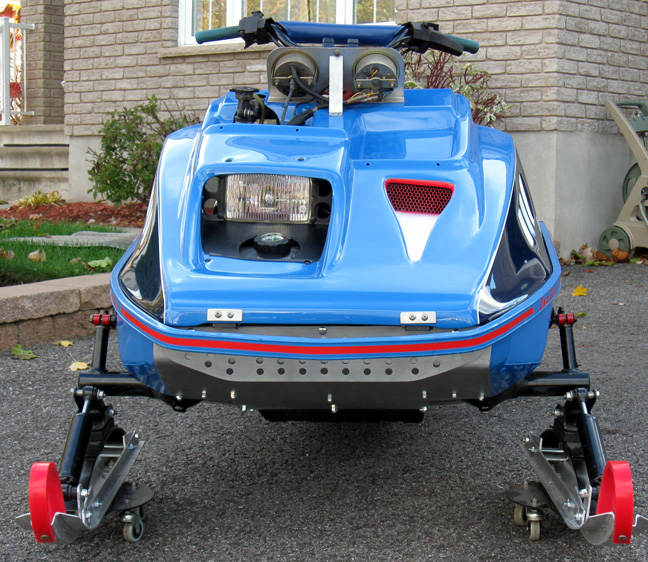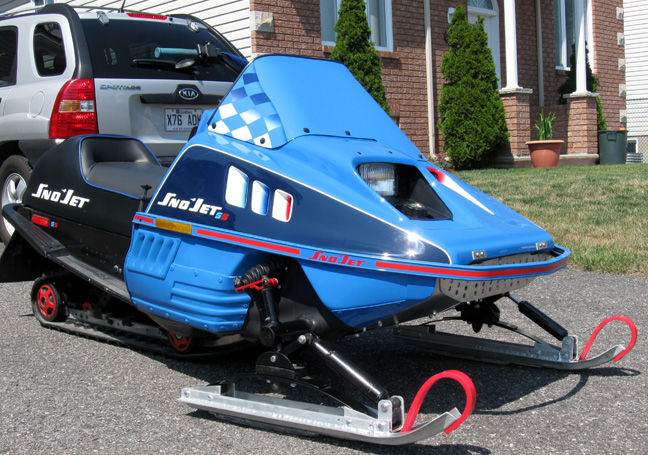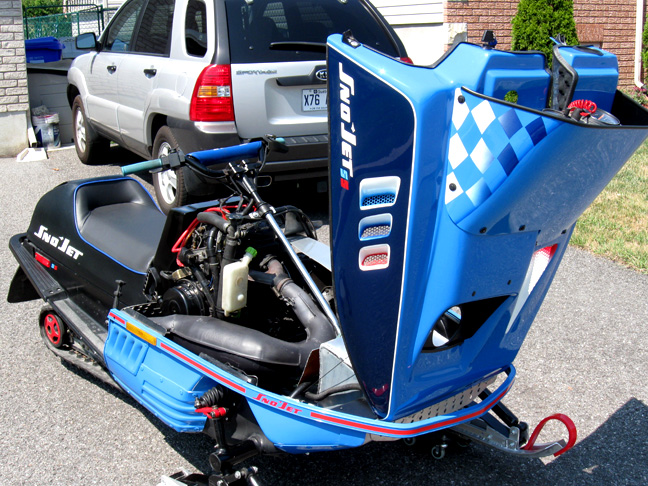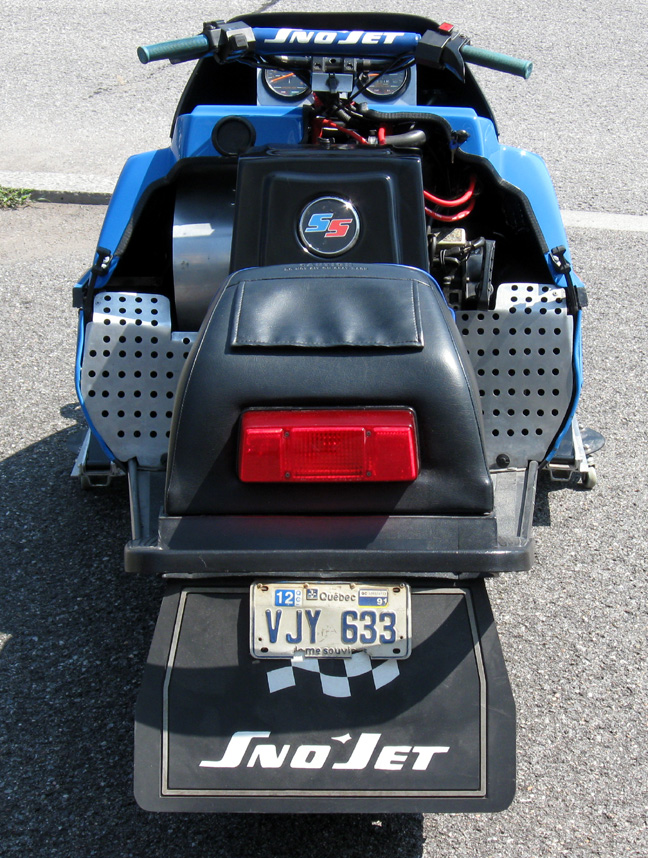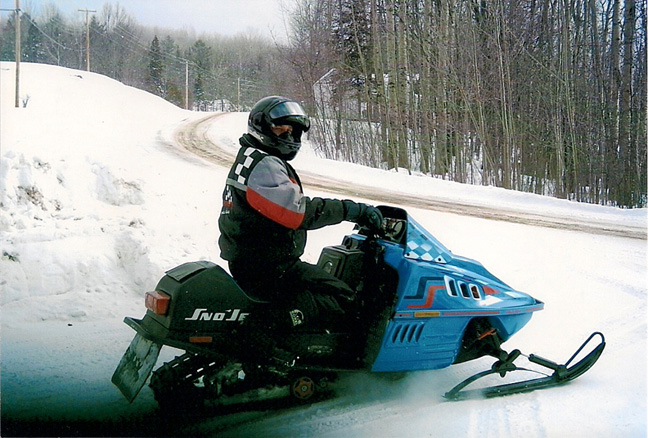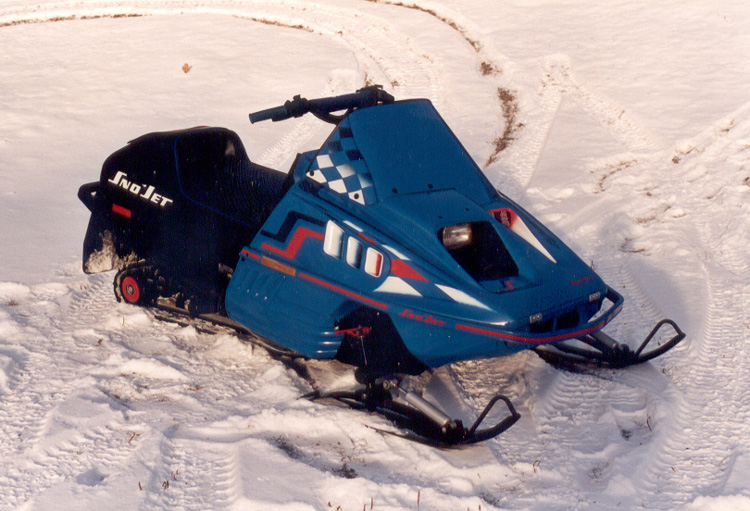 OCTOBER 23 / 2010
Hi David - Here are pictures of my 1974 Astro Jet with a 440 Yamaha F/C,
bogie suspension, original ski stance was 28 inches.
Gaston 's brother bought the sled new in 1974, and had it for about 10 years.
It was driven up until 1978, after that it was outside with a tarp overtop. It stayed
there until 1986 when Gaston paid $100 for it. It was pretty rusty, but he still rode it
up until 1997. From there he started the modifications at the body shop he was
working at. The sled still has the original Astro Jet tunnel, which is why the engine
is mounted mid-chassis. The rear section of the tunnel was cut-off, and the
alluminumm tunnel from a 1990 Arctic Cat Prowler was attached, along with the
rear bumper and radiator. Two more small Rupp radiators are under the
Prowler seat which has been re-upholstered and now says Sno-Jet.
The rear suspension is a 75 Snojet suspension with a few modifications to fit a
1990 Arctic Cat Wild Cat track. The upper handle bars are also from the Wild Cat.
Originally the motor was swapped for a liquid 530 cat motor, but with pipes it was
too noisy and wouldn't work on the trails. Next came a 650 Wild Cat motor, again
with pipes, incredibly fast, but couldn't go on the trails with all the noise.
Currently there is a 550 liquid motor from an EXT, the original exhaust is
fitted under the hood. The sled also uses the Wild Cat bellypan that I have cut
in the middle and modified the corner with a piece of bumper from a 96 Chevy
Cavalier and made a custom aluminium one for the centre.
The front suspension is homemade, the bumper is from a Kawasaki Drifter.
The skis and gas tank are custom aluminum pieces.
The hood has been modified extensively. The air vent is off a Mach 1,
the side pieces are from a 75 snojet, Wild Cat air vents, and the front of the hood
is off a Kawasaki Drifter. All those pieces were put together with fiberglass, and it
took a long time to get everything to fit properly in the bumper.
The hood was recently repainted, and looks great!
I have never seen one who has been modified like that before.
I have called him Sno*Jet SS
Gaston Blais / QUÉBEC
THANKS GASTON FOR THE GREAT PICTURES !