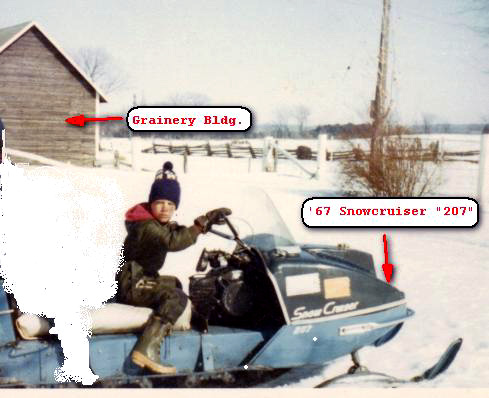 1967 Snow cruiser 207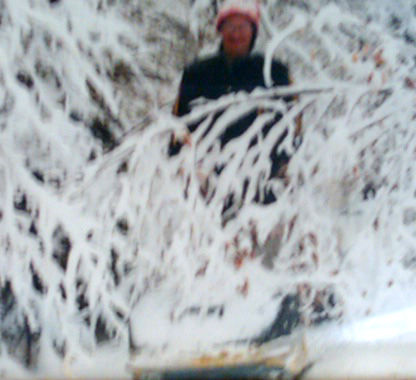 Me on grandpa's 1967 Snow Cruiser as a kid.
Winter picture of my grandpa on original 1967 Snow cruiser 207 second pic.

OCTOBER 8 / 2010
My 1967 Model 207 Snow Cruiser History
Back in 1967, my grandpa bought a brand new Model 207 "wide track" OMC
Snow Cruiser from Foy's (local OMC dealer). He bought it so he could go on the
local "Centennial snowmobile ride"!! That's right the '67 model is a "Centennial"
year model. The next year he also bought a "Cutter" to pull behind it.
Anyway as a kid, I spent all my spare time at my grandparents farm (weekends/
school breaks). It was there in the 70's and 80's I drove my first snowmobile,
(that 67 Snow Cruiser). I had to take turns with younger brother and cousins,
driving it around the farm fields. Being that we were on a farm that sled was also a
working sled,as well as recreation. It was the main mode of transport to cut
wood on properties. My grandfather and I and my brother would load up with
cutter in tow (carrying chainsaw / equip., plus a kid) and spend the day in the bush.
My brother and I would drive the snowmobile when we could, and my grandfather
was left to cut the wood. So the ol' Cruiser never stopped working, so reliable,
but very heavy for a kid.
---
In the past couple of years a friend of mine started collecting antique snowmobiles,
starting with his father's last machine from 1971. As we hung out I told him about
my only childhood sled being the Snow Cruiser, and he hadn't seen one.
So we started talking about me acquiring a 1967 Model 207 Snow Cruiser.
My fond memories and my grandpa's (he is also a WWII vet) advanced age,
made me want to find one sooner than later. I hoped it would remind him of the
many kms he put on his original. So around May/June 2010 my friend found a
1967 Model 207 Snow Cruiser in running condition on the internet.
So I looked at the website/pics and contacted the guy who was looking to see
what he could get for it. I made an offer and he accepted it and I obtained the sled!
In Aug. I brought it home, in pieces, and my friend and I started to put her back together in time for the Expo-Sno 2010. And the pics on Dave's site ( see below )
are of the sled complete.
My grandfather stills has the original and a couple other 1967 Snow Cruiser's on
the farm's property, and if I ever find the original, u can b sure I'll try to
get my hands on it and restore it, if possible. Shawn.
BELOW ARE 2 PICTURES OF SHAWN'S 1967 SNOW CRUISER 207,
AT EXPO SNO 2010.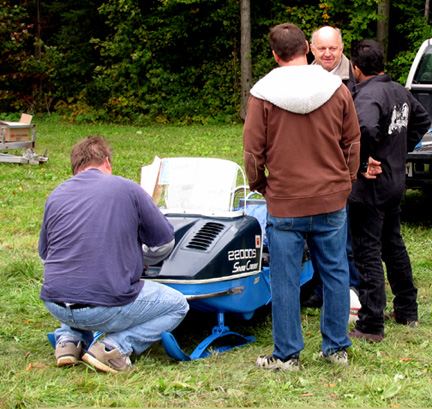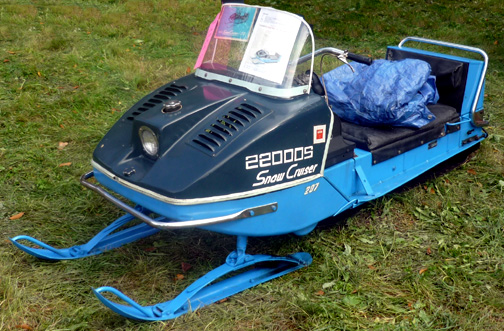 THANKS SHAWN FOR THE GREAT PICTURES !