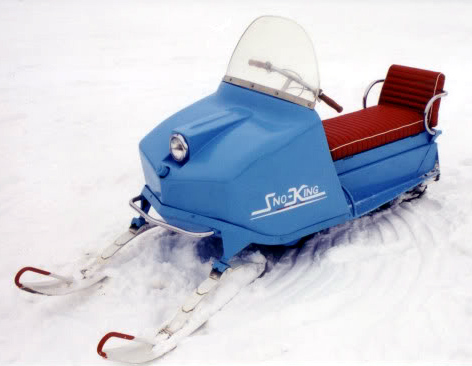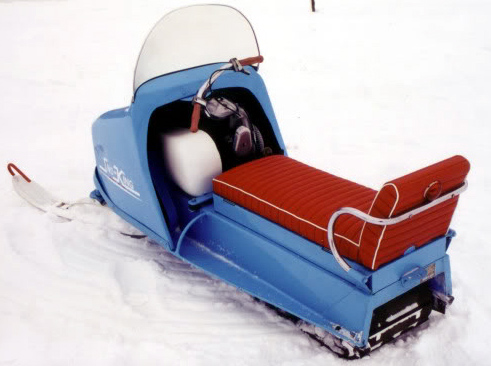 1967 SNO KING
PRODUCED BY POLARIS FOR MESSELT DIRECT SERVICE STORE
I took these shots of a Sno King at Waconia a few years ago, maybe 2003.
I also ran a one-page story on this sled in Vintage Snowmobile magazine.
I found my notes from the day:
This is a 1967 Sno King that was owned at the time by David Lee of Roseau, Minn.
According to Lee, the Sno King was built that year for the Messelt's Direct Service store in
Roseau, which wanted to sell sleds but could not offer the local brand because there were
already Polaris and Larson dealers in town (Polaris also built the Larson sleds).
So Polaris came up with this, and Lee thought that only 24 examples were made.
It resembles a Polaris, but has a different hood, a rubber track, and a steel fuel tank in the nose
(I think the Polaris sleds had the "suitcase" portable tank then). There is storage below the seat,
and the key switch is on the chassis. This one is powered by a 292 JLO. Lee told me he found it
in a junk yard in Warroad and then restored it. I think this may have been the only year for the
Sno King. Also, there was another sled brand called Sno King made by Lionel.
Photos and text by Charles Plueddeman
THANK YOU CHARLES FOR THE HISTORY ON THIS SLED.