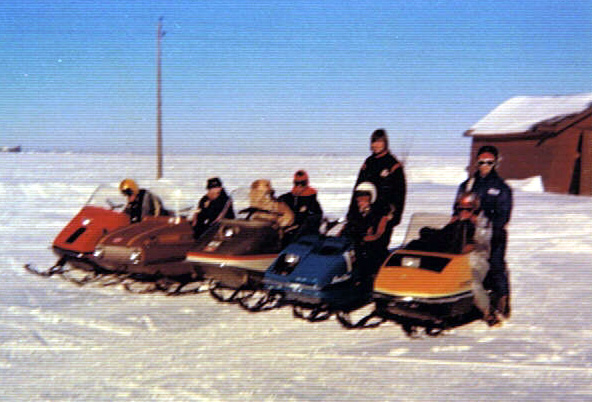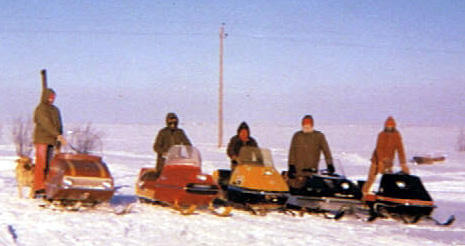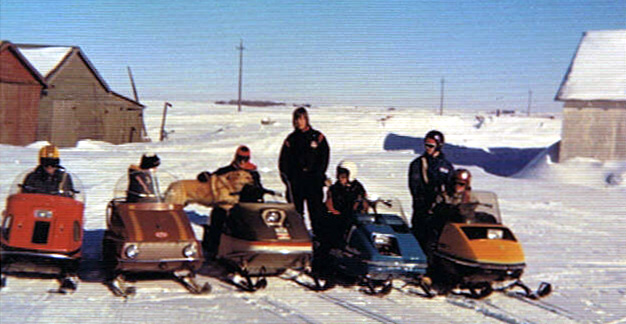 JANUARY 26 / 2009
Hiya -- Great site.
Look at the sleds in these vintage lineup.
1968 Ski-bee commander, 1970 scout, 1970 nordic,
1971 puma and 1970 Arlberg.
Other sleds are 1971 Allouete, Commander,
1974 Golden Ghost, Sno-Jet and Olympic.
Taken about 1971 and 1974. Good times. Again keep up the good work.
Kindly -- Gord Simmons , Colonsay, Saskatchewan
From left of second photo. Commander - Gord Simmons, Scout-Ivan Moldenhaur,
Nordic-Tim Selby, Lynx-Glen Breckner, Arlberg-Kyle Mintkawetz. Other picture.
Aloette-Jim Lawrence, Commander-Don Simmons, Golden Ghost-Gord Simmons,
Sno Jet-Jeff Lawrence and Tom Stevenson, Olympic-Grant and Garth Simmons.
Nice bunch of classic dressed sledders. One full bunch of us don't even own helmets -
just toques and hoods, winter parkas and heavy mitts. Great fun in Saskatchewan.
PS -- The Dog's name is Sandy. Looking back I noticed racing stripes on th hood of the
Commander -- It topped out at an amazing 36 mph downhill on hardpack. Great old
worksled. It was used feeding cattle everyday during the long winters. Only time it
wouldn't start was at -52 farenhite.. Again -- it will be on display in Moose Jaw this fall.
Talk later -- Gord
THANKS GORD FOR THIS GREAT PICTURE !