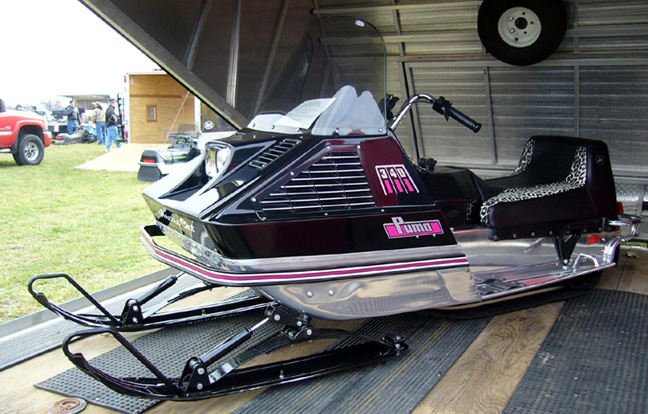 JANUARY 15 / 2009
David - I wanted to thank you for such a fantastic web site.
I am new to this great hobby (quickly became a disease) of
vintage snowmobile restoring.
I can't tell you how many enjoyable hours I get out of your site.
Thanks for all of your hard work that you put into your site.
I have a 1972 Arctic Cat Puma 340. Photo page 11,245 on your site.
My first show was the A1 Show in Michigan. I bought the sled in
late August 2008 from the original owner. He is 82 years old and lives in
Dayton Ohio. The sled was stored in his garage he said for 35 years.
He had bought it for his wife in 1972 and she sadly passed away the
following year. He was very attached to the sled and I gave him my
promise that I would take very good care it. The sled was in pristine
shape but he had wrapped it in a army canvas, old quilt and a
bed sheet like a cocoon.
Being wrapped up for 35 years the summer heat was not a very good
friend to some of the plastic and hood but there was not a spec of
rust on any of the chrome bumpers, chrome handle bars or skis.
I restored it taking the sled completely apart drilling out every rivet and completely disassembling the sled. I was lucky with a little TLC I was
able to bring back all of the plastic with the exception of the
grab handles which I bought reproduction pieces.
The reason I picked a Puma to restore was when I was younger that
was my dream sled and I knew some day I would have one.
It just took 37 years to get it.
I have included a funny picture of what a great wife I have.
Not every wife would let there husband put
reconditioned parts in her dinning room.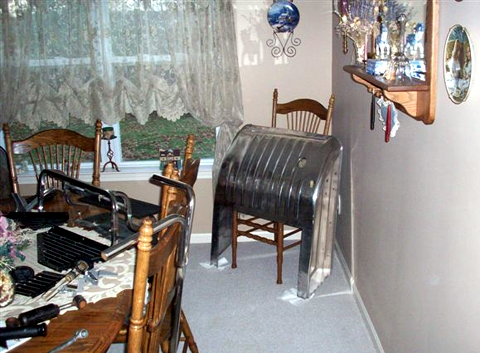 Thank you / Jody Robison
SEE BELOW .....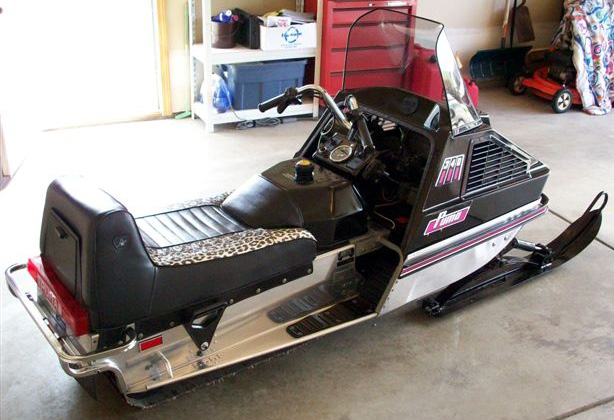 UN-RESTORED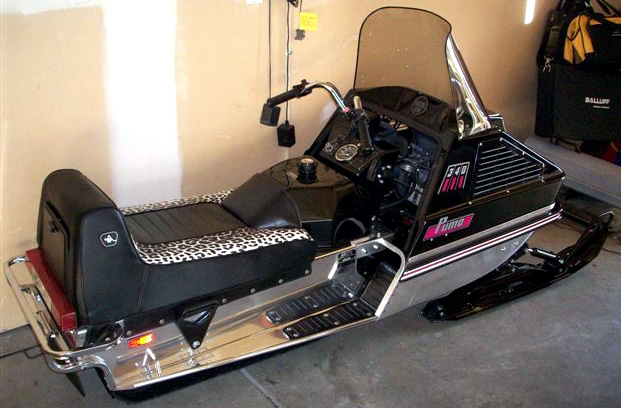 RESTORED
I have included a couple more pictures the un-restored and the restored.
I did install a different set of ski's only because the new
updated steel ones help dramatically in the handling.
I can always put the old ski's back on to make the sled correct.
It is a driver and I will be going to the Twin Lakes,
Michigan Vintage show this weekend.
Hopefully I can get a few miles on her.
Thank you / Jody Robison
THANKS JODY FOR THE GREAT PICTURES!