SCROLL DOWN
TO SEE SOME
TRADE WINDS HISTORY BELOW.
IF YOU HAVE INFORMATION ABOUT THIS COMPANY,
PLEASE EMAIL ME AND LET ME KNOW. THANK YOU. DAVID S.
ALSO, YOU CAN FIND THE WHOLE HISTORY ON THIS BRAND. VISIT THE BROCHURE PAGES.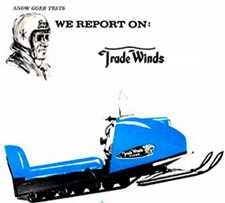 1967 TRADE WINDS
---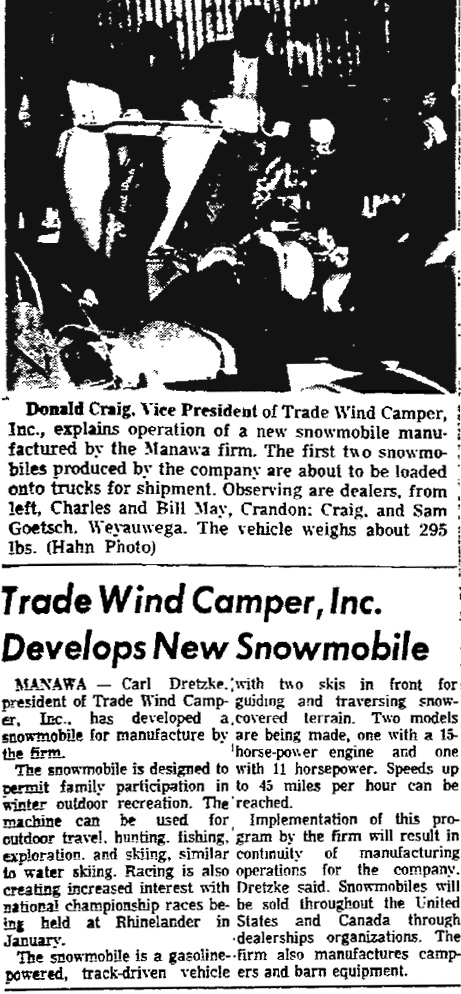 TO THE BEST OF MY KNOWLEDGE................
HERE IS SOME HISTORY ON THE TRADE WINDS SNOWMOBILE.
DON CRAIG AND CARL DRETZKE STARTED TO PRODUCE A
SNOWMOBILE IN THE SUMMER OF 1966 THAT WOULD BE IN
SHOWROOMS IN THE FALL OF 1966. THE 1967 TRADE WINDS WAS BORN.
ABOUT 300 - 1967 TRADE WINDS SNOWMOBILES WERE BUILT.
JULY 13, 1967, OMC ( OUTBOARD MARINE CORP. ) BOUGHT
TRADE WINDS AND INVESTED IN THEIR PLANT TO PRODUCE MORE
UNITS. OMC WANTED TO GET INTO THE TRAILER BIZ AS WELL.
TRADE WINDS ALSO PRODUCED OTHER SLEDS FOR OTHER COMPANIES.
EXAMPLE: THEY PRODUCED THE SNO SQUIRE FOR AGWAY STORES.
THE SNO SQUIRE WAS A TRADE WINDS CLONE IN DIFFERENT COLORS.
AFTER THE 1968 MODEL SEASON, OMC ANNOUNCED THAT THEY WERE NOT
GOING TO PRODUCE THE TRADE WINDS MODEL ANY LONGER.
TRADE WINDS SNOWMOBILES WERE PRODUCED
FOR THE 1967 - 1968 MODEL YEARS.