SCROLL DOWN TO SEE SOME
YUKON KING HISTORY BELOW.
IF YOU HAVE INFORMATION ABOUT THIS COMPANY,
PLEASE EMAIL ME AND LET ME KNOW.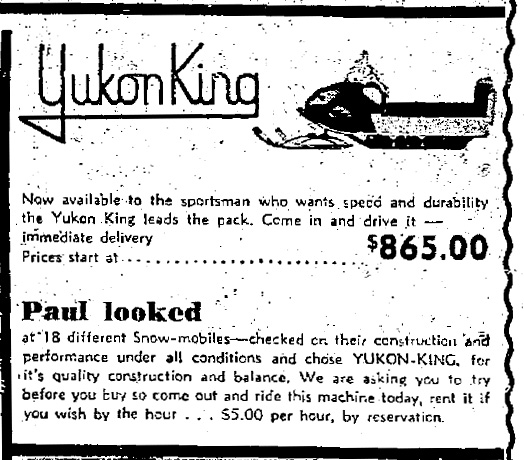 1967 YUKON KING
---
TO THE BEST OF MY KNOWLEDGE................
HERE IS SOME HISTORY ON THE YUKON KING.
DON AND SHARON THOMPSON STARTED YUKON KING IN THE MID 60'S.
THEIR FIRST INVENTION WAS A WOOD SLED CALLED THE YUKON KING.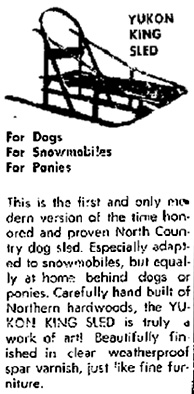 DURING THE PERIOD OF PRODUCING THIS WOOD SLED ( ABOVE ),
DON THOMPSON WAS DOING RESEARCH INTO THE PRODUCTION OF
FIBERGLASS FOR SNOWMOBILES. HE MADE CONTACT WITH SILVERLINE
BOATS AND ENTERED A CONTRACT TO HAVE SILVERLINE PRODUCE A
SNOWMOBILE FOR HIM. IN THE SUMMER OF 1966, SILVERLINE
PRODUCED THEIR OWN BRAND CALLED THE 1967 T-BIRD AND THEY PRODUCED THE 1967 YUKON KING FOR DON THOMPSON. SINCE THE
YUKON KING SOLD MUCH BETTER THAN THE T-BIRD, SILVERLINE CEASED
PRODUCTION OF THE T-BIRD AND ENTERED AN AGREEMENT WITH
DON THOMPSON. THE AGREEMENT CALLED FOR SILVERLINE TO PRODUCE
THE YUKON KING AND FOR YUKON KING TO SERVICE THE T-BIRD
WHICH HAD BEEN IN PRODUCTION FOR ONLY 1 YEAR.
YUKON KING SNOWMOBILES WERE PRODUCED
FOR THE 1967 - 1969 MODEL YEARS.