EXPO SNO HISTORY
BY DAVID S.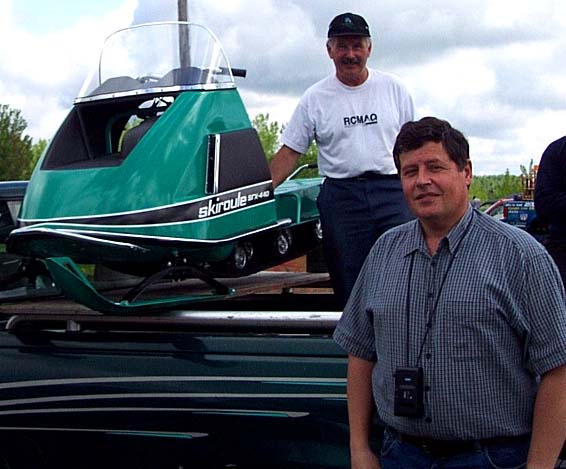 GERMAIN - WHITE SHIRT, CLAUDE GREY.
THE HISTORY OF EXPO SNO CAN BE TRACED BACK TO THIS DAY IN JUNE OF 2003.
CLAUDE GENDRON INTRODUCED ME TO GERMAIN BEAUSÉJOUR AT THE MADRID
VINTAGE SNOWMOBILE SWAP WHICH WAS CLOSE TO DRUMMONDVILLE, QUÉBEC.
MEETING GERMAIN HAD A HUGE IMPACT ON MY LIFE.
A WEEK AFTER THIS SHOW, GERMAIN CONTACTED ME AND ASKED IF I WANTED
TO HAVE ACCESS TO HIS VINTAGE SNOWMOBILE BROCHURES FOR MY SITE.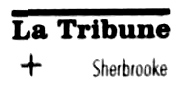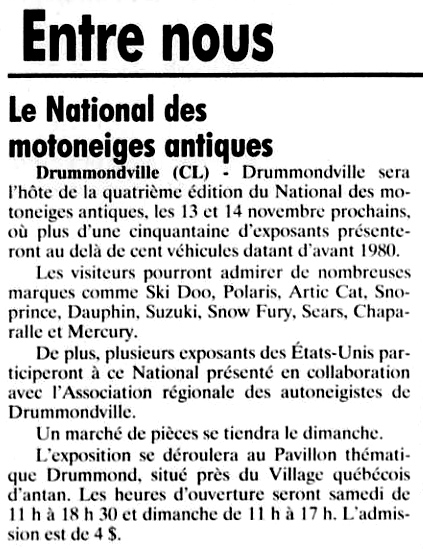 THIS AD IS FROM 1999 BUT I AM USING IT ONLY AS A GUIDE.
IN THE FALL OF 2003 AND 2004 I WENT TO A GREAT VINTAGE SNOWMOBILE EVENT
CALLED THE VINTAGE SNOWMOBILE NATIONALS AT THE PAVILLION THEMATIQUE
DRUMMOND WHICH WAS CLOSE TO THE VILLAGE QUÉBECOIS D'ANTANIN QUÉBEC.
I WAS TOLD THAT THIS WAS THE GREATEST SHOW IN QUÉBEC AND A MUST-SEE.
PEOPLE FROM QUÉBEC, ONTARIO AND THE USA WOULD BRING SLEDS TO
DISPLAY AND THEY ALSO HAD A BIG VINTAGE SNOWMOBILE SWAP OUTSIDE.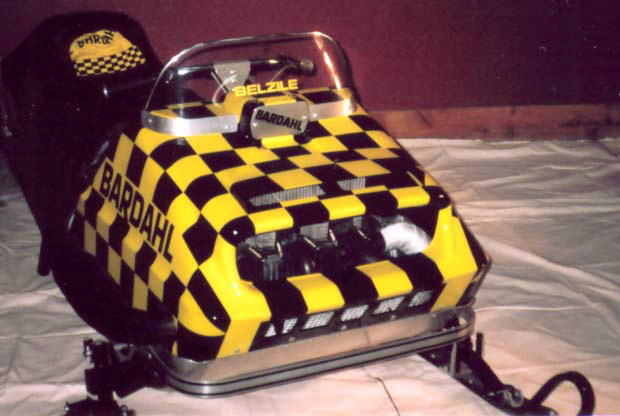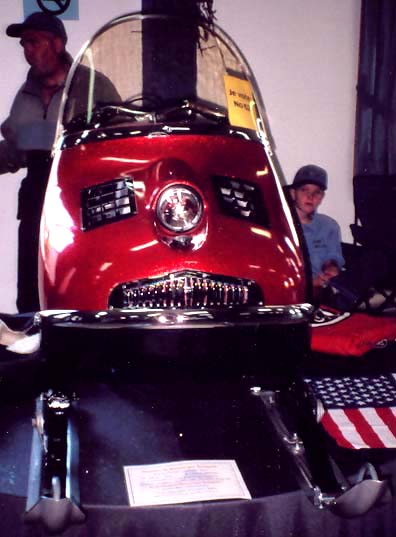 IN THE FALL OF 2003 & 2004, THE NUMBER OF SLEDS ON DISPLAY AT THE
NATIONAL SHOWS HAD DECREASED BY HALF EACH YEAR AND THE DECISION WAS
MADE BY THE ORGANIZERS NOT TO CONTINUE THE EVENT. I WAS TOLD THAT
IN PREVIOUS YEARS THERE WERE OVER 250 SLEDS ON DISPLAY BUT IN 2004 THAT
NUMBER FELL TO ABOUT 60 SLEDS ON DISPLAY.
AFTER THE 2004 NATIONAL SHOW, I WENT TO SEE GERMAIN AND SAID THAT I
BELIEVED THAT WE COULD PUT ON A SHOW THAT COULD BRING AT LEAST THAT
NUMBER OF SLEDS. GERMAIN AGREED BUT SAID THAT WE NEEDED SOMEONE
WHO WOULD DRIVE THE SHOW WHO HAD GREAT ORGANIZATIONAL SKILLS.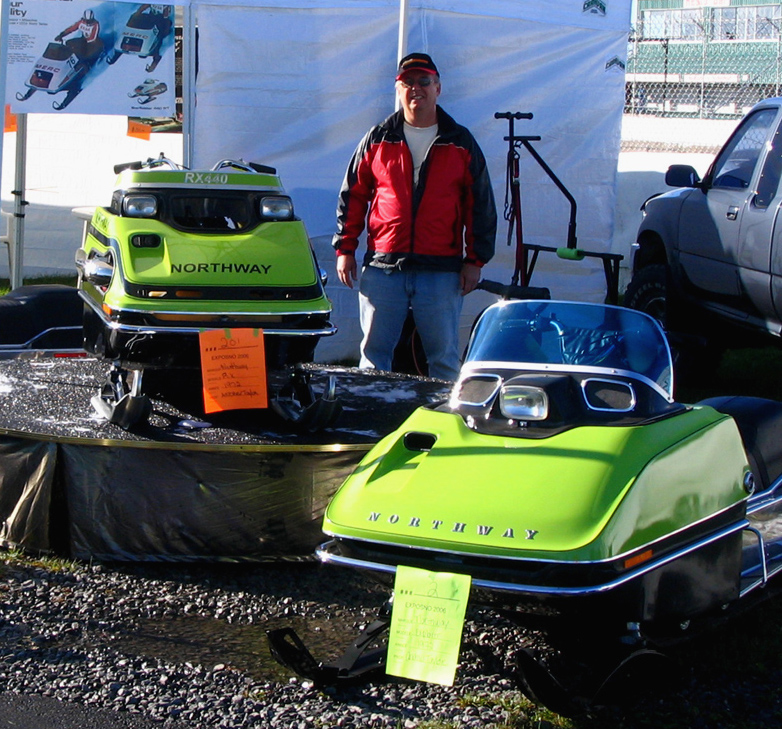 ENTER ANDY TAYLOR - MR NORTHWAY
ABOUT A YEAR AFTER I STARTED MY SITE, ANDY EMAILED ME AND SAID HE HAD
WORKED AT NORTHWAY SNOWMOBILES. HE SAID WE SHOULD MEET AND DISCUSS
VINTAGE SNOWMOBILES. ANDY AND HIS COUSIN DAVE TAYLOR HAD BEEN
BUYING, ASSEMBLING AND SELLING SNOWMOBILES IN THE EARLY 1970'S.
ANDY WAS NOW A MASTER MECHANIC AT TOYOTA AND HAD GREAT SKILLS IN
FIXING AND RESTORING ANYTHING HE PUT HIS MIND TO.
WHEN GERMAIN SAID WE NEEDED SOMEONE TO HANDLE THE SHOW, ANDY WAS
THE FIRST PERSON I THOUGHT OF. I CONTACTED ANDY AND WE SET UP A
MEETING WITH THE 3 OF US. GERMAIN, ANDY AND ( MYSELF, DAVID S).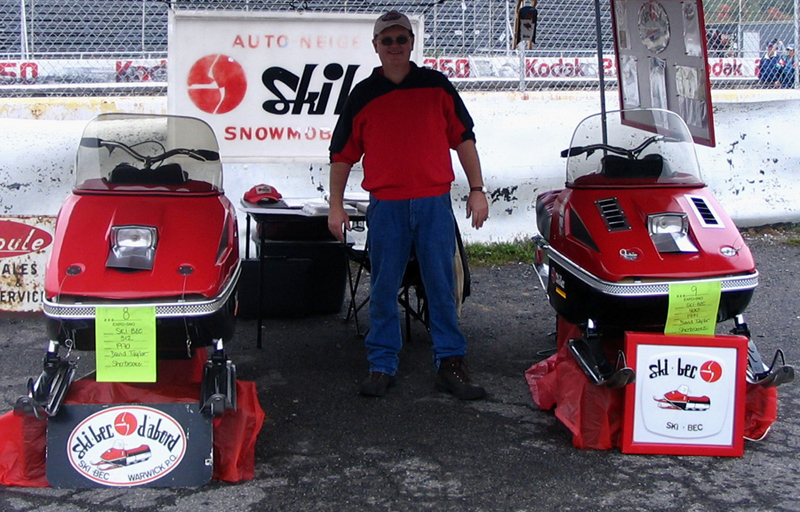 DAVE TAYLOR HAD BEEN A SKI BEC DEALER IN THE 1970'S AND ALSO
SOLD OTHER BRANDS LIKE PRO AM AND EVINRUDE.
DAVE WAS A BIG CONTRIBUTOR TO EXPO SNO AND ALSO LENT ME BOXES OF
BROCHURES AND MAGAZINES TO SCAN FOR MY SITE.
IN THE FALL OF 2004, THE CONCEPT OF EXPO SNO WAS BORN.
BY USING MY SITE AS A PLATFORM TO PROMOTE THE SHOW AND WITH THE
HARD WORK OF THE EXPO SNO TEAM, WE PUT EXPO SNO IN MOTION.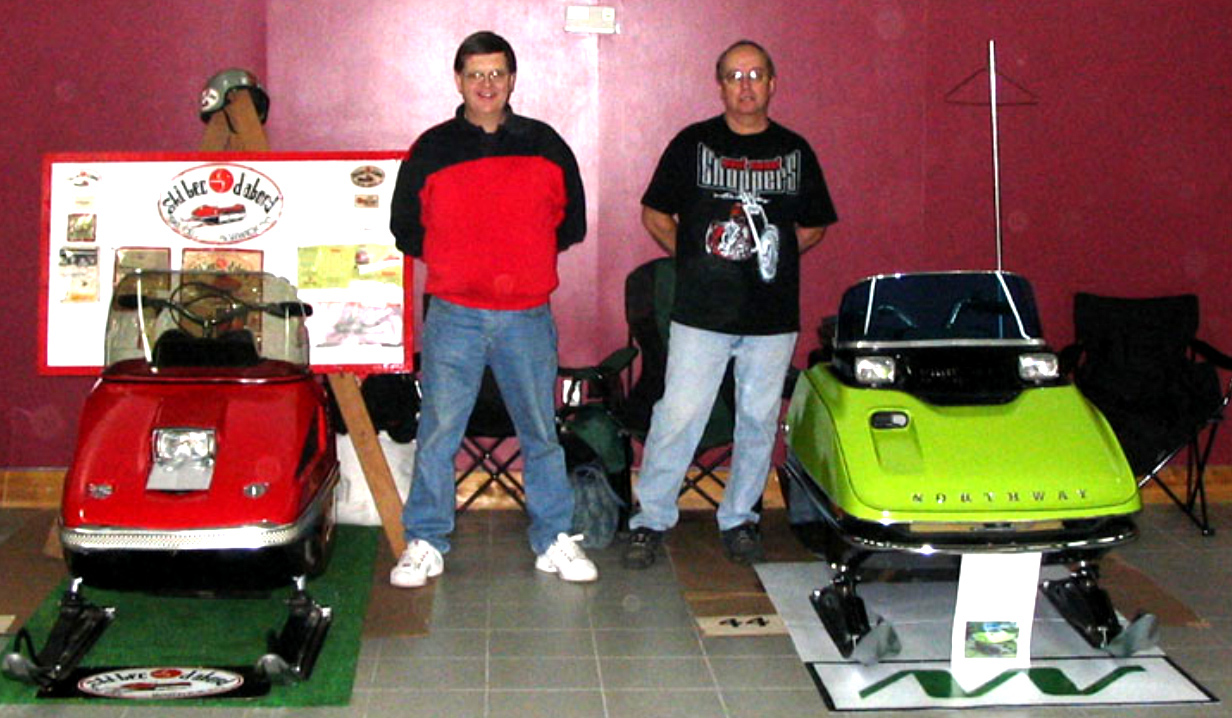 DAVE TAYLOR ( LEFT ) HAD BEEN A SKI BEC DEALER IN THE PAST.
ANDY TAYLOR ( RIGHT ) HAD WORKED AT NORTHWAY SNOWMOBILES.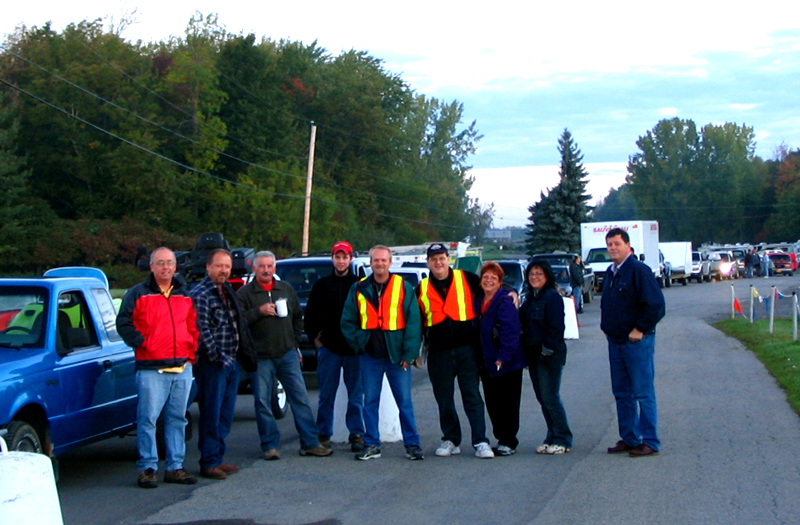 AT THE AUTODROME, WE HAD TO WAIT LIKE EVERYONE ELSE FOR
THE GATES TO OPEN AT 7 AM BEFORE WE COULD SETUP.
WE WERE VERY PROUD OF OUR SHOWS AND IT LED TO SOME INCREDIBLE
MEMORIES FOR THOUSANDS OF PEOPLE WHO ATTENDED OUR EVENTS.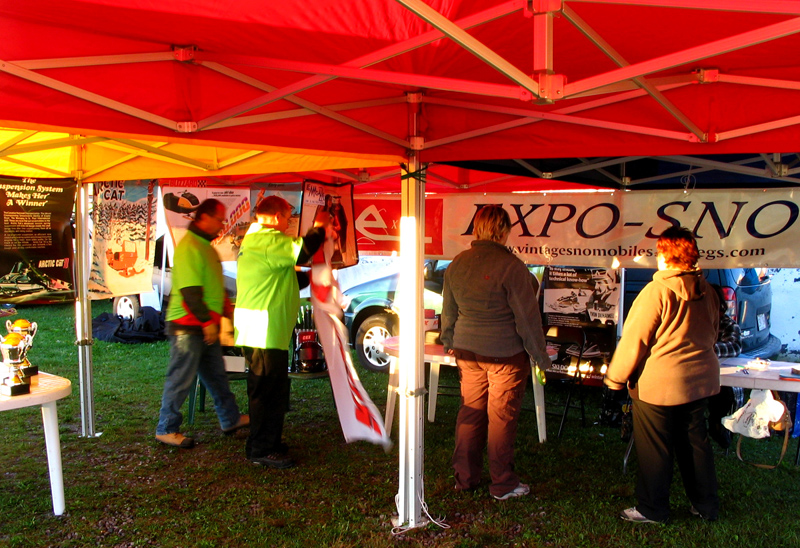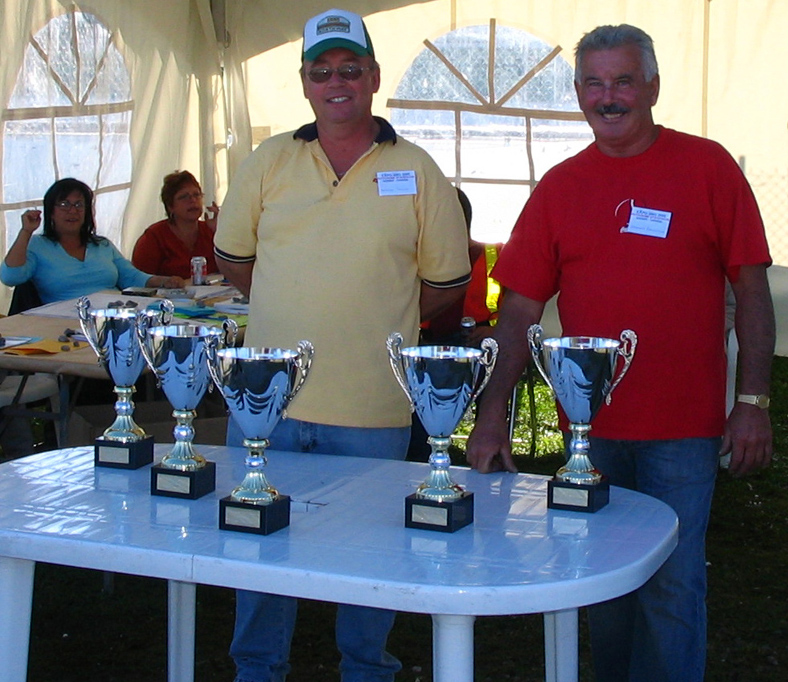 ANDY AND GERMAIN AT TROPHY TIME IN 2005.
THE EXPO SNO TEAM THANKS EVERYONE FOR COMING AND SUPPORTING OUR
SHOWS OVER THE 15 YEARS. WE ARE THRILLED TO HAVE PROMOTED THE
SPORT WE ALL LOVE. WE PUT OUR HEARTS INTO IT AND IT SHOWED.
DAVID S