DAVID'S VINTAGE SNOWMOBILE PAGE.
RESTORING THE SPORT ONE PIECE AT A TIME.
MARCH 15, 2012
10TH ANNIVERSARY PAGE 4
---
IN DECEMBER 1969, ON A SATURDAY, WE WAITED FOR OUR NEW 1970 SKI DOO TO
ARRIVE. TIME WAS STANDING STILL FOR ME. I COULD NOT WAIT TO HAVE A RIDE ON
THAT SLED. IN THE EARLY AFTERNOON, THE TRUCK ARRIVED WITH OUR NEW SLED.
I WATCHED FROM THE WINDOW AS THE SLED WAS UNLOADED.
THE MAN FROM THE DEALER WAS EXPLAINING TO MY FATHER HOW TO START THE
SLED AND HOW TO STOP IT. PROBLEM WAS, THAT HE WAS SHOWING MY FATHER
HOW TO DO THIS WITHOUT THE SLED RUNNING. YOU KNOW, HERE IS THE KEY, IT
GOES IN HERE, YOU TURN IT TO THE ON POSITION, OPEN THE CHOKE AND PULL THE
RECOIL AND IT WILL START.
WELL, ALL THAT IS FINE BUT THAT IS NOT HOW IT HAPPENED.
THE DEALER FINALLY SAID TO MY FATHER, LETS NOW START THE SLED.
I SAW HIM TURN THE KEY TO ON, OPEN THE CHOKE, AND THEN PULL THE ROPE OVER
AND OVER AGAIN UNTIL HE WAS RED IN THE FACE.
WHEN I SAW THE DEALER MAN OPEN HIS JACKET AS HE WAS SWEATING HARD, I KNEW
STARTING A SNOWMOBILE WAS MORE EFFORT THAT I THOUGHT.
WELL, AS IT TURNED OUT, THE GAS WAS NOT GOING THROUGH THE GAS LINE.
I SAW HIM DISCONNECT THE GAS LINE AND SUCK THE GAS THROUGH THE LINE.
I WAS THINKING TO MYSELF, YUCK ! IS THAT HOW YOU HAVE TO START IT EVERYTIME?
OMG !!!!!!!!!!!!
ONCE HE CONNECTED THE GAS LINE AGAIN, HE PULLED IT 2 TIMES AND IT STARTED.
THANK GOD !
BY THIS TIME, AFTER SEEING HIM TAKE ABOUT 15 MINUTES TO GET THE SLED RUNNING,
I WAS WONDERING IF IT WAS SAFE TO TURN OFF THE SLED ON THE TRAIL? WOULD I
EVER BE ABLE TO GET IT STARTED BY MYSELF AFTER TURNING OFF THE SLED?
THE ANSWER WAS YES. THAT SLED AFTER THAT FIRST ATTEMPT WAS A GREAT SLED
FOR STARTING YEAR AFTER YEAR EVEN AFTER LEAVING IT ALL SUMMER LONG IN
THE GARAGE. HERE IS A PICTURE OF US BY OUR FIRST SKI DOO ON THE DAY
THAT IT WAS DELIVERED TO OUR HOUSE.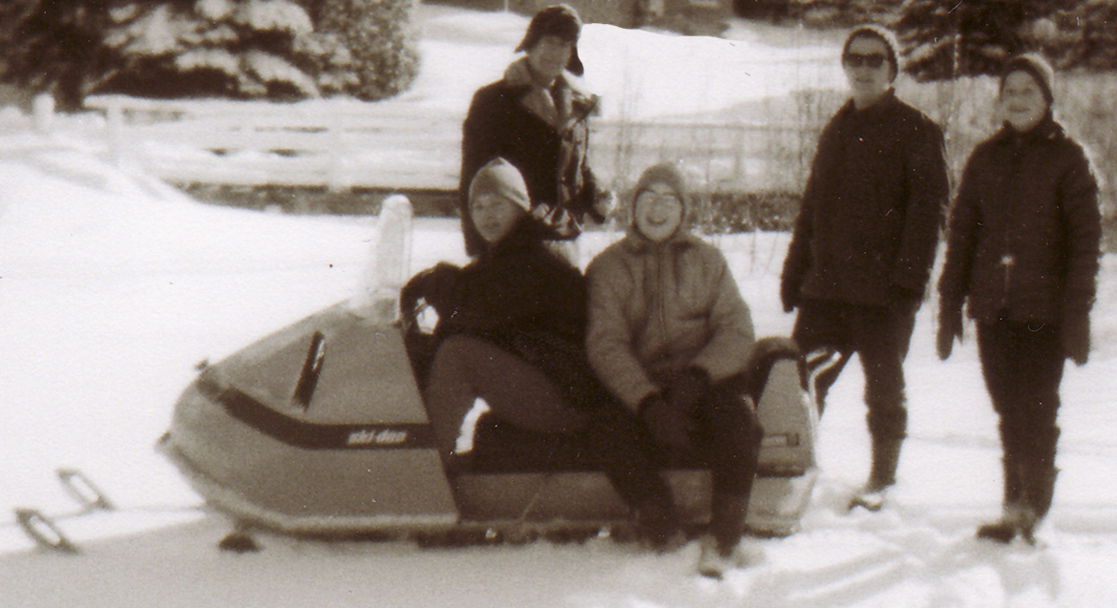 1970 SKI DOO OLYMPIQUE 335.
I AM STANDING ON THE FAR RIGHT OF THE PICTURE.
THOSE ARE MY 3 BROTHERS AND MY GREAT UNCLE MARTIN IN THE BACK LEFT.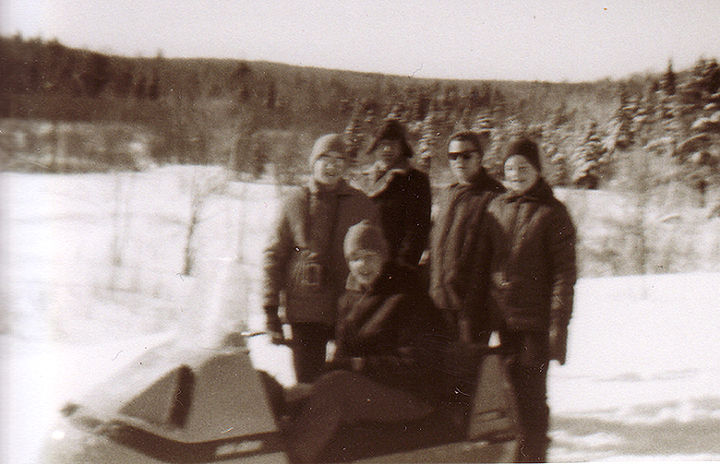 WE HAD A LOT OF LAND TO RIDE ON WHICH WAS GREAT.
A TON OF ADVENTURES WERE AHEAD.