DAVID'S VINTAGE SNOWMOBILE PAGE.
RESTORING THE SPORT ONE PIECE AT A TIME.
MARCH 15, 2012
10TH ANNIVERSARY PAGE 2
---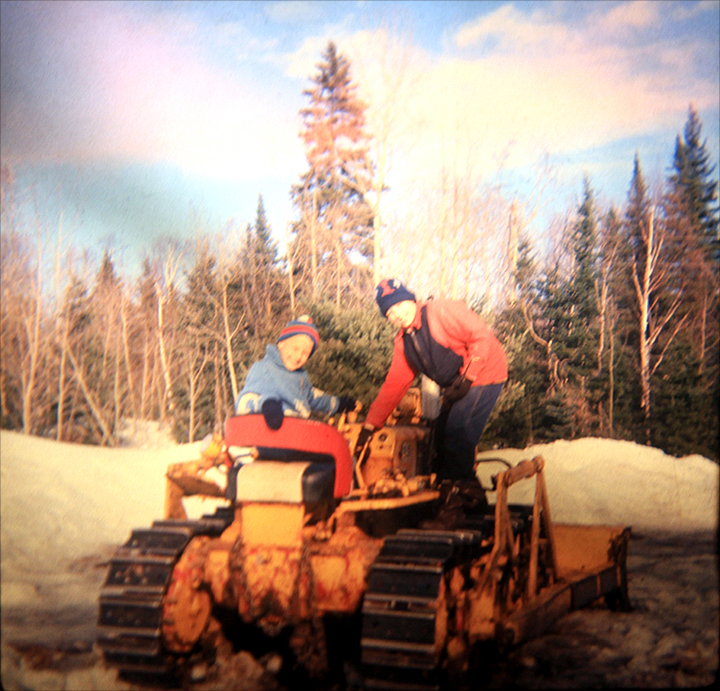 HERE I AM SITTING ON MY FIRST SNOWMOBILE WITH MY BROTHER.
THE SUSPENSION WAS NOT GREAT BUT IT HAD A TON OF TORQUE.
WHEN I WOULD GO VISIT MY GRANDFATHER ON THE WEEKENDS, I WOULD SEE
SNOWMOBILE TRACKS IN THE FIELDS AND ON THE ROAD.
THE LOCAL SKI DOO DEALER FROM VILLE DES LAURENTIDES ( ST LIN )
WOULD COME AROUND EVERY WEEK AND
SHOW A SKI DOO TO THE PEOPLE IN THE AREA HOPING TO SELL ONE.
UNFORTUNATELY, HE NEVER CAME AROUND ON THE WEEKEND.
I DID NOT KNOW WHAT A SNOWMOBILE LOOKED LIKE AS WHEN I GOT TO THE
COTTAGE ON SATURDAY, ALL THAT WAS SHOWING WERE THE TRACKS IN THE FIELDS.
I REALLY WANTED TO SEE HOW A SKI DOO WORKED AS MY GRANDFATHER WOULD
TELL ME THAT IT FLOATED ACROSS THE SNOW AND LOOKED LIKE A LOT OF FUN.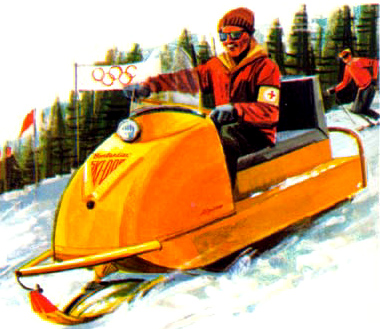 IN JANUARY 1967, I FINALLY SAW MY FIRST SNOWMOBILE.
A NEIGHBOR OF OURS BOUGHT A USED 1965 SKI DOO ALPINE.
ONE DAY, HE STOPPED AT OUR HOUSE AND ASKED IF HE COULD CROSS OUR LAND
TO MAKE A PATH TO THE LAKE. HE HAD SOME OTHER SLEDS IN THE GROUP.
WE TOLD HIM YES AND I WENT OUTSIDE TO WATCH HOW THIS SKI DOO WORKED.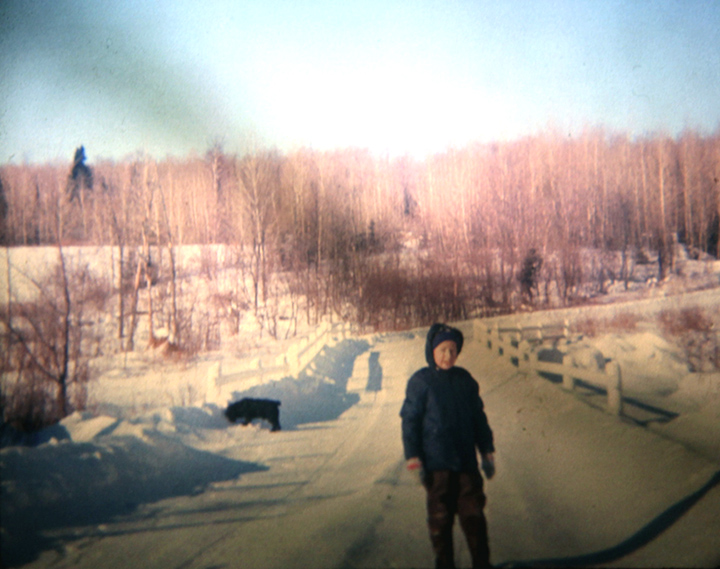 ONCE HE CROSSED THIS BRIDGE, HE WENT INTO THE FIELD ON THE LEFT.
I THOUGHT TO MYSELF THAT THERE WAS NO WAY HE COULD CROSS THE FIELD AND
THEN CLIMB A NICE HILL IN THE DEEP SNOW. MAN WAS I WRONG.
HALF WAY UP THE HILL, HE STOPPED AS HE COULD NOT GO FARTHER,
2 OF HIS FRIENDS GOT BEHIND THE SLED AND GAVE HIM A PUSH AND OFF HE WENT.
I COULD NOT BELIEVE HOW THAT SKI DOO CLIMBED THE HILL AND DISAPPEARED.
THIS PICTURE WAS TAKEN IN DECEMBER 1969.
YOU CAN SEE THE FIELDS IN THE BACK WHERE WE WOULD RIDE ONCE WE GOT
OUR SLED. ONLY PROBLEM IS THAT WE DID NOT HAVE A SLED YET.
HERE BEGINS THE JOURNEY TO GETTING OUR FIRST SNOWMOBILE.