DAVID'S VINTAGE SNOWMOBILE PAGE.
RESTORING THE SPORT ONE PIECE AT A TIME.
MARCH 15, 2012
10TH ANNIVERSARY PAGE 10
---
HERE IS THE STORY ABOUT THE BEST DAY OF RIDING THAT I EVER HAD.
IT'S FUNNY HOW COMMON INTEREST BRING PEOPLE TOGETHER.
IN THE FALL OF 1972, MY FRIEND BOUGHT A 1973 ARCTIC CAT PANTHER VIP.
HE WAS ABOUT 55 AND I WAS 15 YEARS OLD.
WE SHARED THE LOVE OF SNOWMOBILES.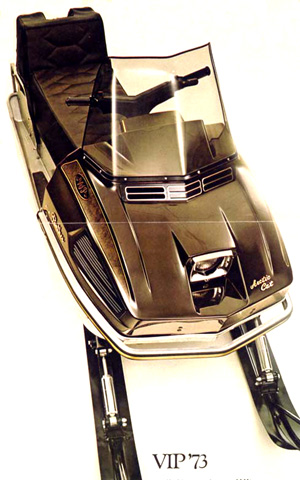 AT THAT TIME, I WAS RIDING A 1970 SKI DOO OLYMPIQUE 335.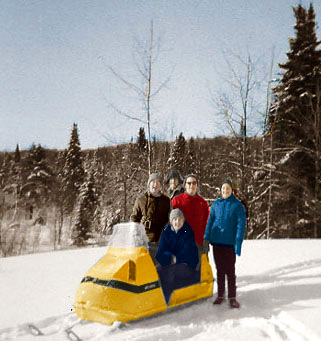 WE WOULD GO RIDING EVERY WEEKEND BUT THERE WAS NO WAY I COULD STAY CLOSE
TO MY FRIEND AS HIS 73 PANTHER VIP WAS MUCH MORE STABLE THAN MY SKI DOO.
I JUST DID NOT HAVE ENOUGH MONEY TO BUY A SLED SO I HAD TO DEAL WITH CATCHING UP
ALL THE TIME. AFTER A COUPLE OF YEARS OF DOING THIS, I HAD ENOUGH.
I GOT A JOB AT EDCO AND WORKED HARD TO GET ENOUGH CASH FOR A NEWER SKI DOO.
I JUST LOVED WORKING THERE AS I GOT TO SEE THE LATEST STYLES.
HERE IS AN AD FROM EDCO WHERE I WORKED.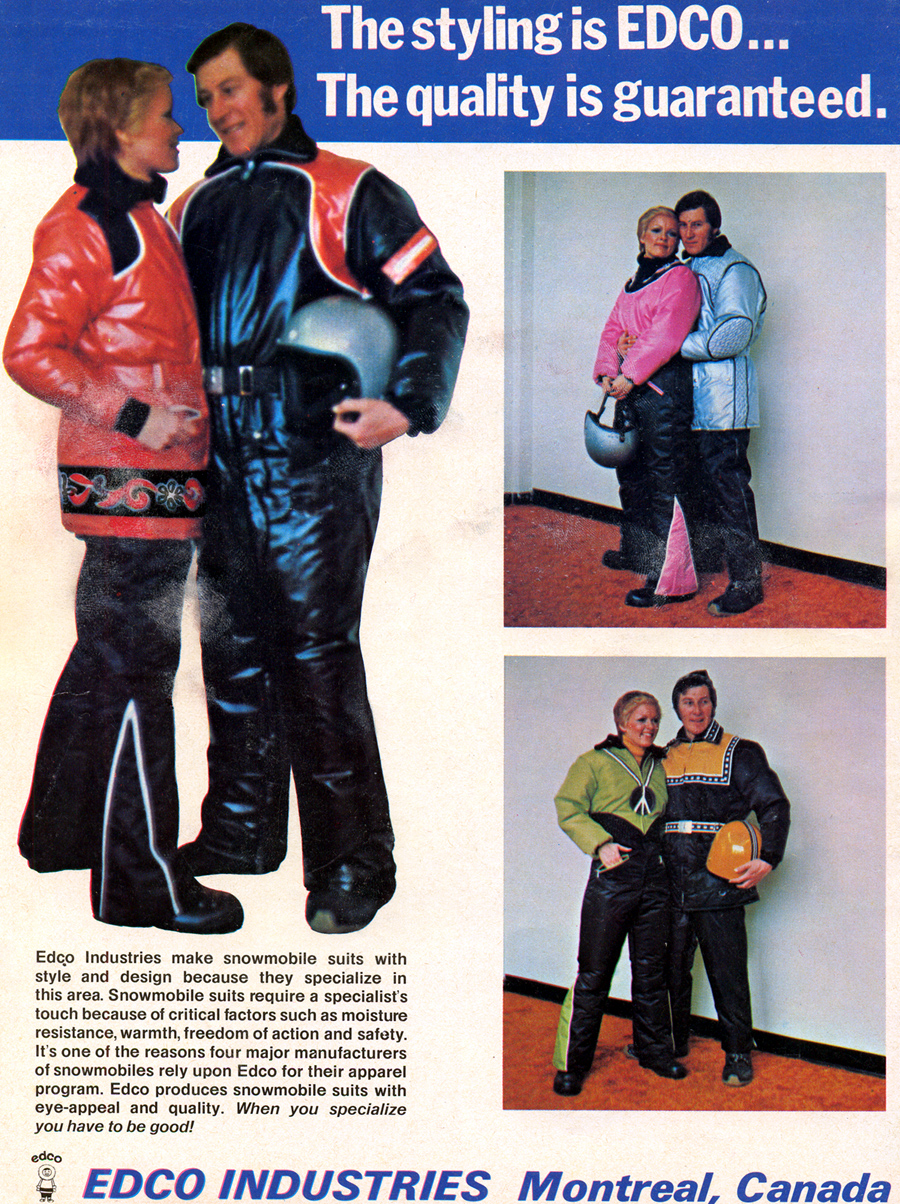 ENTER MY 1974 SKI DOO T'NT 400 F.A.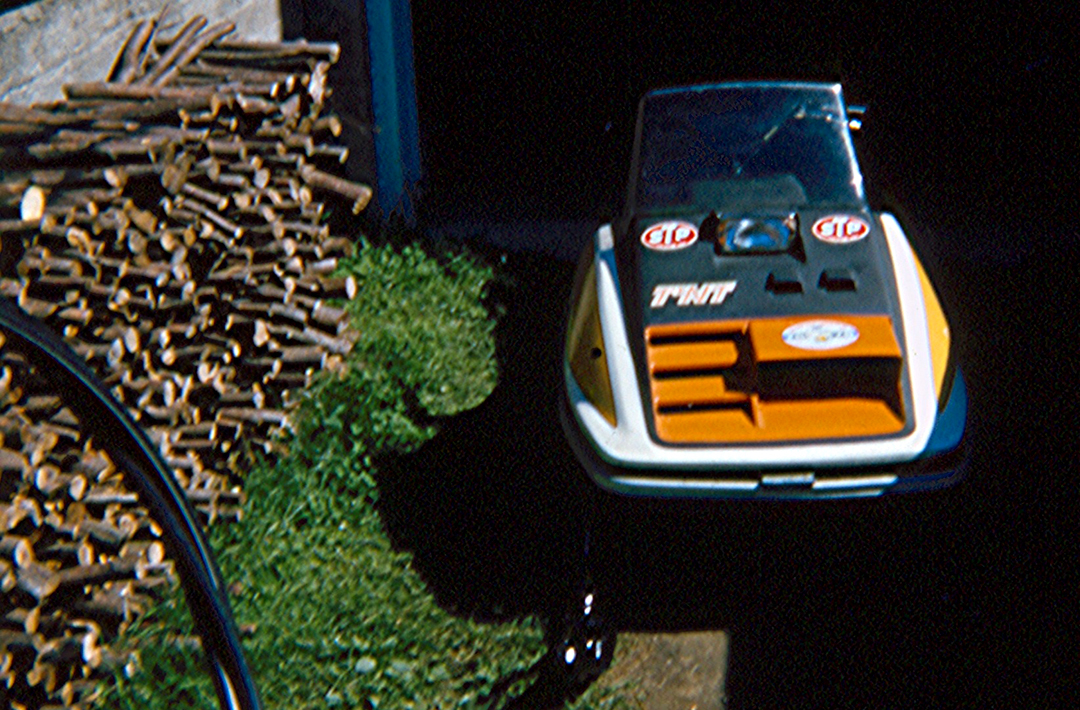 1974 SKI DOO T'NT 400 F.A.
HERE IS A PICTURE OF MY 1974 SKI DOO T'NT 400 F.A PULLED OUT OF MY GARAGE.
IN MAY 1975,
I BOUGHT THIS SLED FROM THE SKI DOO DISTRIBUTION CENTER IN BOUCHERVILLE, QUÉBEC.
IT WAS A PUBLIC RELATIONS SLED THAT WAS GIVEN OUT TO PEOPLE TO TRY AND THEN WRITE A REPORT.
THE DAY I WENT TO BUY A SLED IN BOUCHERVILLE, ALL OF THE 75'S SKI DOO'S HAD ALREADY BEEN SOLD
EXCEPT FOR 3 - 1975 ELANS AND THIS 1974 T'NT 400 F.A. I DID NOT WANT THE ELAN AS IT WAS JUST NOT
POWERFUL ENOUGH TO KEEP UP WITH MY FRIEND'S PANTHER VIP SO I BOUGHT THE 74 TNT FREE AIR.
I BROUGHT TO THE COTTAGE AND HID IT ALL SUMMER UNDER A TARP IN MY GARAGE.
MY FRIEND WAS IN MY GARAGE MANY TIMES THAT SUMMER BUT HE DID NOT NOTICE THE SLED.
FINALLY THE DAY CAME IN DECEMBER 1975 WHEN THERE WAS ENOUGH SNOW TO GO RIDING,
I WAITED FOR MY FRIEND TO COME BY. WHEN HE PULLED INTO THE DRIVEWAY AND STOPPED IN
FRONT OF THE GARAGE, I OPENED THE DOOR AND DROVE OUT MY 1974 SKI DOO T'NT 400 FA.
HE HAD A BIG GRIN ON HIS FACE AS HE KNEW IT WAS GOING TO BE A WEEKEND TO REMEMBER.
JUST AFTER WE LEFT MY DRIVEWAY, I HAMMERED THE THROTTLE AND FLEW BY HIM.
MAN DID I FEEL GREAT.
WE HEADED TO A LOCAL LAKE AND THERE WE WENT END TO END WITH ME WINNING EVERY TIME.
I THOUGHT TO MYSELF THIS IS THE GREATEST DAY OF RIDING I EVER HAD.
THIS WILL BE THE BEST SEASON I EVER HAD.
WELL, THE FOLLOWING WEEKEND, MY FRIEND SHOWS UP WITH A 1976 ARCTIC CAT EL TIGRE 5000.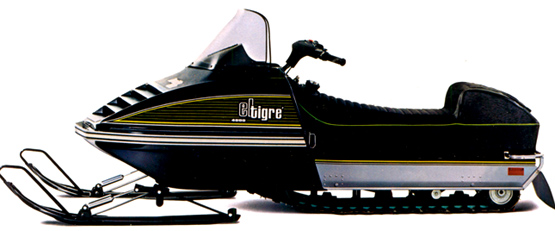 OK, OLD DOG TEACHES NEW DOG NEW TRICKS. LOL
ALTHOUGH I NOW REALIZED THAT I WAS NOT GOING TO WIN ALL WINTER LONG, OUR 2 SLEDS WERE
A SIGHT TO BE SEEN. EVERYWHERE WE WENT, WE PUT ON A SHOW. IT WAS THE GREATEST WINTER
I EVER HAD ON A SLED. THOSE MEMORIES HAVE BEEN WITH ME ALL THESE YEARS.