PHOTO PAGE 993
1975 SKIROULE - SONAR 440
David - After seeing the posting on your site of Andrew Taylor's finished restoration of his 72 Northway; which I had the privilege of selling one junk machine to; I felt I would pass along a picture of my latest acquisition that I felt might deserve to find a spot on your site. I bought the 1975 Skiroule Sonar 440 this past winter which I found to be in great shape, but as soon as the snow melted the machine ended up in pieces on the work bench (terrible habit), hopefully to be in even better shape by next winter.
As I wait for the snow to return you can see what keeps me busy during the rest of the year. What you see was a 1973 Moto-Ski F-295, when a new track couldn't be found for a reasonable price, I felt the machine wasn't worth fixing. But while searching for tracks I came across Blake Reads Sno-Jet website, where he had the same machine on a wheel kit. By the next day I was well on my way of figuring out how to do it, after a year it was up and running again on 4 wheels. The stock engine was replaced with a 440 from a Skiroule, and is breathing thru a Mikuni carb. The only things that are still the original Moto-ski, are the frame, the drive train and gauges.
Keep up the great work. Darius Summers - Guelph Ontario
THANKS DARIUS FOR THE GREAT PICTURES!
1973 MOTO SKI - F295
CLICK HERE FOR A LARGE PICTURE
TO SEE A BROCHURE OF THIS BRAND OF VINTAGE SNOWMOBILE
ON MY SITE, GO TO THE BROCHURE PAGE.
PLEASE DONATE TO SUPPORT THIS SITE.
CLICK ON THE PAYPAL BUTTON.

THE COST OF RUNNING THIS SITE GOES UP EACH YEAR.
A DONATION OF $ 5, $ 10, OR $ 20.00 GOES A LONG WAY.
ANY CONTRIBUTION IS GREATLY APPRECIATED.
THANKS - DAVID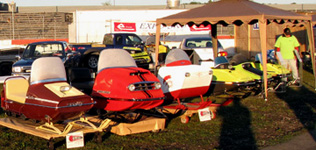 EXPO-SNO
IS A VINTAGE SNOWMOBILE SHOW &
VINTAGE SNOWMOBILE FLEA MARKET.
THE SHOW IS HELD EVERY YEAR IN THE FALL.
IT IS LOCATED IN THE PROVINCE OF QUEBEC, JUST NORTH OF MONTREAL.
FOR THE DATE, LOCATION AND ALL OF THE DETAILS ABOUT THE SHOW.
CLICK HERE
---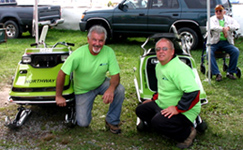 EXPO-SNO
EXPOSITION DE MOTONEIGES ANTIQUES ET CLASSIQUES
ET MÉGA MARCHÉ AUX PUCES
DE PIECES ET MOTONEIGES.
PRES DE MONTREAL, QUÉBEC, CHAQUE AUTOMNE.
NOUS ESPÉRONS AVOIR PLUS DE 100 MOTONEIGES
ET AUSSI UN AUTRE GRAND SUCCÈS AVEC NOTRE
MÉGA MARCHÉ AUX PUCES DE PIECES ET MOTONEIGES.
APPUYEZ ICI
POUR LA DATE, LOCATION & INFORMATION.
VINTAGE SNOWMOBILE, VINTAGE SNOWMOBILES
ANTIQUE SNOWMOBILE - OLD SNOWMOBILE
MOTONEIGE ANTIQUES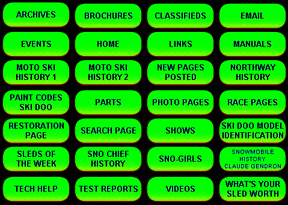 DAVID'S VINTAGE SNOWMOBILE PAGE