PHOTO PAGE 6149
NEED A PLACE TO STAY FOR EXPO-SNO?
I HAVE NOT STAYED AT ANY OF THESE HOTELS SO I CANNOT RECOMMEND ONE TO YOU.
YOUR BEST BET IS TO VISIT THEIR WEB SITES AND DECIDE WHAT FITS YOUR NEEDS THE BEST.
I AM POSTING THESE HOTELS AS A SERVICE ONLY.
IF YOU NEED SECURITY FOR YOUR SLEDS, ASK THEM FIRST
BEFORE BOOKING A STAY AS TO WHAT THEY HAVE TO OFFER.
BEST WESTERN & COMFORT INNS AND SUITES
EXIT 43 E ON HIGHWAY 15 IN ST JEROME QUÉBEC.
5 MINUTES FROM EXPO SNO.
PLEASE DONATE TO SUPPORT THIS SITE.
CLICK ON THE PAYPAL BUTTON.

THE COST OF RUNNING THIS SITE GOES UP EACH YEAR.
A DONATION OF $ 5, $ 10, OR $ 20.00 GOES A LONG WAY.
ANY CONTRIBUTION IS GREATLY APPRECIATED.
THANKS - DAVID

EXPO-SNO
EXPOSITION DE MOTONEIGES ANTIQUES ET CLASSIQUES
ET MÉGA MARCHÉ AUX PUCES
DE PIECES ET MOTONEIGES.
PRES DE MONTREAL, QUÉBEC, CHAQUE AUTOMNE.
---
NOUS ESPÉRONS AVOIR PLUS DE 150 MOTONEIGES
ET AUSSI UN AUTRE GRAND SUCCÈS AVEC NOTRE
MÉGA MARCHÉ AUX PUCES DE PIECES ET MOTONEIGES.
---
APPUYEZ ICI
POUR LA DATE & INFO.

VINTAGE SNOWMOBILE, VINTAGE SNOWMOBILES
ANTIQUE SNOWMOBILE - OLD SNOWMOBILE
MOTONEIGE ANTIQUES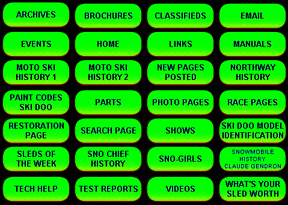 DAVID'S VINTAGE SNOWMOBILE PAGE