PHOTO PAGE 592
David - Have you ever seen this machine? It is a 1974 Bombardier,
prototype X1V, built in 1974. I have attached a few pictures of it. Tell me what you think of it. The man standing with the machine is my son JEAN-FRANÇOIS. He is riding the machine. You actually stand on the platform behind the machine and you have access from there to an elect. starter, shift stick
(forward, neutral, reverse) and the handle bar. Pierre Côté
Thanks Pierre for the Great Pictures. Yes I have seen this sled before. Here is an article on this very rare and useful snowmobile. It sure makes it easy to carry supplies, wood and would have been great at the cabin a sucre!
1974 BOMBARDIER - CARGO
---
1974 BOMBARDIER - CARGO
---
1974 BOMBARDIER - CARGO
---
BOMBARDIER - CARGO
CLICK HERE FOR A LARGE PICTURE
TO SEE A BROCHURE OF THIS BRAND OF VINTAGE SNOWMOBILE
ON MY SITE, GO TO THE BROCHURE PAGE.
PLEASE DONATE TO SUPPORT THIS SITE.
CLICK ON THE PAYPAL BUTTON.

THE COST OF RUNNING THIS SITE GOES UP EACH YEAR.
A DONATION OF $ 5, $ 10, OR $ 20.00 GOES A LONG WAY.
ANY CONTRIBUTION IS GREATLY APPRECIATED.
THANKS - DAVID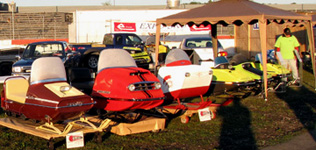 EXPO-SNO
IS A VINTAGE SNOWMOBILE SHOW &
VINTAGE SNOWMOBILE FLEA MARKET.
THE SHOW IS HELD EVERY YEAR IN THE FALL.
IT IS LOCATED IN THE PROVINCE OF QUEBEC, JUST NORTH OF MONTREAL.
FOR THE DATE, LOCATION AND ALL OF THE DETAILS ABOUT THE SHOW.
CLICK HERE
---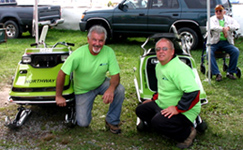 EXPO-SNO
EXPOSITION DE MOTONEIGES ANTIQUES ET CLASSIQUES
ET MÉGA MARCHÉ AUX PUCES
DE PIECES ET MOTONEIGES.
PRES DE MONTREAL, QUÉBEC, CHAQUE AUTOMNE.
NOUS ESPÉRONS AVOIR PLUS DE 100 MOTONEIGES
ET AUSSI UN AUTRE GRAND SUCCÈS AVEC NOTRE
MÉGA MARCHÉ AUX PUCES DE PIECES ET MOTONEIGES.
APPUYEZ ICI
POUR LA DATE, LOCATION & INFORMATION.
VINTAGE SNOWMOBILE, VINTAGE SNOWMOBILES
ANTIQUE SNOWMOBILE - OLD SNOWMOBILE
MOTONEIGE ANTIQUES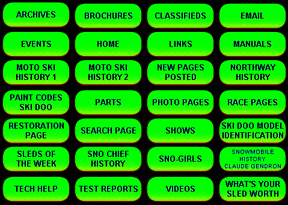 DAVID'S VINTAGE SNOWMOBILE PAGE