PHOTO PAGE 4783
NEVER SEEN BEFORE
SECRET PICTURES FROM....
THE ARCTIC CAT
TESTING AREA 51
NORTH OF MONTREAL.
NEVER SEEN BEFORE PICTURES!
HERE ARE EXCLUSIVE PICTURES OF AN ARCTIC CAT TEST PILOT
EXPERIMENTING WITH THE NEW 1974 ARCTIC CAT PANTHER VIP,
NORTH OF MONTREAL IN THEIR SECRET LOCATION.
WORD HAS IT THAT 30 TONS OF MINNESOTA SNOW WAS TRUCKED
TO A SECRET LOCATION NORTH OF MONTREAL WHERE
LAB EXPERIMENTS WERE PERFORMED ON THIS NEW UNIT.
THIS ARCTIC CAT IS SO REVOLUTIONARY THAT THE TEST PILOTS DO NOT
WEAR A HELMET. THE TEST PILOTS CAN BE SEEN RIDING THESE PANTHERS
IN LIGHT CLOTHING AS THE SEAT AREA OFFERS ALL OF THE PROTECTION
YOU WILL EVER NEED FROM THE COLD.
ALTHOUGH WE CAN NOT DISCLOSE THE TRUE IDENTITY OF THE LOCATION
OF THIS TESTING LOCATION AT THIS TIME, WE CAN TELL YOU THAT THERE
APPEARS TO BE ELECTRICITY AT THE SITE BASED ON THIS EXCLUSIVE
PICTURE SHOWING THE HYDRO POLES IN THE BACKGROUND.
BE SURE TO SEE THE NEXT PHOTO PAGE WITH ANOTHER EXCLUSIVE PHOTO
SEEN ONLY ON DAVID'S VINTAGE SNOWMOBILE PAGE!

EXPO-SNO
VINTAGE SNOWMOBILE SHOW

---
EXPO-SNO
IS A FALL
VINTAGE SNOWMOBILE SHOW & FLEA MARKET.
---
IT IS LOCATED JUST NORTH OF MONTREAL
IN ST EUSTACHE, QUEBEC.
---
CLICK HERE
FOR THE DATE
&
ALL OF THE DETAILS ABOUT THE SHOW.

EXPO-SNO
EXPOSITION DE MOTONEIGES ANTIQUES ET CLASSIQUES
ET MÉGA MARCHÉ AUX PUCES
DE PIECES ET MOTONEIGES.
À L'AUTODROME - ST EUSTACHE, QUÉBEC.
L'EXPOSITION EST CHAQUE AUTOMNE.
---
NOUS ESPÉRONS AVOIR PLUS DE 150 MOTONEIGES
ET AUSSI UN AUTRE GRAND SUCCÈS AVEC NOTRE
MÉGA MARCHÉ AUX PUCES DE PIECES ET MOTONEIGES.
---
APPUYEZ ICI
POUR LA DATE & INFO.

VINTAGE SNOWMOBILE - VINTAGE SNOWMOBILES
ANTIQUE SNOWMOBILE - OLD SNOWMOBILE
MOTONEIGE ANTIQUES
PLEASE SUPPORT THIS SITE.
A DONATION OF $ 5 OR $ 10 GOES A LONG WAY.
ANY CONTRIBUTION IS GREATLY APPRECIATED.
THANKS - DAVID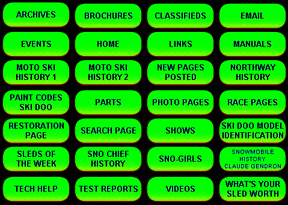 DAVID'S VINTAGE SNOWMOBILE PAGE