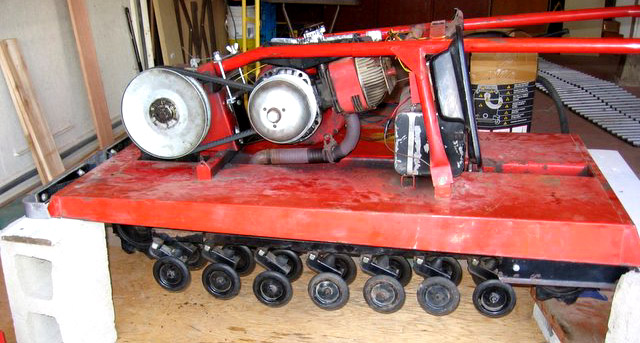 NOVEMBER 11 - 2005
David, Here are some pics of my 'Red Devil before and during restoration.
Since I was a boy I had never forgotten the Hus-ski snowmobile.
My father was a dealer at Powassan Ontario until his death in 1966. The Diablo Rouge was about to make it's debut the next season. Initially I had ruled out a Diablo Rouge as not being a true
Hus-ski, but later changed my mind.
I reminded myself that it had two forward tracks and was articulated just as the 444 I rode as a boy.
I'm glad I did. It took two years of internet searches to find my 'Red Devil".
Last Nov. 16 I got an E-mail from Edson Alberta. The fellow said he had a Diablo in good original running condition. It was. The paint was faded and the decals cracked to the point that they could not be read, but one pull on the pull cord revealed lots of compression!
It was delivered to me just before X-mas by a relation of this fellow who just happened to live in Regina. He had moved his son to BC and delivered the Diablo on the return trip. This was a great piece of luck as shipping only cost me gas money for the guy who brought it here.
We had the carb done and the gas tank sealed. On Jan 8th 2005 I drove on the prairie for the first time. Until good friday we continued to go for family rides. In April I began to work on it, first dismantling the ski-seat and re-coating the maple skis.
Advice from Hus-ski expert Barrie Graham was helpful.
In August I started on the power unit, removing the tracks and replacing several flat sided bogies with ones found on the web. Improvements to the simple wiring was also done. I then started on the body work. This was mostly removing surface rust and the odd dent. I had the paint colour matched from an unfaded part of the ski-seat. I bought a fairly powerful Wagner airless sprayer, and it did a decent paint job for as long as you don't get too close! I also had the paint store make me a spray bomb up for future touch up work. Decals came from an Alberta company called Intech Graphics. The seat was recovered locally in Regina by 'Alpha Upolstery'
I found the 'Hirth' engine motor mounts to be weak on the Diablo as cracks were noted in the head end mount, and the bottom end mounts were sagging changing the clutch distances. They were relatively easy to repair by strengthening the top mount (welded), and making a support bracket for the bottom. A new reproduction grill was found via the web in the U.S.
My family which includes my wife Celene and twin 4 year old boys Morgan and Christian are eagerly waiting for a good snowfall! During our first winter we learned that the Diablo Rouge really is a 'true Hus-ski'
John - Regina, Saskatchewan
THANKS JOHN FOR THE GREAT PICTURE!