Photo Page 341
VINTAGE SNOWMOBILE OF THE WEEK - OCTOBER 13 - 03
1971 SNO JET - STAR JET 292
Richard Lough
Wright, MN
Thanks Richard for the great Pictures. Richard just picked up this new sled.
He has quite a collection and will be sending me in pictures of his great collection.
Congrats on the new addition to your family!
---
David, First, I must congratulate you on this site its awesome. Second, I have a mystery for you. My father recently purchased this "thing" as I call it. It sort of looks like a early cat crossed with a golf cart/dump truck. It is white and possibly red. The seat was a red bench type seat. It has a frame over the seat area for a canopy. It is driven by a 9 hp Briggs and Stratton motor (not sure if thats original). It has a gear shifter in the cab area that comes from under the seat area. It has three pedals I'm assuming throttle clutch and brake. The rear is a tandem axle the front set of tires are a duel set and the rear set is a single tire they are approximately the size of golf cart tires. The rear tires are bound by a rubber track. The front tires are steered via a steering wheel they have a set of skis that can be set under them for snow use ( much like the old cats). The rear of it is much like a pick-up truck bed with a hump in it for the motor. There is a single head light in the front. At one time there was an emblem on the front that was attached by three bolts in a triangle pattern.
I hope that this discription may help you it figuring out what this thing is. Let me know what you find out. Steve Leauber -- sleauber@dejazzed.com
If you can help Steve identify this thing, please email him.
Thanks for the picture Steve!
TO SEE A BROCHURE OF THIS BRAND OF VINTAGE SNOWMOBILE
ON MY SITE, GO TO THE BROCHURE PAGE.
PLEASE DONATE TO SUPPORT THIS SITE.
CLICK ON THE PAYPAL BUTTON.

THE COST OF RUNNING THIS SITE GOES UP EACH YEAR.
A DONATION OF $ 5, $ 10, OR $ 20.00 GOES A LONG WAY.
ANY CONTRIBUTION IS GREATLY APPRECIATED.
THANKS - DAVID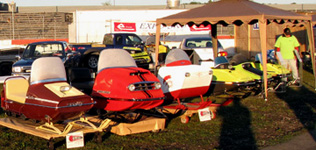 EXPO-SNO
IS A VINTAGE SNOWMOBILE SHOW &
VINTAGE SNOWMOBILE FLEA MARKET.
THE SHOW IS HELD EVERY YEAR IN THE FALL.
IT IS LOCATED IN THE PROVINCE OF QUEBEC, JUST NORTH OF MONTREAL.
FOR THE DATE, LOCATION AND ALL OF THE DETAILS ABOUT THE SHOW.
CLICK HERE
---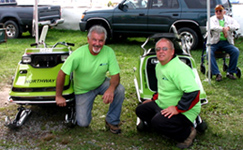 EXPO-SNO
EXPOSITION DE MOTONEIGES ANTIQUES ET CLASSIQUES
ET MÉGA MARCHÉ AUX PUCES
DE PIECES ET MOTONEIGES.
PRES DE MONTREAL, QUÉBEC, CHAQUE AUTOMNE.
NOUS ESPÉRONS AVOIR PLUS DE 100 MOTONEIGES
ET AUSSI UN AUTRE GRAND SUCCÈS AVEC NOTRE
MÉGA MARCHÉ AUX PUCES DE PIECES ET MOTONEIGES.
APPUYEZ ICI
POUR LA DATE, LOCATION & INFORMATION.
VINTAGE SNOWMOBILE, VINTAGE SNOWMOBILES
ANTIQUE SNOWMOBILE - OLD SNOWMOBILE
MOTONEIGE ANTIQUES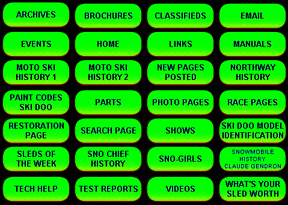 DAVID'S VINTAGE SNOWMOBILE PAGE