DAVID'S VINTAGE SNOWMOBILE PAGE
Photo Page 33
---
VINTAGE SNOWMOBILES OF THE WEEK - October 21 - 2002
1973 Artic Cat Panther 340
We bought this Panther about 6 months ago.
It had not been started in about 6 years.
It took a lot of cleaning and polishing
to make it look this nice.

1972 Scorpion Stinger III
We bought this Sled 3 years ago.
It has just over 1100 miles on it.
We traded an old go-cart frame for it.
It was in fair shape so we decided to
restore it last summer
Thanks Adam Lawson for these great pictures!
---
THEY'RE GOING TO EAT ME!!
---
They're all coming over to Arctic Cat!
---
FOCUS!
---
SKI LARK
---
WHAT WERE YOU DOING IN 1971?
Remember when $ 2798.00 could buy you this car?
Now $ 2798.00 buys you a tank of GAS!
---
1971 FORD TORINO GT
---
1970 Moto Ski
TO SEE A BROCHURE OF THIS BRAND OF VINTAGE SNOWMOBILE
ON MY SITE, GO TO THE BROCHURE PAGE.
PLEASE DONATE TO SUPPORT THIS SITE.
CLICK ON THE PAYPAL BUTTON.

THE COST OF RUNNING THIS SITE GOES UP EACH YEAR.
A DONATION OF $ 5, $ 10, OR $ 20.00 GOES A LONG WAY.
ANY CONTRIBUTION IS GREATLY APPRECIATED.
THANKS - DAVID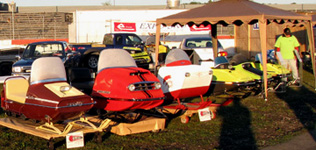 EXPO-SNO
IS A VINTAGE SNOWMOBILE SHOW &
VINTAGE SNOWMOBILE FLEA MARKET.
THE SHOW IS HELD EVERY YEAR IN THE FALL.
IT IS LOCATED IN THE PROVINCE OF QUEBEC, JUST NORTH OF MONTREAL.
FOR THE DATE, LOCATION AND ALL OF THE DETAILS ABOUT THE SHOW.
CLICK HERE
---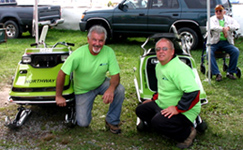 EXPO-SNO
EXPOSITION DE MOTONEIGES ANTIQUES ET CLASSIQUES
ET MÉGA MARCHÉ AUX PUCES
DE PIECES ET MOTONEIGES.
PRES DE MONTREAL, QUÉBEC, CHAQUE AUTOMNE.
NOUS ESPÉRONS AVOIR PLUS DE 100 MOTONEIGES
ET AUSSI UN AUTRE GRAND SUCCÈS AVEC NOTRE
MÉGA MARCHÉ AUX PUCES DE PIECES ET MOTONEIGES.
APPUYEZ ICI
POUR LA DATE, LOCATION & INFORMATION.
VINTAGE SNOWMOBILE, VINTAGE SNOWMOBILES
ANTIQUE SNOWMOBILE - OLD SNOWMOBILE
MOTONEIGE ANTIQUES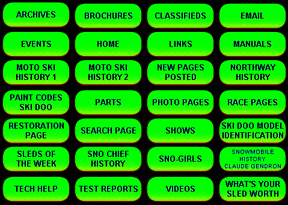 DAVID'S VINTAGE SNOWMOBILE PAGE