Photo Page 339
These are pictures of a 1962 (left) and 1960 (right) Ski-Doo which I took at
Le National de Drummondville show in November 2001.
These nice 100% restored Ski-Doos belongs to Ottawa Ski-Doo collector Ron Girard.
Thanks Claude Gendron for the Great Pictures!
---
1962 (right) and 1960 (left) Ski-Doo
---
1962 (right) and 1960 (left) Ski-Doo
---
Attached are pictures of my fox trac . Not sure what year but it seams to be 64' or earlier. A freind of my father brought it back from canada when I was very young . It has been in our family since and I recently inherited It . My plan is to restore it but I am having trouble finding info on it . Feel free to post the pictures in your website . I will forward more as the restoration progresses . Any info you can help with would be greatfuly apprieciated THANKS!!!!!! Terry Wypij mtwypij@aol.com
Thanks Terry for the Great Pictures. Sorry for the delay in getting them posted.
---
1969 SNO-COUPE
Thanks Claude Gendron for the Great Picture!
TO SEE A BROCHURE OF THIS BRAND OF VINTAGE SNOWMOBILE
ON MY SITE, GO TO THE BROCHURE PAGE.
PLEASE DONATE TO SUPPORT THIS SITE.
CLICK ON THE PAYPAL BUTTON.

THE COST OF RUNNING THIS SITE GOES UP EACH YEAR.
A DONATION OF $ 5, $ 10, OR $ 20.00 GOES A LONG WAY.
ANY CONTRIBUTION IS GREATLY APPRECIATED.
THANKS - DAVID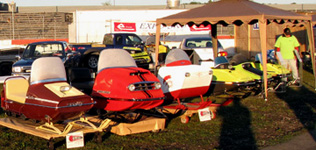 EXPO-SNO
IS A VINTAGE SNOWMOBILE SHOW &
VINTAGE SNOWMOBILE FLEA MARKET.
THE SHOW IS HELD EVERY YEAR IN THE FALL.
IT IS LOCATED IN THE PROVINCE OF QUEBEC, JUST NORTH OF MONTREAL.
FOR THE DATE, LOCATION AND ALL OF THE DETAILS ABOUT THE SHOW.
CLICK HERE
---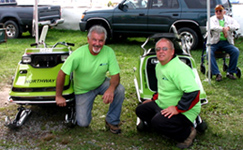 EXPO-SNO
EXPOSITION DE MOTONEIGES ANTIQUES ET CLASSIQUES
ET MÉGA MARCHÉ AUX PUCES
DE PIECES ET MOTONEIGES.
PRES DE MONTREAL, QUÉBEC, CHAQUE AUTOMNE.
NOUS ESPÉRONS AVOIR PLUS DE 100 MOTONEIGES
ET AUSSI UN AUTRE GRAND SUCCÈS AVEC NOTRE
MÉGA MARCHÉ AUX PUCES DE PIECES ET MOTONEIGES.
APPUYEZ ICI
POUR LA DATE, LOCATION & INFORMATION.
VINTAGE SNOWMOBILE, VINTAGE SNOWMOBILES
ANTIQUE SNOWMOBILE - OLD SNOWMOBILE
MOTONEIGE ANTIQUES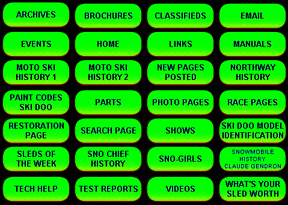 DAVID'S VINTAGE SNOWMOBILE PAGE