DAVID'S VINTAGE SNOWMOBILE PAGE
Photo Page 32
VINTAGE SNOWMOBILE OF THE WEEK - October 14 - 2002
1971 Skiroule RT 500
This Sled is powered by a Sachs 440cc twin cylinder engine. The motor runs perfectly and will idle all day long if you let it. 777 miles reading on the speedometer. Dash also has a tachometer. The actual color is a tad off in the pictures. Original green tinted windshield is in excellent shape. Seat is like brand new in every aspect, it is original and not a reproduction. The track is in great shape aside from frayed edges. Dual - slide suspension is like new with perfect original dark green hifax. Track drivers and idlers are brand new old stock (or maybe mint originals?) Part #'s are still perfectly legible.
Thanks Nick Deroo
for these great pictures!
1971 Skiroule RT 500
---
New Hampshire - Fun in the woods
1971 Ski Doo - T'NT
---
Shouldn't you cook the fish first?
---
1973 Arctic Cat - Cheetah 440
---
1968 SKI DOO
---
Kids on Little Skipper Snowmobiles
---
Winter travel - Then and Now!
Original Horsepower and Manufactured Horsepower!
TO SEE A BROCHURE OF THIS BRAND OF VINTAGE SNOWMOBILE
ON MY SITE, GO TO THE BROCHURE PAGE.
PLEASE DONATE TO SUPPORT THIS SITE.
CLICK ON THE PAYPAL BUTTON.

THE COST OF RUNNING THIS SITE GOES UP EACH YEAR.
A DONATION OF $ 5, $ 10, OR $ 20.00 GOES A LONG WAY.
ANY CONTRIBUTION IS GREATLY APPRECIATED.
THANKS - DAVID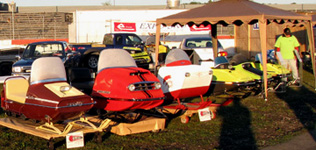 EXPO-SNO
IS A VINTAGE SNOWMOBILE SHOW &
VINTAGE SNOWMOBILE FLEA MARKET.
THE SHOW IS HELD EVERY YEAR IN THE FALL.
IT IS LOCATED IN THE PROVINCE OF QUEBEC, JUST NORTH OF MONTREAL.
FOR THE DATE, LOCATION AND ALL OF THE DETAILS ABOUT THE SHOW.
CLICK HERE
---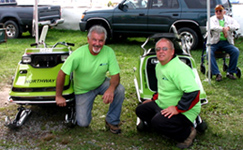 EXPO-SNO
EXPOSITION DE MOTONEIGES ANTIQUES ET CLASSIQUES
ET MÉGA MARCHÉ AUX PUCES
DE PIECES ET MOTONEIGES.
PRES DE MONTREAL, QUÉBEC, CHAQUE AUTOMNE.
NOUS ESPÉRONS AVOIR PLUS DE 100 MOTONEIGES
ET AUSSI UN AUTRE GRAND SUCCÈS AVEC NOTRE
MÉGA MARCHÉ AUX PUCES DE PIECES ET MOTONEIGES.
APPUYEZ ICI
POUR LA DATE, LOCATION & INFORMATION.
VINTAGE SNOWMOBILE, VINTAGE SNOWMOBILES
ANTIQUE SNOWMOBILE - OLD SNOWMOBILE
MOTONEIGE ANTIQUES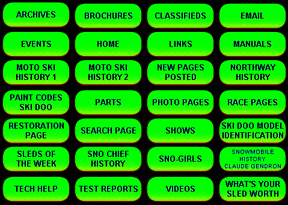 DAVID'S VINTAGE SNOWMOBILE PAGE