Photo Page 320
DURING THE NEXT WEEK, I WILL BE POSTING MANY RARE PHOTOS
SENT TO ME BY GEORGE DUFRANE JR. FROM THE EARLY 60'S TO THE
EARLY 70'S. ALSO, AN INSIDE LOOK AT THE HISTORY OF MOTO SKI
FROM GEORGE DUFRANE SR. ALL PHOTOS PROVIDED ARE COURTESY
OF MRS. HARRIET DUFRANE, WIFE OF THE LATE AL DUFRANE.
1967 Dufrane Motor Distributors race team:
#67 Al Moore - #66 Peter Demers
#50 George Dufrane - #49 Bil Titus
(Note: dual HR carbs on single cylinder engine).
Photos courtesy of Mrs. Harriet Dufrane wife of the late
Al Dufrane. She still resides at her home located in the small hamlet of Constable only five miles south of the Canadian border.
CLICK HERE FOR A LARGE PICTURE
1968 Dealers Meeting, L-R Al Dufrane (president of Dufrane Motor Distributors) Raoul Pelletier sales manager for Moto-Ski Factory and co-inventor,
George Dufrane (General Manager of Dufrane Motor Distributors)
Dale Dufrane (Al's son).
Erwin Cowan infront of trophy case at Dufrane Motor Distributors.
CLICK HERE FOR A LARGE PICTURE
Bill Titus at Awards Banquet, person at the right in unknown.
---
Bill Titus coming out of cross-country race (1967).
---
Write up of day's winning events in local paper.
TO SEE A BROCHURE OF THIS BRAND OF VINTAGE SNOWMOBILE
ON MY SITE, GO TO THE BROCHURE PAGE.
PLEASE DONATE TO SUPPORT THIS SITE.
CLICK ON THE PAYPAL BUTTON.

THE COST OF RUNNING THIS SITE GOES UP EACH YEAR.
A DONATION OF $ 5, $ 10, OR $ 20.00 GOES A LONG WAY.
ANY CONTRIBUTION IS GREATLY APPRECIATED.
THANKS - DAVID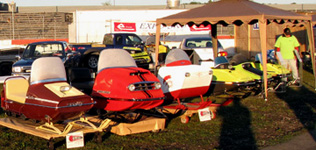 EXPO-SNO
IS A VINTAGE SNOWMOBILE SHOW &
VINTAGE SNOWMOBILE FLEA MARKET.
THE SHOW IS HELD EVERY YEAR IN THE FALL.
IT IS LOCATED IN THE PROVINCE OF QUEBEC, JUST NORTH OF MONTREAL.
FOR THE DATE, LOCATION AND ALL OF THE DETAILS ABOUT THE SHOW.
CLICK HERE
---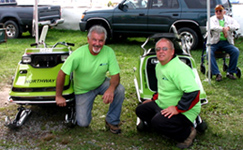 EXPO-SNO
EXPOSITION DE MOTONEIGES ANTIQUES ET CLASSIQUES
ET MÉGA MARCHÉ AUX PUCES
DE PIECES ET MOTONEIGES.
PRES DE MONTREAL, QUÉBEC, CHAQUE AUTOMNE.
NOUS ESPÉRONS AVOIR PLUS DE 100 MOTONEIGES
ET AUSSI UN AUTRE GRAND SUCCÈS AVEC NOTRE
MÉGA MARCHÉ AUX PUCES DE PIECES ET MOTONEIGES.
APPUYEZ ICI
POUR LA DATE, LOCATION & INFORMATION.
VINTAGE SNOWMOBILE, VINTAGE SNOWMOBILES
ANTIQUE SNOWMOBILE - OLD SNOWMOBILE
MOTONEIGE ANTIQUES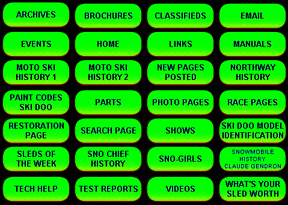 DAVID'S VINTAGE SNOWMOBILE PAGE