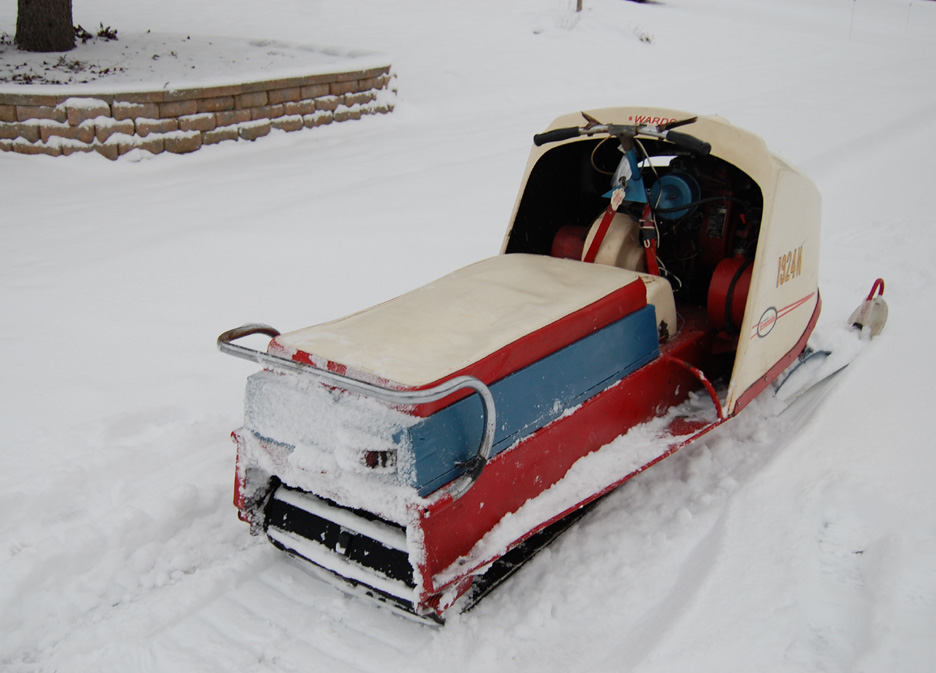 MARCH 29 / 2010
1966 MONTGOMERY WARDS RIVERSIDE SNOW GO
Hi David
I was looking at your snowmobile site today and am really impressed with all the
images you have on it. Thanks for spending your time on it so that we can all learn
about these awesome machines.
Here is a picture of my 1966 Montgomery Wards Riverside Snow Go.
In 1966 my father and friends purchased 4 of these sleds and the size was the only option
Montgomery Wards had available which is identical to that of the Polaris Mustang.
I was five years old and remember going to the Montgomery Wards store to make the purchase.
I've included a couple of photos of the Wards I let our children drive.
Thanks for the awesome site.
Drew and Ed
THANKS DREW AND ED FOR THE GREAT PICTURE !
---
THANK YOU DREW AND ED FOR PASSING THE INFORMATION ON TO ME THAT THIS MODEL WAS .....
BUILT BY POLARIS FOR MONTGOMERY WARD.
THIS SLED WAS A POLARIS MUSTANG ( 18 INCH TRACK ) WITH A RED AND WHITE FINISH.
DAVID
THANKS DREW AND ED FOR THE GREAT PICTURE !