PHOTO PAGE 1132
1968 RIVERSIDE CARIBOU
CLICK HERE FOR A LARGE PICTURE
1968 Wards Riverside Caribou Museum Quality
FOR SALE ON EBAY RIGHT NOW - SEPT 6 - 04
Vehicle Description
What a neat snowmachine. Made in Sweden for Montgomery Wards..It's a Caribou. Very very rare snowmobile. It was striped to the bare tunnel, sand blasted and painted to correct color. The hood is completely original and in excellent condition. A few minor scratches on the left side. Probably can not be seen on the photos. I think the engine is around 300 cc's, it is a Sachs with an original compression release. It has great spark and 125 pounds compression.(dry) It has been sitting apart for two years so I would assume the gas tank could use a cleaning. I have not tried to start it, but am positive it would fire right off. Nice blue spark. I bought this from the original owner. A brand new correct Caribou track was just installed. The original seat is exceptional. The headlight and tail light are in perfect condition. This sled is worthly of going in a musuem with some very minor detailing. That minor detailing would include replacing the screws on the bottom of the hood with shiney new and a few small things like that. It even has the original tool kit and extra pull starter rope in case the rider would break the pull cord. Check out these photos. It is one cool looking vintage snowmobile. This is a seven day auction, ending Sunday evening.
1968 RIVERSIDE CARIBOU
---
1968 RIVERSIDE CARIBOU
CLICK HERE FOR A LARGE PICTURE
---
1968 RIVERSIDE CARIBOU
CLICK HERE FOR A LARGE PICTURE
---
1968 RIVERSIDE CARIBOU
CLICK HERE FOR A LARGE PICTURE
TO SEE A BROCHURE OF THIS BRAND OF VINTAGE SNOWMOBILE
ON MY SITE, GO TO THE BROCHURE PAGE.
PLEASE DONATE TO SUPPORT THIS SITE.
CLICK ON THE PAYPAL BUTTON.

THE COST OF RUNNING THIS SITE GOES UP EACH YEAR.
A DONATION OF $ 5, $ 10, OR $ 20.00 GOES A LONG WAY.
ANY CONTRIBUTION IS GREATLY APPRECIATED.
THANKS - DAVID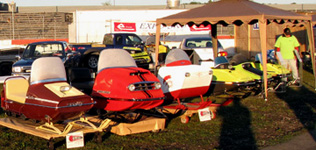 EXPO-SNO
IS A VINTAGE SNOWMOBILE SHOW &
VINTAGE SNOWMOBILE FLEA MARKET.
THE SHOW IS HELD EVERY YEAR IN THE FALL.
IT IS LOCATED IN THE PROVINCE OF QUEBEC, JUST NORTH OF MONTREAL.
FOR THE DATE, LOCATION AND ALL OF THE DETAILS ABOUT THE SHOW.
CLICK HERE
---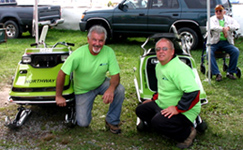 EXPO-SNO
EXPOSITION DE MOTONEIGES ANTIQUES ET CLASSIQUES
ET MÉGA MARCHÉ AUX PUCES
DE PIECES ET MOTONEIGES.
PRES DE MONTREAL, QUÉBEC, CHAQUE AUTOMNE.
NOUS ESPÉRONS AVOIR PLUS DE 100 MOTONEIGES
ET AUSSI UN AUTRE GRAND SUCCÈS AVEC NOTRE
MÉGA MARCHÉ AUX PUCES DE PIECES ET MOTONEIGES.
APPUYEZ ICI
POUR LA DATE, LOCATION & INFORMATION.
VINTAGE SNOWMOBILE, VINTAGE SNOWMOBILES
ANTIQUE SNOWMOBILE - OLD SNOWMOBILE
MOTONEIGE ANTIQUES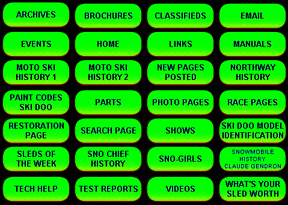 DAVID'S VINTAGE SNOWMOBILE PAGE